 Children in 47 countries weigh in with green priorities, concerns

"Children," offered Desmond Tutu, "have an extraordinary capacity to see into the heart of things." That wisdom is the foundation for our annual survey of children around the world. The third annual Small Voices, Big Dreams survey polled more than 6,200 10-to-12-year-olds from 47 different countries on six continents. As before, their perspectives on the world around them are an unvarnished lesson told in truths, and we can learn much from them.
The 2012 survey amplified what we had heard in previous years -- that children value, first and foremost, their education and that they have high hopes for themselves, despite daily hardships. Within the findings, they also reminded us of their biggest fears: animals.
This past year, we included an additional focus, soliciting children's insights on the environment. We learned, for example, that 40 percent of children in developing countries had experienced a drought first-hand. One-third (33 percent) had been through floods and almost as many (30 percent) a bush or forest fire. And yet, despite these personal experiences with devastating natural disasters, when asked what environmental problem they worry about most, the top answer -- cited by 26 percent -- was pollution.
At first, the answer may seem counterintuitive. After all, children in developing countries -- countries that are largely agrarian -- are rarely exposed to the kinds of pollution that we more typically associate with more urban, developed nations. But the fact is, many children in poorer countries contend with a sinister form of indoor air pollution that not only affects their health but poses other deadly risks. It's the pollution caused by indoor cooking.
According to the World Health Organization, some 3 billion people in developing countries cook meals inside their homes over open fires or leaky stoves. The resulting smoke creates indoor air pollution that can be 100 times higher than acceptable levels and contributes to the premature death of an estimated 2 million annually. The impact is especially severe for children, whose exposure in particularly high, given the amount of time they spend indoors. Indoor air pollution causes almost half of the deaths of children under five who die from respiratory infections.
When children point to pollution as of paramount concern, it's an answer that they come by honestly. What many of them are not yet aware of is that solutions are already underway. On a recent trip to Uganda, I met teenagers in one village whom ChildFund had taught to build stoves made of mud bricks. Selling the stoves not only provided a steady source of income -- this one group of teenagers had sold more than 100 of them -- but they also provided a more environmentally friendly and healthy alternative to open-flame cooking. And the mud stoves, which used a metal cylinder for venting the smoke outside the home, used far less firewood than other cooking methods.
While the children surveyed named pollution of their top environmental concern, a close second was the threat of natural disasters. Drought and floods, fires and earthquakes can take a devastating toll on people who are already struggling to get through the week ahead, and worrying about such catastrophes is only natural. They have witnessed firsthand how natural disasters can wipe out years of progress. As we watch our fellow citizens in New York and New Jersey struggle to regain their footing in the wake of super storm Sandy, imagine them doing so without government assistance, without insurance companies, without the safety nets that we Americans can rely on in times like these. In developing countries, recovering from a natural disaster literally can mean starting over.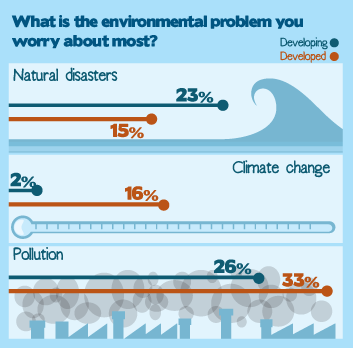 Children in developing countries have an innate sensibility when it comes to environmental stewardship. They have been the victims of mudslides caused by the denuding of trees and vegetation needed to stabilize the landscape. They daily tote clean drinking water for miles for their family to cook with and drink. They regularly inhale dangerous soot particles from indoor air pollution. They understand, perhaps even more profoundly than their parents, that there must not be a choice between survival and stewardship. We can and must opt for both.
Follow Anne Goddard on Tumblr: www.annegoddard.tumblr.com.
Popular in the Community