A California couple has been charged with child endangerment and torture after police on Sunday discovered 12 of their children locked inside their home, some in chains and starving, officials said.
A 17-year-old girl managed to escape the house in Perris, California, and alerted authorities that her 12 brothers and sisters were being held captive by their parents, according to a police statement.
The Riverside County Sheriff's Department dispatched deputies alongside officers from the Perris Police Department to meet the teenager, who they said looked "to be only 10 years old and slightly emaciated."
Authorities went to the residence and questioned the parents, David Allen Turpin, 57, and Louise Anna Turpin, 49.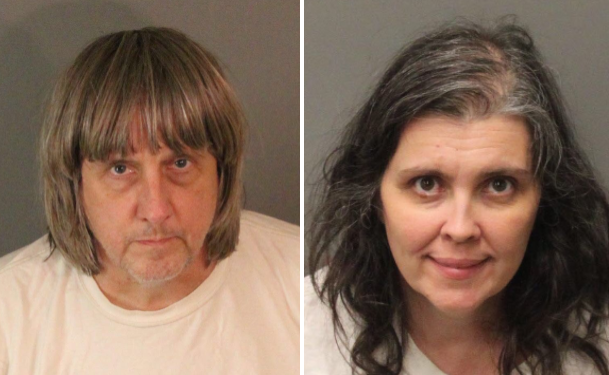 "Further investigation revealed several children shackled to their beds with chains and padlocks in dark and foul-smelling surroundings, but the parents were unable to immediately provide a logical reason why their children were restrained in that manner," the sheriff's department said in a statement.
Perris police Chief Greg Fellows said at a press conference Tuesday that despite the "horrific" conditions, Louise Turpin, the kids' biological mother, seemed "perplexed as to why we were at that residence."
"There were three individuals that were chained to some type of furniture inside the residence," Fellows said of the victims, whom he also described as starved. "I would call that torture."
Authorities said they found five minors ― at least one of them young as 2 ― in the house, along with seven adults whose ages ranged from 18 to 29. All of the victims appeared to be dirty and malnourished. The minors were taken to Riverside University Hospital System, and the adults were sent to Corona Regional Medical Center for examination and medical treatment.
"It's hard to think of them as adults when you first see them, because they're small."
Mark Uffer, CEO and managing director at Corona Regional Medical Center, said that as of Tuesday, the couple's adult children remain together, comfortable and "in a very safe and secure environment, and I think that's what's most important right now."
"It's hard to think of them as adults when you first see them, because they're small," Uffer said at the press conference, saying the children's size is a result of malnutrition. "They've gone through a very traumatic ordeal. I can tell you that they're very friendly, they're very cooperative, and I think that they're very hopeful that life will get better for them."
Officials credited the 17-year-old who Fellows said escaped the home through a window and used a deactivated cell phone to call for help.
The investigation remains ongoing, Fellows said, but so far there appears to be no sign that the parents are mentally ill.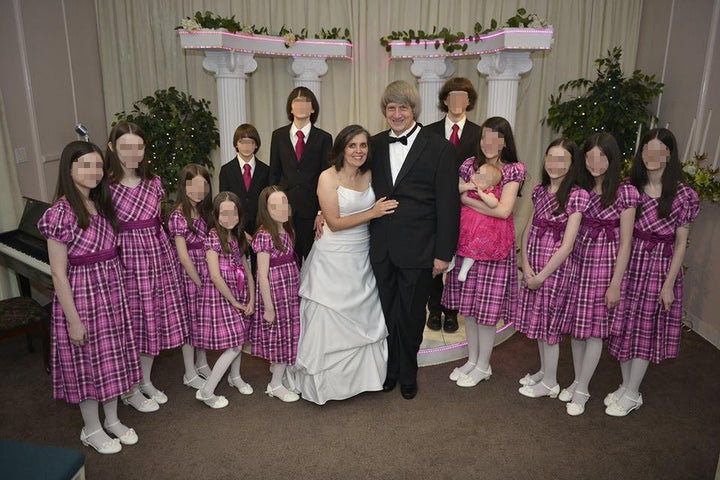 Both parents were transported to the Robert Presley Detention Center, and each is being held on $9 million bail. The Turpins are set to appear in court on Thursday, Reuters reports.
Public records suggest the Turpins homeschooled their children. California's Department of Education lists David Turpin as the principal of the Sandcastle Day School, a K-12 private school located at the Turpins' home address that had six students enrolled last year. According to state law, parents may register their home schools as private institutions.
David Turpin's mother, Betty, told CNN that the family was "highly respectable" and would usually take vacations, during which all of the children were dressed alike and had to be lined up according to age in order to keep track of everyone.
"They were very protective of the kids," she said.
Neighbors of the couple have reacted with shock and horror to the news, saying they never had any idea of the abuse that was allegedly occurring inside the home.
Mike Clifford, 60, told HuffPost that the family lived across the street from him in a rental home in Murrieta, about 19 miles south of Perris, a few years ago. He rarely saw the family, he said, but he did recall incidents that stood out to him and his wife as strange.
"They used to march over and over in circles in their upstairs," he said of the kids. This behavior, which Clifford said he would see late at night as he was getting home from work, went on "for hours."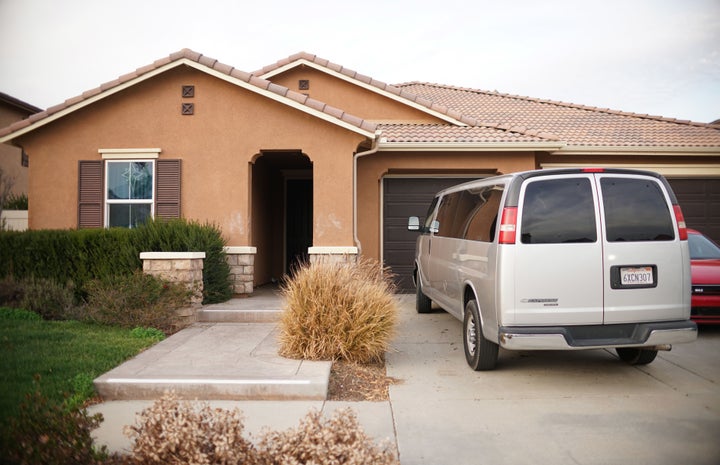 "The blinds would be open," Clifford said. "You could see the kids marching in circles."
Clifford said he once toured the rental property when it was for sale, and saw that the home's upstairs layout allowed one to move freely from room to room in a circular way. He said he doesn't know why the kids were doing it, but "it was happening quite often."
"I'd notice it and I'd say, 'Wow, those kids are marching again,'" he recalled telling his wife, who he said was on vacation at the time of HuffPost's interview.
Another thing he found "strange" was how infrequently he saw the kids.
"I never saw more than a half a dozen of them at a time," he said, adding that sometimes he'd see six of the kids pile into the car with their parents at 1 a.m.
He said he was shocked to learn there were 13 of them in all. "I just thought there were six of them," he said.
Clifford said that in the two and a half years the Turpins were their neighbors, he and his wife never saw anything that made them want to call 911.
"I wish I had noticed something that would have made me want to say something, but it never got to that point."
"We thought they were foster parents of mentally handicapped kids," he said.
His wife had once met two of the daughters while checking the mail, he said, and had described them as "robotic" but friendly.
The kids seemed thin when he saw them, Clifford said, but not to any extreme. The family also seemed financially comfortable, as he saw them with "his and hers" sports cars that were traded out every year for new ones.
"I wish I had noticed something that would have made me want to say something, but it never got to that point," he said.
Kimberly Milligan, 50, told The Washington Post that she lived next door to the Turpins for over two years but rarely heard or saw the children, who she thought were "very young ― 11, 12, 13 at the most." Milligan's son, Robert Perkins, remembered the children looking frail and thin.
"You knew something was off. It didn't make a lot of sense," Milligan told the Post. "But this is something else entirely."
Another neighbor, Wendy Martinez, told Reuters she'd only communicated with the family once. She was passing the Turpins' house while four of the children were installing sod in the yard.
"They were very, like, afraid," she said of the children. "Like they had never seen people before."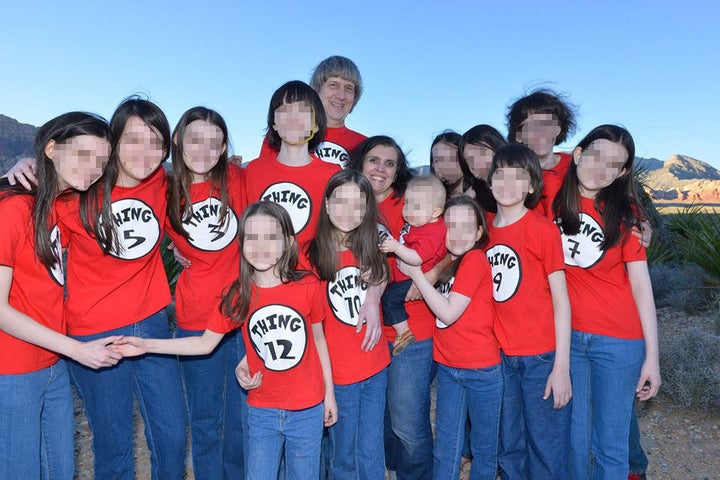 In a number of family photos posted on a Facebook account belonging to the couple, they are seen appearing to renew their wedding vows with the help of an Elvis impersonator.
That impersonator, Kent Ripley, told CBS News the couple had renewed their vows at the Elvis Chapel in Las Vegas at least three times in recent years. The last time he saw them was in 2015, when all 13 kids attended the ceremony.
He expressed surprise when asked about the allegations against the couple, telling CBS that the kids looked thin, "but not excessively thin."
"I thought they were very active as a family... I didn't think that they didn't eat or there was punishment or anything like that," Ripley said. "They were just well behaved. They smiled a lot."
Video of one ceremony posted on YouTube in 2013 shows the children singing, dancing and holding hands as a family as their parents celebrate what was then described as 28 years of marriage.
"It's hard to believe that the people that I performed for and entertained and sat and talked [to] before and after entertaining them, that this could happen. It's just, it's disturbing, it really is," Ripley said.
This story has been updated with comments from Clifford and additional details on the couple.
CORRECTION: A previous version of this story misstated the age of the youngest child who police said was found in the home. The child is 2, not 6.
Related
Popular in the Community