Think of any high school student you know. Now imagine him or her being thirsty during the school day.
For millions of teenagers, the next move is hitting a vending machine or a cafeteria drink dispenser. With the push of a button, they get their beverage of choice and get on with their day.
Here's the noteworthy part of that routine activity: The amount of sugar they are slurping has plummeted compared to teens who roamed campuses just 10 years ago.
This new group was the Alliance for a Healthier Generation, and there's a great story behind its formation. After former President Bill Clinton recovered from a quadruple bypass, he asked the American Heart Association how he could help improve the nation's heart health. Childhood obesity rates were soaring, so the American Heart Association and the Clinton Foundation partnered to launch the Alliance.
The Alliance jumped right in, working with the American Beverage Association and major soda companies to reduce the number of full-calorie drinks delivered to schools. What they've accomplished is remarkable. From the school year before the Alliance existed to the 2010 school year, the number of calories shipped went down a whopping 90 percent.
Getting sugary beverages off school campuses was a simple, smart move. It's also a great example of invoking a systemic change -- that is, changing the system as opposed to persuading an individual to make the right choice. By means of comparison, it's passing a city ordinance to prevent someone from smoking in a restaurant as opposed to encouraging them not to light up at the table.
Just like attitudes and laws surrounding tobacco products evolved over decades, so will campaigns aimed at reversing the childhood obesity epidemic. The progress with sodas in schools shows it can be done, and I'm proud the Alliance is leading the way. It now reaches more than 11 million students through its Healthy Schools Program, and will continue to flourish under the direction of new Chief Executive Officer Howell Wechsler.
Dr. Wechsler left his role as the CDC's Director of the Division of Adolescent and School Health because he believes in the Alliance's approach and potential. I'm thrilled to let him continue this important discussion.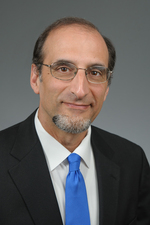 Every single day, students in Cincinnati public schools visit one more classroom than they probably realize.
Jessica Shelly, the child nutrition director for the Cincinnati Public School District and one of our Healthy Schools Program Ambassadors, has done a wonderful job of developing a food service program that complies with federal nutrition guidelines. At the same time, her program teaches students about healthy eating by offering a variety of nutritious, appealing choices. Through a local partnership, she's installed salad bars in all 53 schools in the District at no cost to taxpayers. And the salad bars are merely one example of her efforts.
"I am eroding the perceptions of school meals consisting of mystery meat and greasy green beans," Shelly says.
Shelly is one of thousands of school employees across the country working with the Alliance for a Healthier Generation to make schools healthy environments. At the end of September, the Alliance gathered extraordinary leaders like her from 267 schools across the nation to honor them for their achievements in improving physical activity and nutrition policies and programs in their schools.
President Bill Clinton, a co-founder of the Alliance, praised the award winners in the keynote address of the celebration, which was held at the Clinton Presidential Center in Little Rock, Ark.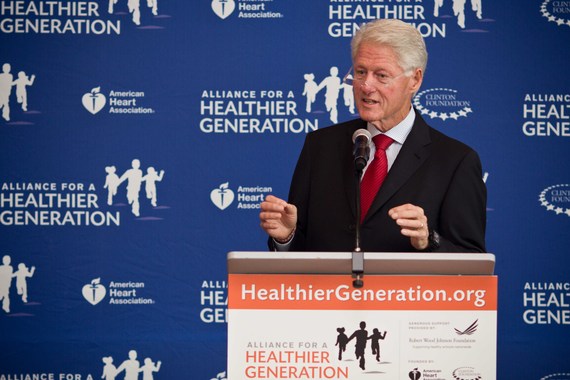 Before that gathering, we saw newspaper articles about a handful of schools that were complaining about the new and improved federal guidelines for school meals recently put into effect to make school meals more nutritious. Some media reports focused on a few schools that claimed to be dropping out of the federal school lunch program because of the new requirements. But at our celebration in Little Rock, you heard a completely different story.
Every single one of the honored schools had already met or exceeded the new federal guidelines for lunches. In fact, the same is true for nearly all of the thousands of schools that work with the Alliance, most of which serve low-income communities. And the U.S. Department of Agriculture recently released a report that found that more than 99 percent of schools are sticking with the school meals program. Offering more fruits, vegetables and whole grains, and cutting down on fat, sugar and sodium in school meals is good for our kids -- and it can be done!
Nearly 20,000 schools across the country are working with the Alliance for a Healthier Generation, and every school day they are proving that schools can become healthy environments. They are serving more nutritious meals, replacing junk food in vending machines with healthier choices, improving the quality of nutrition education and physical education programs, integrating more opportunities for physical activity into the school day, and motivating school staff to become better role models for good health.
A great example of a school that's put it all together is Wilkerson Elementary in El Monte, Calif., which is one of only six schools to have achieved the highest level of recognition from the Alliance: the Gold National Recognition Award. According to Wilkerson principal Juan Munoz, the improvements in school meals and snacks and the increased opportunities for physical activity that his school has implemented have had a profoundly positive impact on his students' academic achievement. Munoz credits the healthy school environment for leading to a rise in attendance and a spike in the school's Academic Performance Index, a score that reflects a school's academic performance.
"It's increased almost 100 points -- highest in our school district," Munoz said.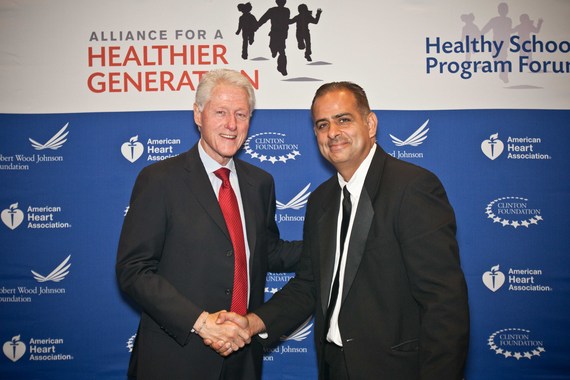 The 267 schools honored in Little Rock are just a sampling of the thousands that are providing their students with exactly what we want for all our children: a healthy place to learn, grow and thrive. The leaders of these schools understand that improving their students' health is an essential step for improving their academic performance.
We have a long way to go to institutionalize health-enhancing policies and practices in all of the nation's schools. But the thousands of schools that work with the Alliance for a Healthier Generation are proof that it can be done.
Let's keep the momentum going. Let's have more of Jessica Shelly's salad bars and fewer kids exposed to the trans-fat-laden, fruit-drowned-in-sugary-syrup, deep-fried way of doing things.
If we can get it right today, we can make students healthier in the short term while laying a foundation that can last a lifetime. We can indeed make the next generation a healthier generation.
Dr. Howell Wechsler is Chief Executive Officer of Alliance for a Healthier Generation