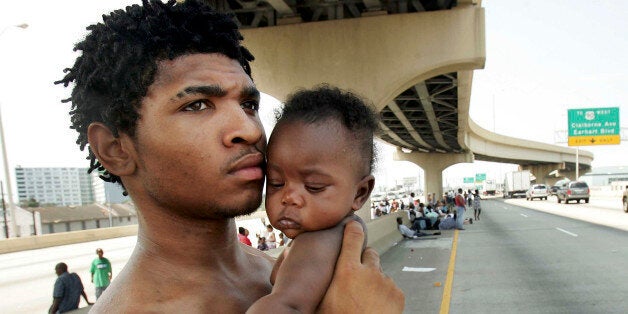 As Hurricane Katrina approached ten years ago, Daniel was 12 and living in New Orleans with his mother and 1-year-old sister. His mom had no car, no cash, and no way to get the family out of the city - or even to the "shelter of last resort," the Superdome. When the levees broke and the floodwaters reached their apartment building, Daniel's mother panicked, fearing that downed wires would electrocute the family if they tried to flee.
Daniel worked to calm his mom, explaining that the power had been turned off before the storm hit. Watching the water rush down the street, he knew he had to act fast. Improvising, he grabbed a bed sheet and strapped his baby sister to his mother's chest, before leading them outside and eventually to higher ground.
When Hurricane Katrina struck the Gulf Coast, children were squarely in the path of the most destructive storm in U.S. history, and many were caught in the floods when the levees failed. Some were killed; others orphaned. Thousands were separated from family and hundreds of thousands were displaced.

But there is another part of the story that is not often told. Children took action. They helped others. Daniel was one of these children, saving his mother and sister.
Siblings John and Johnisha were two more. Stuck in the overwhelming and chaotic Superdome, John, 15, stood guard all night to make sure a leering man didn't attack his sister, 14. Johnisha, in turn, watched over her infant cousin, who had a heart condition and no access to medical care. When John and Johnisha witnessed several deaths in the Superdome, battled hunger, and feared their own parents had drowned, they comforted each other. And when their desperate aunt wanted to take her own life, the siblings stepped up to talk her out of it.

In our respective work serving and studying children affected by Katrina, we have encountered many inspiring examples of resourceful and caring children doing whatever they could to help other children and adults in turmoil. Sadly, we also saw that more often than not, children themselves failed to get the support they needed when this massive disaster and its aftermath turned their lives upside down.
Recovery is a long process; children need assistance long after the storm passes. Surveys of displaced families suggest that tens of thousands of children failed to receive services to address the serious emotional issues they suffered for years after Katrina. Schools, communities, and government were ill-prepared to support these children. Many of the young people we served and studied are still grappling with the consequences.

Daniel, for one, has yet to find his footing. After Katrina, his family bounced from shelter to shelter before landing in a FEMA trailer as home. At the local school, Daniel was bullied and threatened for being from New Orleans. His mother, worried about his safety, kept him home. Concerned about drug-dealing and other criminal activities in the neighborhood, she forbade him from playing outside.

Daniel missed two years of school, spending his days in the trailer, caring for his sister. When the FEMA trailer time expired, the family had nowhere to go. Because he was 16, the homeless shelter for families would not let Daniel stay with his mom and sister. Petrified to move into the men's shelter, Daniel hoped it would only last a week or two. He lived there for a year. "It was so hard," he said.

Daniel, John, and Johnisha deserved more help from adults. They, like many children we served and studied, helped others in need. They rescued stranded residents, led neighbors to safety, warned others, cared for younger children, comforted frightened parents, hugged desolate friends and hid their own fears to avoid worrying adults.
But when children and youth needed help from the authorities, did they receive it? Too often the answer was no. We weren't the only ones to notice. After Katrina, Congress and the president formed the National Commission on Children and Disasters to investigate U.S. capacity to protect children from disaster and to make recommendations to close the gaps. We were overjoyed.
In 2010, the commission issued its final report. It found children especially vulnerable to disaster, but more an afterthought than a priority in U.S. disaster planning. It created a detailed roadmap to ensure that children's needs were met in future federal and state disaster preparedness, response, and recovery efforts. This was great news. Finally, addressing children's unique vulnerabilities would be prioritized.
So, how has our nation done on meeting the commission's recommendations? Save the Children's 2015 National Disaster Report Card finds that just 17 of the 81 recommendations have been met, while 44 remain a work in progress, and 25 have yet to be addressed. The progress made should be applauded. But, at a time when we are facing increasing disaster risks, our government needs to do better.
On this somber anniversary, let us pledge to protect children before the next Katrina. We must demand that Congress and the executive branch hold themselves accountable to the work they set in motion. Completing the commission's recommendations is essential to saving children like Daniel, John, and Johnisha from unnecessary pain. Our nation already has a roadmap to reduce child suffering in disasters. Completing it must be a priority.
Alice Fothergill teaches sociology at the University of Vermont and is the co-author of Children of Katrina.
Carolyn Miles is president and CEO of Save the Children, which has served 1 million U.S. children affected by disaster since 2005. Alice Fothergill is a professor of sociology at the University of Vermont and co-author, with Lori Peek, of Children of Katrina (2015, University of Texas Press).
Popular in the Community