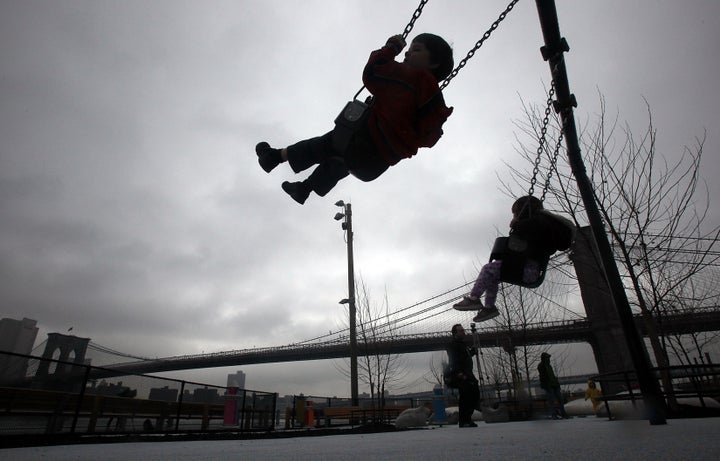 Twenty-five percent of very young children in America are living in poverty, according to an analysis of Census data released Thursday.
The dismal poverty rate among young children mirrors that of adults, who have been pushed into poverty in larger numbers by high joblessness and slow income growth. The Census Bureau announced last week that 46.2 million Americans were in poverty in 2010, the most since the agency started tracking poverty in the 1950s.
And as American parents struggle to land jobs amid a 9.1 percent unemployment rate, the jobs crisis has had an outsized effect on their children, according to the Economic Policy Institute. More than 18 percent of American children had at least one unemployed or underemployed parent, the organization found, compared with 9.1 percent in 2007, before the start of the recession.
Child poverty has been growing across the country over the last decade, the Annie E. Casey Foundation reported last month. Child poverty rate jumped in 38 states during the last 10 years, and about 43 percent of children live economically unstable households, according to the organization's findings.
Children in the south have been hit the hardest by the economic downturn, according to the University of New Hampshire researchers. The South has the highest rate of child poverty at 24.2 percent. Mississippi had the highest rate of child poverty of all the states at 32.5 percent, the study found.
Very young children who grow up in poverty are likely to be affected later in life, according to the University of New Hampshire researchers.
"It is important to understand young child poverty specifically, as children who are poor before age 6 have been shown to experience educational deficits, and health problems, with effects that span the life course," the researchers said.
Elevated rates of child poverty could also have dire consequences for the country down the line. Child poverty is a "leading indicator" of the country's future Patrick McCarthy, President and CEO of the Casey Foundation told The Huffington Post last month.
"Nearly all of the social problems that we worry about in this country are heavily correlated with child poverty," he said at the time.

Related
Popular in the Community