A gunman who killed 19 children and two teachers at a Texas elementary school, in what is now the deadliest school shooting in the state's history, shot his grandmother and posted about his plans on social media before carrying out his attack, authorities said.
Authorities were called to Robb Elementary School in Uvalde, about 80 miles west of San Antonio, just before 12 p.m. Tuesday. There, they said they encountered the 18-year-old gunman after he crashed his vehicle outside.
The lone gunman, identified as local resident Salvador Ramos, was armed with an AR-15-style semi-automatic rifle and hundreds of rounds of ammunition that he had purchased a week before. A second rifle was found in his abandoned truck, according to a law enforcement briefing obtained by state Sen. John Whitmire (D) of Houston.
Ramos shot his grandmother before driving to the nearby school, which educates students in the second, third and fourth grades, Texas Department of Public Safety Lt. Christopher Olivarez told "CBS Mornings." Local police, school officers and state troopers met him there.
"They heard the gunfire, they saw the shooter. At that point they were met with gunfire by the shooter," Olivarez said. "Several police officers were shot. At that point, the gunman, the shooter, was able to make entry into a classroom, barricaded himself, and at that point just started shooting children and teachers that were inside that classroom, having no regard for human life."
In a separate interview with CNN, Olivarez said all the victims were in the same fourth-grade classroom at Robb Elementary.
Officers at the scene were initially unable to enter the classroom, so their primary focus became evacuating as many children from the school as they could. "But again they kept hearing the gunfire as they were doing this, as they were performing the rescues," Olivarez said.
A specialized tactical law enforcement team arrived and was able to make "forcible entry" into the classroom with the gunman. One of the officers in that team was shot by the gunman upon entry, but "at that point they were able to shoot and kill the shooter and prevent any further loss of life," Olivarez said.
The shooter was wearing a tactical vest, but lawmakers were later told that it did not contain any hardened body-armor plates, The Associated Press reported.

The Texas Tribune has reported that the grandmother survived the shooting and was airlifted to an area hospital.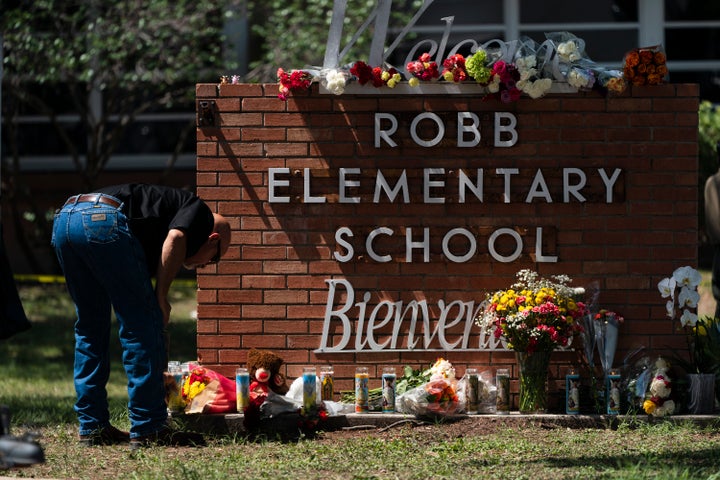 Authorities are still trying to determine a motive for the violence. The shooter was unemployed, and he had no friends, girlfriends, criminal history, or gang affiliation, Olivarez said.
Texas Gov. Greg Abbott (R) said Wednesday at a press conference that the shooter was "reportedly" a high school dropout with a possible juvenile record and no known mental health history.
The shooter had posted on social media roughly 30 minutes before the attack, Abbott said, stating: "I'm going to shoot my grandmother" and then "I've shot my grandmother." Less than 15 minutes before he arrived at the school, he again wrote: "I'm going to shoot an elementary school."
The governor said people need "love" in the wake of the shooting.
"All Texans must come together and support the families that have been affected by this tragedy," he said. "What they need now is love. What they need is uplifting."
"The reality is, as horrible as what happened is, it could have been worse," he said. "The reason it was not worse is because law enforcement officials did what they do, they showed amazing courage by running toward gun fire for the singular purpose of trying to save lives."
The press conference was briefly interrupted when former Rep. Beto O'Rourke (D-Texas), who is running for governor, stood up and confronted Abbott.
"This is on you," O'Rourke said. "Until you choose to do something different, this will continue to happen. Somebody needs to stand up for the children of this state or they will continue to be killed just like they were killed in Uvalde yesterday."
O'Rourke, who was met with cheers and jeers, was escorted out.
The shooting was the nation's deadliest school massacre since the Sandy Hook Elementary School attack in 2012, and the second-deadliest shooting at a K-12 campus in modern U.S. history.
Hal Harrell, the superintendent of Uvalde's school district, said the community was struggling with a "tragic and senseless event." The district immediately ended the school year and canceled all future events and activities for students.
"My heart is broken today," Harrell said during a press conference. "We're a small community, and we will need your prayers to get through this."
After the shooting on Tuesday, parents who hadn't heard from their children gathered outside a civic center and waited for news. Some family members were swabbed for DNA to help authorities identify those injured or killed in the attack.
Throughout the night, groups of loved ones burst into sobs when investigators told them their children had died.
A woman whose niece attends Robb Elementary said authorities had asked parents and family members to provide descriptions of what their children were wearing when they went to school Tuesday morning. Her niece was missing after the attack.
"They would ask you for a picture, a description of what they were wearing this morning … it was hard," the woman told WFAA, Dallas' ABC affiliate.
One teacher who was killed in the attack was identified by her family as Eva Mireles. Her aunt, Lydia Martinez Delgado, told The New York Times that Mireles died while trying to protect her students.
She was a mother in her early 40s and was "very loved," Delgado told the paper. "She was the fun of the party."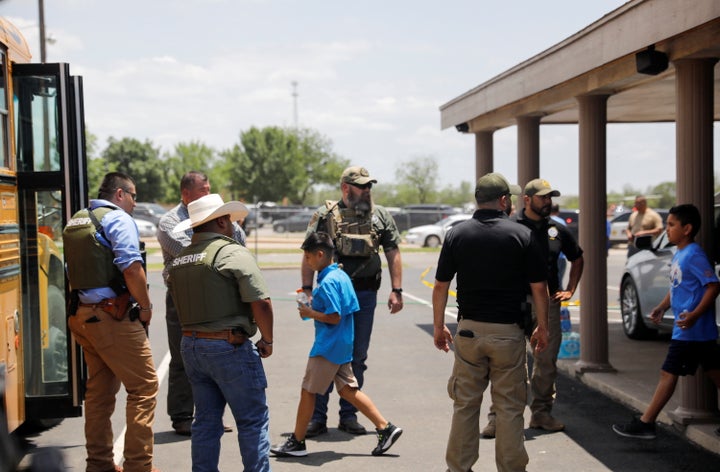 The nation's top Democrats called for urgent action on gun control after the massacre, although such action would be difficult in a 50-50 Senate. President Joe Biden ordered flags at the White House and federal buildings to be flown at half-staff for the victims through Saturday.
"Why are we willing to live with this carnage? Why do we keep letting this happen? Where in God's name is our backbone?" the president said in a speech from the White House on Tuesday evening. "It's time to act. It's time for those who obstruct or delay or block commonsense gun laws, to let you know: We will not forget. We can do so much more. We have to do more."
Biden added that he was "sick and tired" of lawmakers' inaction on the issue, asking: "When in God's name are we gonna stand up to the gun lobby?"
"Our hearts keep getting broken," Vice President Kamala Harris said earlier in the day. "Enough is enough. As a nation, we have to have the courage to take action and understand the nexus between what makes for reasonable and sensible public policy to ensure something like this never happens again."
Many Republicans rebutted those calls, including Sen. Ted Cruz (R-Texas), who advocated instead for more armed law enforcement on school campuses.
"You know, inevitably, when there's a murderer of this kind, you see politicians try to politicize it, you see Democrats and a lot of folks in the media whose immediate solution is to try to restrict the constitutional rights of law-abiding citizens," Cruz said Tuesday. "That doesn't work. It's not effective. It doesn't prevent crime."
Texas state Sen. Roland Gutierrez (D), who represents the area, said he planned to provide resources, including grief counselors, to Uvalde, which he described as a small town.
"Very hardworking community, rural in nature," Gutierrez told HuffPost. "It's a beautiful little town, small-town Texas. I just can't imagine. ... I am in shock for those parents and those families and the entire community. My heart goes out to them."
Daniel Marans contributed reporting from Uvalde.
Popular in the Community