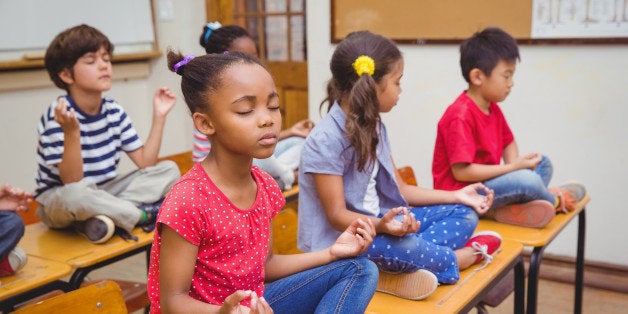 I had this exact poem displayed on my bedroom closet door as a little girl, (red border and all which matched my red shag carpet). I would read it over and over until the days when my Teen Beat posters replaced it.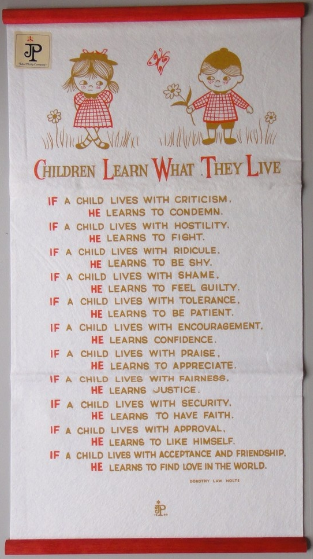 I remember asking my mom to clarify questions I had about it, including:
• What does hostility mean?
• Why does the author only use the pronoun "he" when it was written by a girl?
• She would translate all of the big words and reinterpret it into kiddie speak.
I have been thinking about this poem over the past couple of days as a result of yet another heinous act of violence from a man, well really a monster, who probably was never taught about one of the key messages in this poem - ACCEPTANCE. I jump to this conclusion based on a comment that the killer's father said in reaction to his son's terror attack:
"I don't know why he did what he did." He then adds, "God will punish those involved in homosexuality. It's not an issue that humans should deal with." Seddique Mir Mateen
Alrighty then. His interview clearly revealed the level of ignorance passed down from father to son. My daughters have come to know and love some of my favorite family members and closest friends, who happen to be gay. They were exposed to a LOVE IS LOVE lifestyle at such a young age that it has never been questioned. But when you are raised in a home with a parent who is an ideological supporter of the Afghan Taliban, your chances of growing up with an open-mind towards American culture is highly unlikely.
While studying abroad in Israel for a semester in college, I took a fascinating class called Political and Social Insight into Middle Eastern Politics. My once promising political career which started as class president and culminated as student government president, ended upon high school graduation. However this one class reignited an interest in the political system, specifically the politics of the most violent, complex region of the world. I devoured every book on the subject that I could get my hands on and came to class each week with a series of questions for my professor. The more I learned, the more aware I became of my surroundings and began to comprehend the mindset of the society I was living in. I started to understand the significant role that religion played in the politics of every country bordering my temporary home...along with their unified hatred of Israel and America.
While I struggled to relate to the ideologies that most of the Middle East was built on, I was intrigued to learn more and experience first-hand the Giza Pyramids, a camel ride through the desert, and the ancient archeological city of Petra (where Indiana Jones and the Last Crusade was filmed). So out of respect for their laws and to avoid being stoned to death, I covered my skin from neck to ankle despite the triple digit temperatures and shut my often outspoken mouth so I could explore some neighboring countries.
This is what you do when you visit or live somewhere with opposing views from your own. You don't have to drink the Kool-Aid and actually believe in the same principles as those around you, but you do need to adapt and follow the rules. In some countries this means covering your boob and ass cracks.
Here in the U.S. it means you don't slaughter innocent American citizens to show your disapproval of how we live and whom we love.

While we don't have the same level of political unrest here in the U.S. as Islamic fundamentalists controlling parts of the Middle East, we do have a political system that is dysfunctional. Our political process is so broken that we can't even get a gun control policy passed to prevent an individual who was listed on the Terrorist Screening Database from buying an assault rifle! We live in a country where a civilian can legally own a rapid-fire assault weapon designed specifically for the military to use for mass casualties.
Omar Mateen, who referred to the Boston Marathon bombers as his "homeboys," was placed on a terrorist watch list maintained by the FBI when its agents questioned him in 2013 and 2014 about potential ties to terrorism. His investigation was closed once agents determined that Mateen had not broken any laws, yet they then questioned him AGAIN the following year once they learned he had contact with an American who later died in a suicide bombing in Syria. Despite all of this, he still had no problem legally purchasing two guns in the last two weeks from a gun store near his home, according to federal officials.
So we are once again left feeling helpless and horrified that senseless mass shootings continue without any sign of change. When will it end? Do we need to stop going to nightclubs, movie theaters, theme parks, school? Do we have to be one of the families that are directly impacted by this brutality to stop the rhetoric of hate speech?
Children learn what they live. The way we raise our children today will directly impact who they become as adults. We as parents need to help prepare our kids to live, learn, and work in communities that will most likely become even more diverse as they grow up.
We must teach them tolerance and an understanding that we live in a diverse society, and that they will have different opinions from their friends, peers, and neighbors - and that is OK.