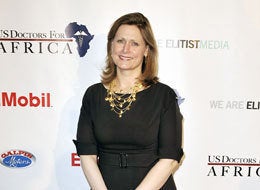 Progress is being made to save the lives of mothers and newborns around the world. Still, every minute, a woman dies of complications in pregnancy and childbirth, leaving her baby more likely to die within two years. Most of these deaths could be prevented. Join The Huffington Post and the Mothers Day Every Day campaign in the global movement to call upon world leaders to invest in health workers and strengthen health systems so that every day, everywhere in the world, all women and newborns have access to lifesaving care.
There was a turnaround conference for MDG5 in London in 2007 and it is no accident that the campaigning group that initiated it was called Women Deliver - oh-so-true in so many ways.
I'm starting to see more and more discussion on the blogs and in women's magazines about third wave feminism. It's like those of us lucky enough to benefit from our mother's efforts to urge and discover greater freedoms for women are suddenly all thinking 'so now what?'
For me, the discussions of new feminism give us a chance to talk about one of the great insights of the old sort: that women without economic power in the end tend to be denied social, political and personal power too. So if we seriously want our century to be a women's one, we need to think about what injustices remain for women in the developing world.
I listened recently to the group of African First Ladies gathered together for a health summit in the US and watched them work out how to build their programs and figure out how to put maternal health at the heart of what they do. They recognized readily that this is the keystone to addressing everything else. At some point we must change how we measure our existing work - our programs for international development, for education for all, for combating HIV/AIDS, malaria and polio, for economic empowerment and cultural change. We need to know how well we are doing on maternal mortality, or we won't know how well we are doing in bringing real justice.
More and more people and organisations seem to agree with this - ask the First Ladies, ask the hospital chiefs and midwives, the health ministers, the community leaders, the microfinance lenders, the NGOs and other organisations signed up to the Maternal Mortality Campaign, and go to those heads of Government - from the Global Leader's Network who have taken a stand on this issue to the G8 leaders who seem to be listening.
But especially ask the children. Ask them if they need their mothers. Effective development means recognizing that mums matter - and that means midwives matter too.
It seems fitting that in one week we see the International Day of the Midwife (5th May) and Mother's Day in the United States (10th May). It is all the more so in 2009. For from now until the G8 meets in July, a series of meetings will be held by G8 Ministers that will decide what happens to the new health worker commitments made last year - will decide, in effect, whether we as a world believe that the mothers we cherish deserve the care that will keep them safe.
It was last year's G8 that first discussed maternal mortality - the most threatened of the Millennium Development Goals - at an international level. It was also last year's G8 that set an agreement for 4 million new health workers to be trained to work across the developing world. Of this total, 1 million will need to be trained with the skills to help mothers and newborns to facilitate a safe delivery for both.
So it is this year's G8 meeting, to be hosted by PM Silvio Berlusconi, that needs to approve the international health financing facility that will enable these new health workers to move from being pledges on a page to realities in women's lives. The health financing facility must use maternal mortality reduction as a measure of its success and must make sure that up to 25% of these new health workers are doctors or midwives, or nurses and other health professionals who have the relevant skills and training to turnaround the unaddressed neglected area that is maternal (and newborn) health.
There is every reason to believe that the G8 will succeed in all this, though not to be taken for granted. New bold commitments for health and MDG5 will start to save lives which in turn will help save communities, economies, and environments. This is the start of where it can all go right.

If we can do this, we can save those mothers to raise their children, protect their families, enrich their communities, contribute significantly to their economies and make a priority the quality and protection of their environment. A mothers survival is the key to reaching all our targets but is dependent each time on having a skilled health worker on hand with the right supplies. This could be 40 cents worth of lifesaving blood coagulant to stop post-partum haemorrhage, 3 cents worth of magnesium sulphate administered correctly to stop pre-eclamptic rising blood pressure, or even just basic clean wipes and the means of delivering a malaria net for the start of new life, or the antiretroviral drugs that prevent mother to child transmission of HIV.
The problem may be big, but the solutions are there and entirely achievable if we all make the moral commitment and encourage the necessary political will. So in the countdown to this week to Mother's Day in the United States on Sunday, isn't it time to thank our mothers and celebrate their contribution to our lives, by clicking up www.mothersdayeveryday.org in the USA or www.millionmums.org which is the White Ribbon Alliance's campaign from the UK to register your support?
Check out the rest of our Countdown to Mother's Day series by clicking here
Related