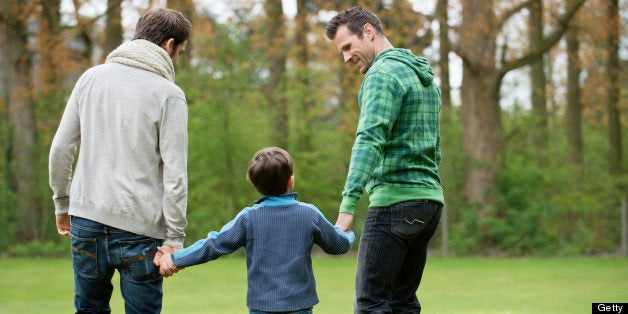 One of the most critically acclaimed documentaries of the year is taking the film festival world by storm. Having already screened at the Nashville Film Festival, Miami Gay & Lesbian Film Festival, the 23rd Annual Toronto InsideOut Film Festival, and the Honolulu Rainbow Festival, and San Francisco DocFest,TWO: The Story of Roman and Nyro will soon to be screened at Philadelphia Q-Fest, and Outfest-Los Angeles. Directed by Heather Winters,TWO documents the 12-year journey of legendary songwriter Desmond Child and his partner of 24-years, Curtis Shaw, and the extraordinary way they met and connected with Angela Whittaker, the woman who carried their twin sons, Roman and Nyro, into the world.
Our emotional film, which is narrated by Roman and Nyro (11 years old), features a cameo appearance by their godfather Jon Bon Jovi and by family friend Deepak Chopra. TWO won the Audience Favorite Award for U.S. Documentary at the Nashville Film Festival this past April where it played to two sold-out audiences of movie-lovers, media and friends, and also won the HBO 'Home Town Hero Award' for director Heather Winters at the Miami Gay and Lesbian Film Festival. From preconception through the boys' first 10 years, TWO is the personal and powerful story of how our lives became inextricably woven together in magical and unexpected ways. TWO is testament to the universal power and ultimate triumph of love -- that it is love that makes a family, affirming modern families may be modern in their making, but timelessly human at their core. We're just living our lives day by day, having the same ups and downs as any other family, but we have an interesting perspective... our kids don't see any difference between our family and their friend's families. We know that all parents want the same things for their children... to be happy, to live a life full of purpose and full of compassion, kindness and love.
Roman and Nyro were born in Miami Beach, Fla., but now call Nashville, Tenn., home. My partner, Desmond Child is one of the world's most successful songwriters ('Livin on a Prayer,' 'Waking Up in Vegas,' 'Dude Looks Like a Lady' and 'Livin' La Vida Loca') and can really choose to work anywhere, but Nashville is where we've chosen to live and where we've built a supportive, diverse community of friends. Even when we've ventured out of our protected 'circle of safety' into the local youth-sporting community, we have discovered that the people here support diversity and recognize us as a family as legitimate as any other.
The film began as a video diary conducted by Angela Whittaker, Roman and Nyro's surrogate mother. A month or two into the pregnancy, we joined in on several interviews and over time, the project grew in scope. Originally we wanted to document everything that was happening for Roman and Nyro to show how much thought, love and grace went into bringing them into the world. Later we thought it we would be a great way to stand up and show other gay couples that having children was not only possible but a joyful choice. As the years and footage mounted, it's turned into a much bigger project. The journey of my own mother, Mary Ann Shaw (who appears in the film), toward accepting me as a gay man is the same leap the rest of the country needs to take in understanding and accepting that America really is a country where there is liberty and justice for all, and where there will eventually be marriage equality for all its citizens. My mother, who recently celebrated her 81st birthday, was born the second of 11 children into a fundamentalist Christian Midwestern home and has grown into a stalwart supporter for gay rights and marriage equality. She was instrumental in helping create an 'Open Door Ministry' at her local United Methodist Church in Columbia, Missouri, to serve as a bridge between the church and the local LGBT community.
What we're finding this summer as we support the film at festivals across the country is that our story especially resonates with people who recognize that in the trenches of parenthood, Love is the binding factor in making a family. Whether you've got a mother and a father, are a single parent, have two moms or two dads, are adopted or are a family of mixed race or are a blended family -- love is the guider to truth and Love makes a family.
As the issue of same-sex marriage is on the tip of everyone's tongue, especially with lawmakers and advocacy groups throughout the country, filming the documentary mostly in Nashville carries greater significance. "This film couldn't come at a more important moment in our nation's history when hearts and minds are fractured and debate rages over equality," says director Winters. "I'm honored that Desmond and Curtis entrusted me to tell the world their story." Known for executive producing such diverse films as Super Size Me, Anywhere u.s.a, Convention, and Class Act, TWO marks Winters' directorial debut.
Popular in the Community