The haunting photograph landed like a brick in my Inbox. It was sent by Sandrine Skinner, a French national who had just left Texas' death row where she had visited her husband, inmate Hank Skinner. "This is the first photo taken of Hank and me in 10 years," Sandrine wrote in an email.
Her message went on to give me permission to publish the photo, albeit reluctantly. "We have so little privacy that seeing 'us' in the public arena isn't to my liking," she explained. The Skinners are denied private visits and barred from touching during their five-year marriage. Hank, the Texas authorities say, is a menace to society.
As I have reported, Skinner has spent 18 years on death row for a triple homicide he swears he did not commit. Mounting evidence, including DNA tests the state had fought for more than a decade, strongly supports his claim of innocence. Yet Skinner came within 45 minutes of execution in 2010 and almost died three times this year due to an often-fatal illness.
The photo might be the last taken of Skinner alive as his lawyers desperately fight to have the new evidence heard by a Texas judge.
When I saw the photo, my mind instantly flashed to an eerily similar shot I'd seen a long time ago. It was of Julius and Ethel Rosenberg, convicted of allegedly passing nuclear secrets to the Soviet Union. The couple were executed in 1953, orphaning their two young sons, Michael and Robert.
Similar doubts about the Rosenberg's guilt have persisted from their arrest through this year's 60th anniversary of their execution. The evidence today indicates that Ethel was innocent and Julius, although a spy for Moscow, had not stolen anything that helped the Soviets build the bomb.
After finding the photo of the Rosenbergs, and putting it next to the photo of the Skinners, I turned to two people whose reactions might be revealing - the children of the condemned.
Natalie Skinner, 32, was 14 years old when her father was sentenced to death. She steadfastly believes in his innocence and has traveled from her home in Virginia to visit him on death row whenever she can. She last saw her father about a year ago. Before that, she said goodbye to him on the day he came within minutes of lethal injection.
Robert Meeropol, 66, was 6 years old when his parents were electrocuted in New York's Sing Sing prison. In 1990, he founded the Rosenberg Fund for Children and remains active in its mission, having turned day-to-day operations over to his eldest daughter, Jennifer.
I caught up with Natalie and Robert ("Robby") last week and asked them to comment on the photos.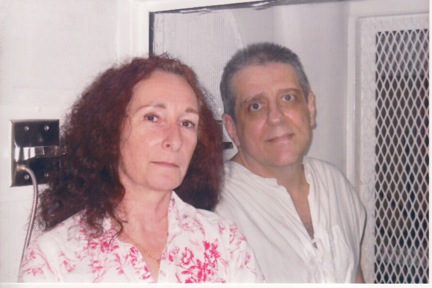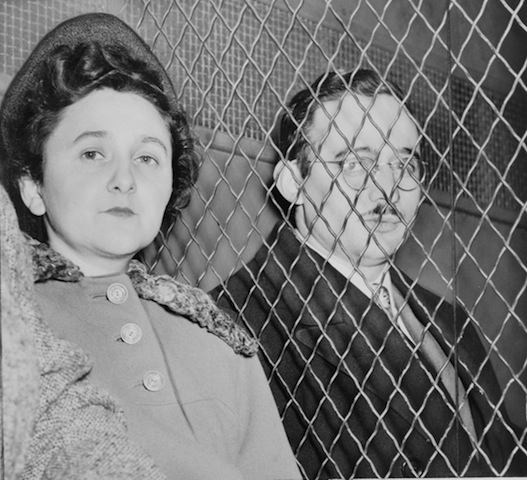 Natalie struggled for several days to express her feelings. "The similarities have taken me aback," she says. "So many years have passed but yet it's still the same: the pallor that hangs over them all, the weight pending execution bears down. Nothing has changed except the clothes they wear."
"The picture of my father is bittersweet," she says. "It's relieving to know that he was well enough to visit with Sandrine, but at the same time, it's heartbreaking to see how unwell death row let him become. When I opened the picture, I was briefly shocked by how much his appearance has changed," she says. Natalie attributes the change to his recent bout with acute pancreatitis and the lack of proper medical treatment for death row inmates.
"My innocent father on death row has been part of my life since my early teens," she reflects. "There's always been the shadow of possible execution that hangs over like a smog cloud, so after 18 years I've mostly become numb to it."
Natalie reluctantly recalls the "almost execution" of her father, saying it is "still one of the most profound things I've ever been through. I remember when I was told the Supreme Court had stopped the execution. I realized I had been holding my breath the day we said goodbyes. It had all been very dream-like (not in a good way), but the weight that lifted when the stay was given was indescribable."
"It's hard to wrap the mind around the idea that we, as so-called civilized people, can actually take someone's life without solid, definitive proof. It reminds me of herding sheep to slaughter and that's a terrible thought to grow up with hanging over you."
"Nowadays, I wake up every day thankful for the day simply because my Dad still breathes."
Robby offers a somewhat different take on the photos. "The first thing that jumps out is that Hank and Sandrine look in much worse shape than my parents." Noting that his parents had been imprisoned for a few months at the time of the photo, he points out that "Hank and Sandrine have endured decades of torment while he has been on death row." Although Sandrine "hadn't been imprisoned as my mother was and she isn't facing execution, it is clear that she's been living through hell."
"While my parents look better," Robby adds, "all four people have the same trapped look in their eyes. It is a certain kind of on-guard wariness. These are all people, even Sandrine, who have been trapped by the overwhelming power of the State."
Robby notices the "similar, diamond-shaped metal fencing in both pictures. It separates my parents but not Hank and Sandrine. Some might call it progress that the Skinners are separated by Plexiglas instead, but once again their treatment is even more inhumane than my parents since they have not been allowed to touch for so much longer."
Robby believes modern-day capital punishment is "torture" and scoffs at death penalty proponents who say otherwise. "The idea that facing execution for such a long time is not a form of torture strikes me as absurd. You can apply formalities and psychological jargon to place prolonged time on death row outside of the definition of torture," he says, "but those who do that fool no one -- probably not even themselves."
Next week, the Center for Constitutional Rights will release a report about death row conditions, focusing on international prohibitions against torture, discrimination and degrading treatment. A senior staff attorney at the Center helped conceive the report. Her name is Rachel Meeropol, the younger daughter of Robby Meeropol, and the granddaughter of Julius and Ethel Rosenberg.
REAL LIFE. REAL NEWS. REAL VOICES.
Help us tell more of the stories that matter from voices that too often remain unheard.