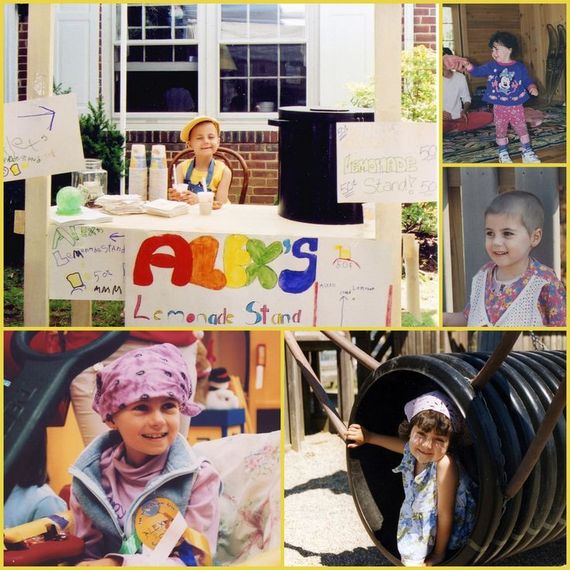 There is a saying that it's not the years in your life that matter, but rather the life in your years. Nothing could be more true in reference to my daughter Alexandra "Alex" Scott (1996-2004), who in just 8 ½ short years left a permanent mark on the world and in turn, changed the way we fight childhood cancer. I have always been the type of person who aims high, but when my daughter Alex told a reporter in 2004 that she wanted to raise $1 million for pediatric cancer research, even I was among the doubters. Looking back, Alex dreamed as only a child could -- BIG, and looked at all that was possible instead of focusing on the naysayers and what they said couldn't be done.
Now, as we enter the summer months and "lemonade season," as we call it at Alex's Lemonade Stand Foundation, I have the immense pleasure of hearing from children all around the country who are continuing what Alex started. They are children of all ages, from all walks of life, and they all have something in common - their dreams are unending and they don't take no for an answer. There are so many children, like Alex, who have driven and contributed to philanthropic campaigns, that it got me thinking: what would the world be like if more adults had that unnerving spirit, the fearlessness that children so often exude?
You may have heard the story of 8-year-old Christian McPhilamy who grew out his hair for more than two years to donate to kids who have lost theirs. Christian, after seeing young cancer patients during a TV commercial for a children's research hospital, was inspired to make a difference. He asked his mom to help, and together they found a charitable organization accepting hair donations. Over the two years it took to grow his hair, he received more than his fair share of taunts and comments, some even calling him a girl, but he was never discouraged. When the day finally came to chop his long locks, Christian was able to donate four 10-inch long sections of his hair. Kids are sponges - picking up on the needs of others - and Christian is the perfect example. What started out as curiosity led to empathy and motivation, and ultimately, helped children he had never even met. Again, I ask: What if we all so blindly thought about others - getting involved simply because it felt right?
In 2011, 5-year-old Devin Jackson heard about hosting a lemonade stand. Shortly after, her mom came upon an Alex's Lemonade Stand Foundation banner at the bottom of an email from Toys"R"Us. This spurred her to learn more about the Foundation, and she decided to ask Devin if she would be interested in hosting an official stand and donating the proceeds to help children who were sick. Devin enthusiastically said yes and immediately asked if her 1-year-old sister Chloe could help too. They signed up to host their stand, had a great day and before it was even over, Devin was asking her mom if they could do it again. Devin was so inspired that she dressed up as a Doctor of Oncology for Halloween! Since that first year, Devin and Chloe have gone on to host lemonade stands annually and they continue to grow with involvement of family and friends and the attention of local media. And, they aren't stopping anytime soon! Every year their mom asks if they want to continue hosting their stand, and every year she is thrilled to get the same answer:
"To help kids that have childhood cancer, we need to do what we can so they can find a cure, so kids don't hurt anymore."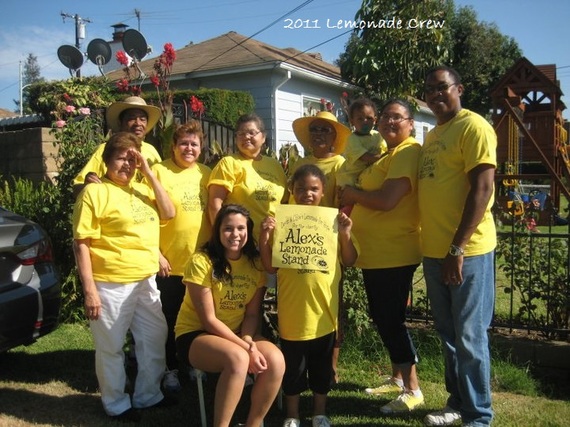 Thank you to Devin, Chloe, Christian and of course Alex, for being beacons of hope for the future, and showing us what is possible.
Calling all HuffPost superfans!
Sign up for membership to become a founding member and help shape HuffPost's next chapter