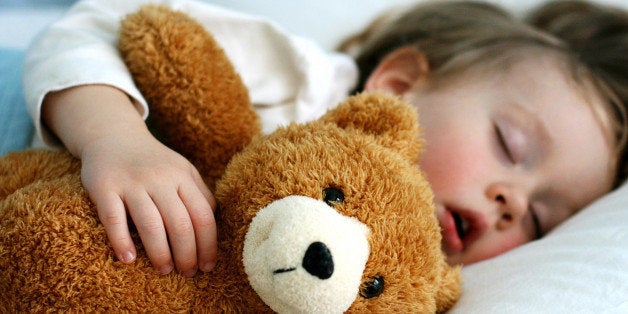 BY KATHRYN DOYLE
NEW YORK Wed May 21, 2014 3:59pm EDT
(Reuters Health) - In a new study, children who regularly got too little sleep had worse physical, emotional and social health than those who slept the average amount.
"Sleep is important for a lot of reasons, and can influence health and well-being and cognitive functioning," said lead author Christopher A. Magee. "The typical sleep pattern appeared to have the best outcomes as measured in this paper," he told Reuters Health in an email.
But since this is a relatively new area of research, the researchers can't say for sure that this pattern of sleep causes better health and wellbeing, said Magee, of the University of Wollongong in Australia.
Genetics do influence the regulation of sleep, but the results suggest that environmental and social factors, like household financial hardship, may play a role as well, he said.
The researchers used Medicare Australia data from a group of almost 3,000 children to track the kids' health and quality of life at four points between birth and seven years of age.
Parents completed sleep journals and answered interview questions about their children's sleep patterns, and included how often their children had experienced problems like difficulty waking, feeling sad, problems socializing or missing school due to illness, which were meant to rate the child's overall quality of life.
Researchers divided the kids into four groups based on their sleep patterns: "typical sleepers" slept the most as infants, about 14 hours, and gradually decreased their sleep duration until age seven, when they got an average of almost 11 hours per night.
"Persistent short sleepers" showed a similar decline in sleep hours over time, but they always got about an hour less sleep than the typical sleepers. Only 11 percent of kids fell into this group.
"Initially short sleepers" started out like the short sleepers, but by age five or six were getting as much sleep as typical sleepers. This group included 45 percent of the kids, followed by typical sleepers, who made up 40 percent.
Less than three percent of kids had the most unusual sleep pattern, which started short, with sleeps of less than 10 hours in infancy, gradually increasing with time. Researchers called this group the "poor sleepers."
Poor and initially short sleepers tended to have a lower physical functioning score on the quality of life scale than typical sleepers. Persistent short sleepers also had the physical disadvantage, as well as lower emotional and social functioning scores, according to the results published in Pediatrics.
Following one group of kids for seven years helps to focus on the problem of too little sleep as a chronic issue, not just one bad night, said Dr. Elsie M. Taveras, director of Pediatric Population Health Management at Massachusetts General Hospital in Boston.
Taveras worked on a similar study published in the same issue of the journal, following 1,000 kids from age six months to seven years, and found that kids who chronically slept too little tended to have more body fat at age seven than longer sleepers.
Kids who had shortened sleep most often were more than twice as likely to be obese than kids who rarely or never had short sleep duration. That's a significant increase in risk, she said.
"Two times the odds of obesity for any risk factor for obesity is very rare," she said.
In Taveras' study, short sleepers not only had more fat, but more abdominal fat than longer sleepers.
"Abdominal fat is particularly hazardous for later cardiometabolic diseases," like diabetes and heart disease, she told Reuters Health by phone.
Taking the results of her study with the results of the Australian quality of life study, the amount of sleep kids get seems to be linked to a huge number of areas of health, she said.
According to recommendations from the National Sleep Foundation and the National Heart, Lung and Blood Institute, toddlers need more than 12 hours of sleep per day, children up to four years old need between 10 and 11 hours and up to age seven kids should get at least 10 hours, Taveras said.
"For many children, good sleep could be promoted by having regular bedtimes, limiting household noise, and limiting TV viewing and electronic media near bedtime," Magee said, but some sleep problems like sleep apnea or primary insomnia may need specialized treatment.
"If a child has persistent problems sleeping and this is impacting on their normal daily activities, then it may be a good idea to seek some advice," he said. "A general practitioner could be a good starting point."
SOURCE: bit.ly/1gGJ0KR and bit.ly/1vsqt9h Pediatrics, May 19, 2014.
Related