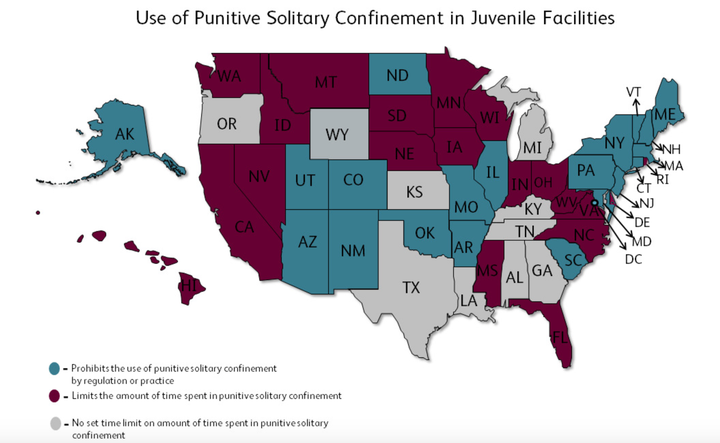 WASHINGTON -- Ten states allow children in juvenile detention centers to be punished with solitary confinement indefinitely, according to a new report released by the pro bono program at the law firm Lowenstein Sandler. Of the twenty-one states that prohibit the practice, most still allow kids to be isolated for reasons other than punishment.
Solitary confinement, the practice of isolating someone for up to 24 hours a day, has come under increased scrutiny by lawmakers and human rights advocates. A United Nations torture expert said in 2011 that solitary should never be used to punish juveniles. The American Academy of Child and Adolescent Psychiatry also opposes the practice, noting that "the majority of suicides in juvenile correctional facilities occur when the individual is isolated or in solitary."
But restrictions vary widely by state. According to the report, Alabama, Georgia, Kansas, Kentucky, Louisiana, Michigan, Oregon, Tennessee, Texas and Wyoming either place no limits on the amount of time a child can be placed in punitive solitary, or allow for indefinite solitary confinement if an administrator approves it. (This doesn't include youth held in adult facilities, where the use of solitary can be more common.)
Twenty states set harder restrictions on the practice, including limiting time spent in punitive solitary to six hours per day (Delaware) and only allowing children to be held in solitary for 90 days total (California).
States are increasingly moving to ban punitive solitary altogether. The U.S. Justice Department reached a sweeping settlement with Ohio last year curbing the practice. One of the kids cited in the Obama administration's lawsuit was Kenny, a 17-year-old who spent nearly 82 days locked in his own room or an isolation cell. "I wasn't even thinking straight, banging my head on the door and everything else. I was acting like a crazy person," he said.
Isolation can permanently change the teenage brain, neuroscientists have found. Animal studies have shown that the pruning of synapses that occurs during adolescence -- a process that allows kids to grow out of behaviors like impulsiveness -- doesn't happen normally in long-term isolation. This means that solitary may, in fact, increase recidivism. When kids are not punished with isolation, they are less likely to act out, some states have found. When Ohio implemented the new rules, violence by youthful inmates declined 37 percent between January and September of 2014.
Despite the fact that more states are banning the use of solitary as punishment, many are still using isolation for non-punitive reasons, like a "perceived threat to themselves, others, or the security of the facility," according to the report. Lowenstein said that "isolation should not exceed a few hours unless absolutely necessary for the safety of the juvenile." Children placed in solitary for more than 24 hours should spend at least eight hours out of the room per day, the report notes, and have normal access to school, programming and mental health services.
Lawmakers are seeking to address the problem on the federal level. A bipartisan criminal justice reform package would ban solitary confinement of juveniles in federal facilities in nearly all cases.
Popular in the Community