The tattoo on my left hip reads: Faith, Calm, Courage, Patience, and Grace, for these are the words I chose to signify the life lessons my children have brought into my life. The placement of the tattoo is symbolic as my left hip is where I carried each of them before (and, who am I kidding, sometimes even after) they could walk. The footstep above each word suggests the journey aspect of my message: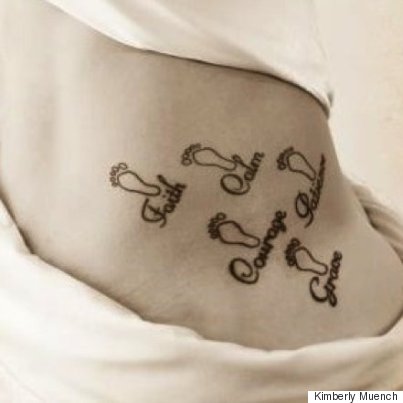 Before I became a mother, at the tender age of 18, I wondered if I would be any good at it. Worried about whether or not I was mature enough, strong enough, or even smart enough to handle the job, my intuition got the best of me and I chose to jump head first into the position anyway.
My eldest son, now 28, is truly a baptism by fire. Faith was an easy word to assign to him because of the amount I needed to have in myself in order to take on single parenthood right after my freshman year in college. Faith continued to play an instrumental role throughout our relationship, but took on new meaning several years ago when he and I walked through his addiction to alcohol together... he at the same age I was when I became his mother. Nearly five years sober now, my eldest son is the essence of what fuels my faith in the belief all things are possible.
My second son, well into his college years, arrived on a hot August day with ease, he was an easy baby, an easy child. Like the ocean, his thoughts run deep, yet his demeanor is calm, rhythmic and constant, like a soothing tide. As he contemplates his path in life I know his decision and direction will rest squarely on what the Lord intends for him.
Courage roared into my life with the arrival of my third son. Born prematurely at 34-weeks, after a six-week hospital captivity, we feared he would suffer a multitude of birth defects. While we awaited his arrival, and how God would deliver him to us, it turned out we had nothing to be afraid of. His lesson prior to entry I have carried into the many years of parenting I have since experienced. After all, raising children in the climate we have created takes a great deal of courage.
Number four arrived (again early) with quite a set of lungs. Given I had always been a laid-back soul, I quickly came to realize collick was not a condition I would wish on anyone. He continued to spend the first five years of his life pushing my buttons, yet somewhere along the line we managed to establish a relationship built on mutual respect. People say patience is a virtue... I say patience is the most necessary ingredient to keeping your head above water in the throes of family life.
For years I prayed God would send me a daughter, the last big lesson arrived one sunny April day when Mia entered our world. She graced us with her presence and reminded us from day one how different life would be in raising a girl.
So, while I worried about the mother I might be, and thought I needed to have all the answers from the beginning of my lifelong career, it turns out my children were the ones to teach me the most important elements about how to navigate the world, which, of course, is through faith, calm, courage, patience and grace.
This blog post is part of a series for HuffPost Moments Not Milestones called 'Lived and Learned: What I Want My Younger Self To Know.' To see all the other posts in the series, click here.