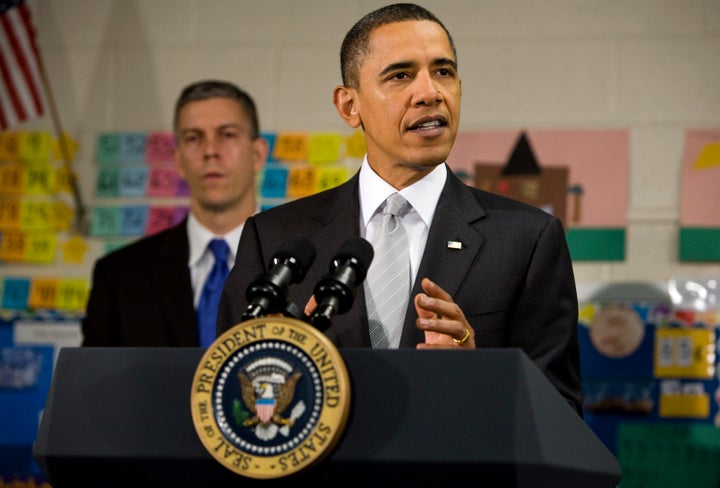 In the wake of the Sandy Hook shooting and other incidents, school safety understandably is on everyone's minds. At a Department of Education open house earlier this month, Secretary of Education Arne Duncan said that the Biden/Obama proposal on gun control had created one of his proudest moments while serving in this administration. Curbing school violence, he told us, is among his top priorities for the next four years.
Somehow I think it's doubtful that these are the kinds of efforts he has in mind:
• Two 6-year-old boys in Maryland were suspended while playing cops and robbers during recess and using their fingers to make imaginary guns.
• Also in Maryland, another 6-year-old was suspended for making a gun gesture with his finger, pointing at a classmate and saying "pow."
• A 5-year-old in rural Pennsylvania was suspended from kindergarten after telling another girl that she was going to shoot her with her pink Hello Kitty toy gun that discharges bubbles. School officials labeled the child a "terrorist threat" and interrogated her for three hours without her parents present.
If you're wondering what these stories have to do with curbing school violence, good for you! But I suspect that many readers, like many teachers and parents, are in favor of such zero-tolerance efforts. They don't see these incidents as overreactions. After all, the thinking goes, if we stop such behaviors at a young age, children, schools, and the world in general will be a much safer place.
That may be the conventional wisdom -- but that doesn't necessarily make it true. What's more likely is that these children and others like them, who are scolded, shamed, and suspended merely for doing what children do will now feel anxious, powerless, and vulnerable. And that can't be good for anybody.
Just ask the experts. I did. In a discussion with Gerard Jones and Nancy Carlsson-Paige, I posed questions about war, gun, and superhero play. Does it demonstrate a tendency for violence? Should it be prohibited? The answer, even from Carlsson-Paige, a child development expert celebrated for her work in peace education, was a resounding no.
Jones, the author of Killing Monsters: Why Children Need Fantasy, Super Heroes, and Make-Believe Violence, and Carlsson-Paige, author of The War Play Dilemma: What Every Parent and Teacher Needs to Know, were adamant that children require this kind of fantasy play (fantasy being the key word). They need it to make sense of the world around them, to learn to differentiate between fiction and reality, and to work out their fears. When young children see something scary in the media (and they see more than we think they do), it's through their play that they explore and express their feelings about it.
Still, many early childhood professionals, educators, and school administrators seem unaware of this. With dismay, I read a conversation on Facebook last week, where one teacher or childcare provider after another proudly proclaimed she had implemented a zero-tolerance policy. No cops and robbers. No superheroes. No "bang-bang" with guns made out of fingers, carrots, or sticks.
These professionals are all well-intentioned. But as Gerard Jones told me, when we bring too much of our adult anxiety to the children we make them fretful about their fantasy and play. Instead of enabling them to understand that fantasy is safe because it's not real, we instead force children to think about the reality of what they're playing at. We impose our adult anxieties about real guns and real violence on them. It's in the classroom, he insisted, that we need to encourage children to "play these things out," to build fantasies, and to work their concerns and fears into an imaginary life.
Because of this, Carlsson-Paige expressed concern about children who don't get opportunities for this kind of play. "Where does it go inside of them?" she asked. "How does it affect them?"
As both of these experts attested, a zero-tolerance policy is problematic. That doesn't mean, of course, that anything goes. There is a middle ground, and educators and childcare professionals are in the best position to understand this and to help children find it. Carlsson-Paige offers alternatives to outright banning in the BAM Radio Network segment. She and Jones further explore this topic in their books, which clearly have become even more relevant today.
I recommend that teachers, providers, and parents absorb the wisdom of these resources. Perhaps with the necessary understanding and information, adults can stop making children feel like terrorists when they're simply behaving like children.
Calling all HuffPost superfans!
Sign up for membership to become a founding member and help shape HuffPost's next chapter