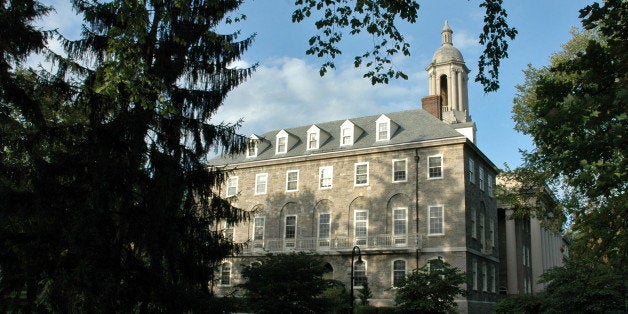 I wrote a little something about this:
I'm writing this to make a point that I feel can't ever become redundant. I seem to keep having to argue a very necessary objective regarding the PSU/Paterno scandal and the NCAA sanctions. I suppose I'll keep reiterating as often as possible until people who don't get it, do.
The points I make about the tragedy seem to get lost when I over-articulate, so I found a way to reply to some arguments I heard defending Joe Paterno, or denouncing the NCAA sanctions. Note that if you don't want to read the entirety of my divulgences for any of them, you can stop after the first sentence of the first four or skip to the last sentence of the fifth rebuttal and what I'm saying will remain clear.
Point 1: Joe Paterno made huge contributions to PSU, monetary and to the betterment of the school.
Rebut: Children were raped.
(No contribution to the school, monetary or morally (this word is relative at this point), overshadows the biggest failure of his life, which was not standing up for abused children when he could have. And make no mistake, had JoePa done more, there is no chance Sandusky gets those extra years to abuse the boys.)
Point 2: Joe Paterno told who he thought he was supposed to. That's all he was legally required to do.
Rebut: Children were raped.
(If you, as an adult -- as the most influential adult at the university -- don't know that you are supposed to alert authorities, or do everything in your power to stop it, I pray you never ever have children.)
Point 3: Taking away the wins in the span of a decade wipes away the accomplishments of the men who played football during that time -- men who had nothing to do with the scandal.
Rebut: Children were raped.
(I'm sorry about the guy that has a metal plate in his neck from a particularly violent game, and I'm sorry that the hard work of players during that time will now be absolved, but I'm guessing they had childhoods (if any of them experienced rape or something equivalent as a child, let me know, and I'll apologize to them personally for my mistake). Some of them even are well enough to be able to complain about losing their wins on Twitter. The victims lost their childhoods and very possibly their chances of ever being completely well-rounded adults. I'd say their loss gets the upper hand.)
Point 4: The NCAA sanctions only hurt future football players who weren't even around during Sandusky's wrath.
Rebut: Children were raped.
(And they were raped for over a decade because the football-is-life mentality overshadowed the right-vs-wrong mentality. It is unfortunate for the young men who will lose their chances at athletic scholarships, but again, I contend that they'll have other chances to still make a future for themselves. They can play for other schools, and they can (perish the thought), rely on an education rather than football for their future endeavors. These 2nd tier options are a luxury compared to what the victims of will endure for the rest of their lives. It's not a stretch to say many of them will be permanently damaged to the point of irreparable. Not to mention, if the players understand and are sympathetic to the plight of the victims, why haven't I read a story about at least a single one of them saying, "You know what? I'm okay with the sanctions because I'm not okay with children being raped. And whatever I need to give up won't be a speck of what they've lost" -- or you know, something like this.)
Point 5 (and possibly the most preposterous of them all): To drive home the magnitude of how much the NCAA sanctions hurt Happy Valley, a man was interviewed saying, "It was our 9/11."
Rebut: Hey, dude... know what else was totally 9/11? NINE-E-FUCKING-LEVEN, where over 3,000 innocent civilians lost their lives. They lost their lives, not their scholarships, not their potential futures, not $60 million, not 10 football seasons, not a legacy at a university... they are dead.
(Also, children were raped.)
If anyone says to you, "Children were raped," nowhere in your response should there be a "I feel awful for them, but..." because that little word means you are defending something or someone other than the children. On a broader, more personal level, there are so few things I see matter-of-factedly in life that I can often be seen as fickle. But this is so black and white to me that I don't know how it isn't to everyone else. There are no greys when children are raped.
How can I better sum this up than to say that we cannot allow children to be raped? We cannot allow the perpetuation of a mentality that allowed it to happen. I have a few friends who went to PSU and want to defend the university and I'm okay with that. If USF was being dragged through the mud, I'd be inclined to stand by my alma mater, but I would not be so far inclined that I would lose perspective. The NCAA needed to deconstruct and demolish everything that happened during that time, JoePa's statue and record had to be removed to reflect the severity of the abuse, and PSU needs to rebuild. And truly, I have no doubt that they will. Don't defend the monumental mistakes that JoePa and the administration made, and don't deny the necessary consequences that come as a result. It won't be soon, and it won't be easy, but the school will successfully rebuild. I just hope they build something they can be proud of. They just have to know that before they can do that, they need to better know what's worth being proud of. Adding 112 wins back to Paterno's record is not one of them.
Calling all HuffPost superfans!
Sign up for membership to become a founding member and help shape HuffPost's next chapter