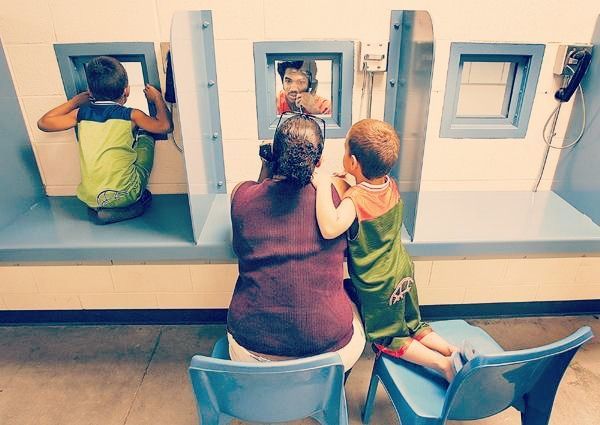 One in 14 children in the U.S. has one or both parents in prison — and those children are four times more likely to end up in jail themselves. They also drop out of school at a higher rate and, if they are in foster care, are 65 percent more likely to become homeless once they age out.
Those are sobering statistics, but there's more. Between 1991 and 2007 the number of imprisoned adults that had children in their care at the time of incarceration has grown by 79 percent.
Much has been said, studied and written about how prisoners should be treated and educated, but earlier this year in Oregon, attention also turned to the children that are left behind when a parent goes to jail. In Oregon, nearly 70,000 children have one or both parents in behind bars. The numbers are skewed toward African-Americans (1 in 9 children) and those low on the socio-economic scale (1 in 8 children).
To address the needs of these children, Oregon Governor Kate Brown signed a bill of rights – the first of its kind – with the aim of creating policies that help children maintain ties with their incarcerated mothers and/or fathers, and reducing the trauma associated with having a parent in prison.
"We know that a large part of what helps with re-entry is having families that are intact. Children of incarcerated parents are victims, as well, of what happens. Their needs are rarely taken into consideration by the courts [and] by the police," said Senator Michael Dembrow (D-Portland), the chief sponsor of the bill.
There are nine rights on the bill, including these four:
1. The right to maintain a relationship with the incarcerated parent(s)
2. The right to be protected from trauma and harm following the parent(s) arrest
3. The right to be included in decisions, such as foster care
4. The right to be cared for in a way that takes the child's mental, emotional and physical needs into account
Additional bills that Dembrow supported focus on incarcerated parents' entry back into society when their jail time is completed, and include:
1. Suspension of child support payments for the incarcerated parent(s)
2. The ability to do community service in lieu of paying court fees and fines, for those on probation
3. Certificates of good standing for those with minor offenses that demonstrate good behaviour, community service and adherence to probation rules. Such certificates aim to give released prisoners a better chance at obtaining self-sufficiency through housing and jobs.
It's hoped this two-pronged approach for the children incarcerated parents and the parents themselves will increase a child's overall wellness following their parent's arrest and incarceration, foster the maintenance of the family unit, help parents get back into society with the ability to take care of their children, and reduce the stigma children with parents in jail often experience.
While a bill of this nature is not binding, it's a big step forward in the continuous revamp of America's prison system, and the recently created Task Force on Children of Incarcerated Parents will further develop the children's bill of rights and help to implement it across the state's wellness agencies.
The overarching goal of the bill, the support behind it, and the work ahead of it, is to consistently identify and break down the barriers that come up when a child has a parent committed to jail. The social, economic, mental and access-to-opportunities barriers can create huge obstacles for these children. Hopefully this new bill of rights will dismantle those barriers, resulting in better rehabilitation for offenders and better outcomes for families.
Christopher Zoukis is the author of Federal Prison Handbook: The Definitive Guide to Surviving the Federal Bureau of Prisons, College for Convicts: The Case for Higher Education in American Prisons (McFarland & Co., 2014) and Prison Education Guide (Prison Legal News Publishing, 2016). He can be found online at ChristopherZoukis.com and PrisonerResource.com.
Support HuffPost
The Stakes Have Never Been Higher
Related
Popular in the Community