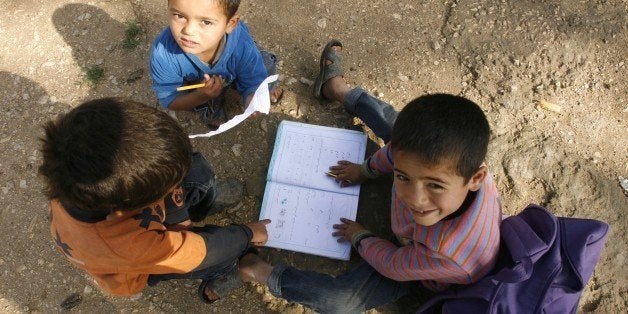 This post is part of the Relay for Kids in partnership with SOS Children's Villages. Each time you share this post, Johnson & Johnson will donate $1 (per action) to support children worldwide affected by crisis. Scroll to the bottom to find out more.
I've been on the front lines of tending to and advocating for the needs of children for more than 30 years. In countless countries around the world, I've held newborns struggling to make it through the day. I've looked into the innocent eyes of toddlers abandoned by the people who should have loved them most. I've held the hands of grade-schoolers whose palms were hardened with scars from their long days of toiling in a glass factory. I've watched teenage girls shrink under the disapproval of their older husbands.
Through it all, I have learned a great deal about what children need, and the truth is, children actually require very little. They are resilient and strong, "made to last," as a nurse once told me. They can endure great hardship and deprivation. Children are perennially hopeful and remarkably resourceful. Given a modest chance, they are survivors.
For many years, if you had asked me the question "What do children need most?" I would have said "love." Those of us who grew up with the love and support of our parents received a tremendous gift. Our parents helped nurture and shape us into what we have become.
For most of us, our definition of love includes an implicit commitment to care for and protect those we love, especially our children. It means ensuring that they are fed and schooled, that they receive proper health care and that they are sheltered from harm. But that is not always the case, because those who profess to love their children do not always provide for them or protect them.
I believe that the single most important thing that children need is protection.
When it comes to child protection, the statistics paint an all-too-vivid and disturbing picture. Millions of children around the world are regularly subjected to widespread forms of violence, from abuse in the home to bullying in school. UNICEF estimates that two in three children throughout the world suffer regular physical punishment at home. Every five minutes, a child is killed by violence -- not armed conflict but personal violence. In 2013, close to 100,000 children and teens were victims of homicide. The murder of children is the leading cause of preventable death.
And this is not an issue confined to some distant land. In 2008 and 2009, more American children were killed by guns -- 5,750 -- than U.S. military personnel fighting in Iraq and Afghanistan during that same period.
Sexual violence against children also is pervasive. An estimated 120 million girls around the world have been subjected to sexual violence. Forced marriages, often between preteen girls and men old enough to be their grandfathers, are not uncommon in many parts of the world. Cultural traditions, including forms of genital mutilation, also inflict great pain on young girls.
More difficult to quantify are incidents of neglect. When I was working as a Peace Corps volunteer in Kenya years ago, I met Fatima, a 4-year-old girl from the Boran tribe. Her parents had divorced, and when her father -- a respected teacher in the village -- remarried, his new wife refused to help raise her: Boran tradition dictates that the father retains responsibility for children. Ultimately, Fatima's care and upbringing were consigned to an elderly woman who barely had enough to scrape by on her own, and as a result, Fatima was woefully malnourished. Even at 4, her legs had not developed enough so she could walk -- two bony sticks that could not bear her full weight. Her speech and brain functions also were severely affected.
I loved Fatima -- and, perhaps in some strange way, so did her father -- but that love was not enough to help her get what she needed. She needed protection -- from neglect, from starvation, from a world that had cast her aside.
Millions of the world's children -- of all ages, in developing and developed countries, boys and girls alike -- deserve from us an emboldened commitment to protect them. Children can endure much hardship and rise to the challenges that come with the often unfair conditions around them, but what they cannot do is protect themselves. For that, they need us.
"What is the single most important thing every child needs?" Let's ask a more actionable question: "What is the single most important thing adults can do to help children?" We can live up to our moral imperative to protect them, in every way possible.
By sharing, you make a difference for kids in crisis: From March 23 until April 24, each time you 'like' or share this post via the social media icons above or comment in the section below, Johnson & Johnson will trigger a $1 donation (per social action) to SOS Children's Villages, the world's largest organization dedicated to orphaned or abandoned children, up to $30,000*. $1 provides food, shelter and medical care to a child in crisis. In addition, you can also Donate A Photo** and Johnson & Johnson will donate $1 when you upload a photo for SOS Children's Villages -- you can help raise up to $20,000 in seconds with the click of your mouse or snap of your smart phone.
Johnson & Johnson, SOS Children's Villages and The Huffington Post created the Relay for Kids to support children around the world who have been affected by poverty, conflict, disease and natural disasters. Visit www.sos-usa.org/relayforkids to learn more.
*Blogs must be shared between March 23 to April 24, via Facebook, Twitter, StumbleUpon, reddit, Tumblr and Google+ from the Huffington Post. Each share will trigger a $1 donation up to $30,000. There are no limits on how many times you can share a post.
** via the Donate A Photo app for iOS and Android. Johnson & Johnson has curated a list of trusted causes, and you can donate a photo to one cause, once a day. Each cause will appear in the app until it reaches its goal, or the donation period ends. If the goal isn't reached, the cause will still get a minimum donation.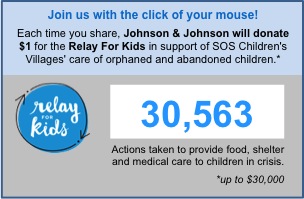 REAL LIFE. REAL NEWS. REAL VOICES.
Help us tell more of the stories that matter from voices that too often remain unheard.