They call Rwanda the land of a thousand hills. Having been here three weeks now, I call it the land of a thousand reasons to believe that a better future is ahead for this small African country that was devastated by genocide less than 20 years ago.
You can count the reasons in the faces of the 8-14 year olds participating in the Children's Peace Libraries in Kigali, Gisenyi, Byumba, and Kanzenze. These small libraries pave the way to a huge goal: building sustainable peace in the country through the education of children. The libraries aim to educate the children's minds, but also to nurture within them an appreciation of others, a respect for differences, and to provide them with the skills needed to resolve conflicts peacefully - now and in the future.
In Kigali alone, more than 500 young people from 12 primary and secondary schools in the area of Kicukiro come to the library after school to read and check-out books. They're learning to love books, which many of them do not have at home. They're also practicing English, the third language for these young multilinguists when Rwanda made a sudden change from French to English as its official language in 2009. The children speak Kinyarwanda at home and on the playground.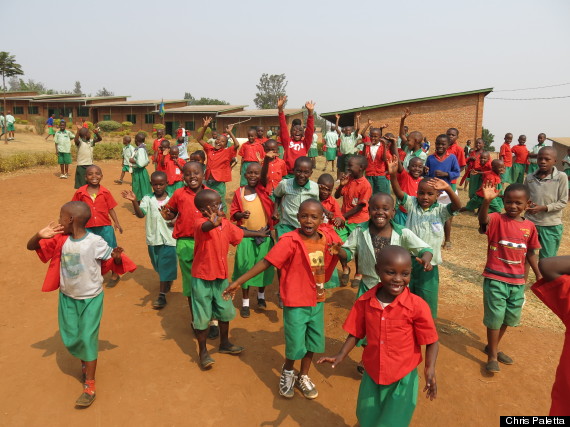 As funds permit, the libraries also sponsor three-day mediation and conflict resolution training workshops for 25-30 students at a time. Jean-Baptiste, librarian in Kigali, selects students from the primary grades to participate in the workshops because he believes that it is important for them to learn to solve their own conflicts and not always rely on teachers and parents to intervene. "The skills taught here," he says, "enable the children to resolve the small conflicts that are a normal part of daily life, and then later they will be prepared to become mediators of adults."
It's not possible to overestimate the importance of having a sense of mastery over one's life and one's future. I spent time last week at the library in Kigali with a group of fifth-graders and an old, water-damaged Atlas Britannica that someone had donated to charity. The students had never seen such maps. Listen to them: Oh, I found Kigali! There is Lac Kivo. Do you know Uganda? Mother took us to Tanzania. Uncle says there is sadness in Goma, right there. My cousins are in Burundi. Where is America? How many days did you travel to get here? Do you love our mother country?
No school in America would use such outdated materials, but I'll bet few students anywhere got more excited than these young Rwandans, following their natural curiosity about the world and how they fit into it.
The libraries were started by Dave Bucura and Jean-Baptiste Hakizimana of the Rwandan Transformational Leadership Center, in cooperation with the African Great Lakes Initiative of the Friends Peace Teams. The Rwandan Yearly Meeting of Friends (Quakers) and the Mennonite Central Committee donate time, money, volunteers, and books.
The founders and sponsors are not timid about what they hope to accomplish. "Our long-term vision," according to the website at www.cpenrwanda.wordpress.com, "includes an ultimate goal of adding peace education to the national Rwandan curriculum." Let's cheer them on - 1000 %.
Support HuffPost
The Stakes Have Never Been Higher
Related
Popular in the Community