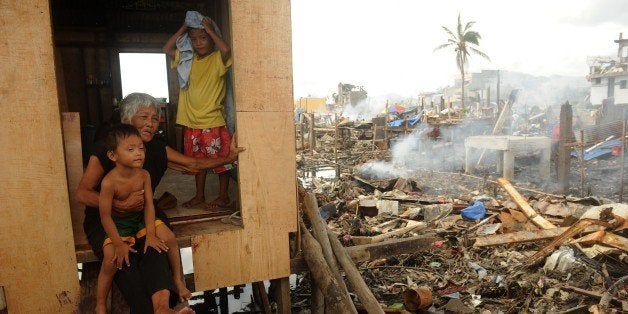 As Typhon Haiyan swept indiscriminately across the islands of the Philippines last month, it left an estimated 6,000 people dead and another nine million homeless or affected in other ways. Among the numbers are countless children. Just as poverty has a disproportionate impact on children who bear so much more of the burden of deprivation than do their parents, large-scale disasters can be particularly devastating for children -- in a number of ways.
To start, children are often the least prepared to deal with the physical hardships associated with the aftermath of natural disasters. The lack of food and potable water as well as prolonged exposure to the elements put children at increased risk, especially when they have been displaced from their parents. They also are more vulnerable to illness and disease. Pneumonia and diarrhea are commonplace, and the lack of treatment and proper facilities can compound the threat to their well-being.
Along with physical challenges come emotional ones. Children take comfort in the routines of their daily lives, and when those familiar patterns are disrupted, they can become anxious and unsettled. Poverty already carries with it an element of unpredictability -- what will tomorrow be like? When you overlay that sense of unease with the volatility that comes with a disaster's aftermath, children's fear can reach unhealthy levels. And through it all, many children do not have the reassuring oversight of their parents to help comfort and guide them through such a traumatic event.
For the thousands of children who lost parents in the typhoon there is another pernicious threat. Traffickers and pedophiles prey on orphans who can become tragic victims of human trafficking. Under the pretense of caring for these homeless children, traffickers sell them as part of illegal adoptions or even introduce them into the world of child prostitution from which there is often no escape.
In responding to Typhoon Haiyan, we understood what children and their families are going through and what they would need. Our first priority, of course, was to provide immediate disaster relief, especially to areas of the Philippines where we already had been working -- Ormoc City and Roxas City -- as well as in Tacloban City, one of the hardest-hit localities. Despite widespread damage to roads and the area's basic infrastructure, caused mostly by 13-foot storm surges, we were able to distribute supplemental food packs, consisting of rice, noodles and canned goods and other supplies like soap, diapers and sanitary supplies to the thousands of families in these affected areas.
Based on our experience, however, we know that food and supplies are not enough, especially given the many issues that children face in the days and weeks following a disaster. In order to provide for their safety and give them something almost as important -- the freedom to be children -- ChildFund creates what we call Child-Centered Spaces, which are typically set up within evacuation camps. These child-friendly spaces are run by our trained staff as well as volunteers that organize structured play -- games and art activities, for example. The idea is to help children overcome the trauma that they have just endured -- and in many ways are still enduring -- and to deal with the loss of loved ones and the stress that comes with living within a densely populated area with many people previously unknown to them. And of course, ensuring the safety and well-being of the children in these spaces is paramount.

In the days following the typhoon, ChildFund was able to set up Child-Centered Spaces in each evacuation camp. Infants, young children and older youth are grouped separately within each camp, with staff and volunteers overseeing age-appropriate activities. Within the spaces, we also are assisting with the difficult task of identifying children who lost their parents, helping local officials ensure that these children are placed where they can ultimately grow and thrive.
Deadly natural disasters like Typhoon Haiyan are terrifying ordeals for everyone involved, but for children in particular, they can disrupt their lives in so many ways. Our focus, as with our work at all times, is to make sure that children's distinctive needs are met, both in the short and long-term. We help them cope and heal, and with good fortune, get back to the business of being children. One final note of thanks to the many ChildFund supporters who have helped made our relief efforts in the Philippines possible. Your support is making a world of difference.