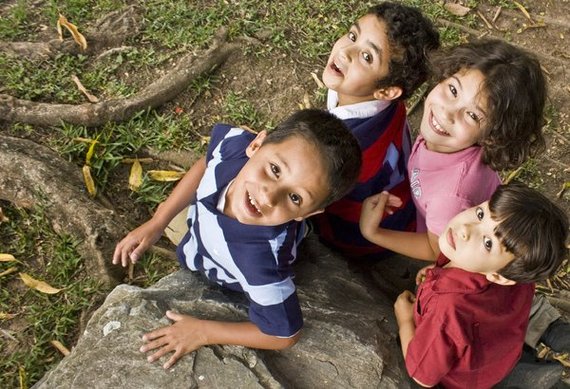 When Malala Yousafzai collected her World's Children's Prize in Stockholm last month, she donated her prize money to help rebuild schools in Gaza. "The needs are overwhelming...more than half of Gaza's population is under 18 years of age. They want and deserve quality education, hope and real opportunities to build a future," she said.
Malala's donation will help rebuild some of the 83 schools damaged during this year's conflict, but sadly Gaza is far from alone. One billion children around the world are currently deprived of one or more services essential to their survival and development, 215 million are engaged in child labor, 101 million are not attending primary school and over 50 million have not even had their births registered.
These facts are well documented, but it wasn't until I was asked to participate in the Global Child Forum, an initiative by King Carl XVI Gustaf and Queen Silvia of Sweden which aims to promote child rights across the world, in Dubai last November that I properly began to understand how closely children's rights intersect with the business.
Children's rights are much more than access to education, and the role of business in respecting and promoting these rights is particularly broad. This includes actions such as responsible marketing and advertising campaigns, equitable employment policies and practices, ethical supply chain management, and meaningful dialogue with youth and their families, just to name a few examples.
With this in mind, we must ask ourselves whether most businesses truly understand the impact they have on children, and how they relate to day-to-day operations? Do we have the tools and expertise necessary to safeguard children's rights in a truly meaningful way? And finally, do we have the right connections in place to enable our businesses to learn from the experiences of others and work together to enhance our impact on children?
The Children's Rights and Business Principles recently published by UNICEF, the UN Global Compact and Save the Children, takes this seemingly intricate subject and makes its relevance to business abundantly clear. It identifies the different ways in which the decisions of a business can impact children's rights, provides practical steps businesses can take to improve their children's rights performance, and is a resource that I believe everybody in business should take the time to read and understand.
Of course, awareness alone can only do so much. We also need to ensure that businesses have access to the capabilities and expertise necessary to convert their commitment to children's rights into positive action.
This is something we have learned at the Pearl Initiative in relation to our efforts to promote a culture of better corporate governance from businesses in the Gulf Region of the Middle East. Importantly, we always put the business case, and not just the ethical case, at the forefront of our activities, and do not wait for rules or regulations to guide our mission for instituting better corporate practices. We also try to provide businesses with locally relevant case studies and tools that are pertinent to their circumstances and cultural setting.
Similarly, in my opinion, any approach to imbedding children's rights and interests more deeply into business models around the world must take into account the different social, cultural and business dynamics that are at play in different regions. This means avoiding a cookie-cutter approach to addressing these challenges and requires us to tailor solutions to the regional context in which we expect them to be implemented.
In a world where trust is paramount to a company's social license to operate, it is becoming essential for businesses to be pro-active, and not reactive, about good conduct. Consumers expect nothing less. We have seen many examples of how a breakdown in this trust has had catastrophic effects on a company's bottom line and in no area could this be more relevant than in relation to the rights of children. While a company can take years to rebuild the trust of its stakeholders after a case of corporate corruption, and face potentially manageable losses through fines and missed opportunities, I would argue that a company can never recover from a breach of trust related to children's rights.
Simply put, the decision makers in our companies cannot afford to be lax about these efforts to protect our children, and the unintended consequence of a bad decision or poor oversight could well put us out of business altogether.