I've often heard the advice that an adult should read a children's book once a year. I'd have to modify this advice by saying go see a children's play once a year. Then I'd have to modify that advice and say go see a children's theater group once a year.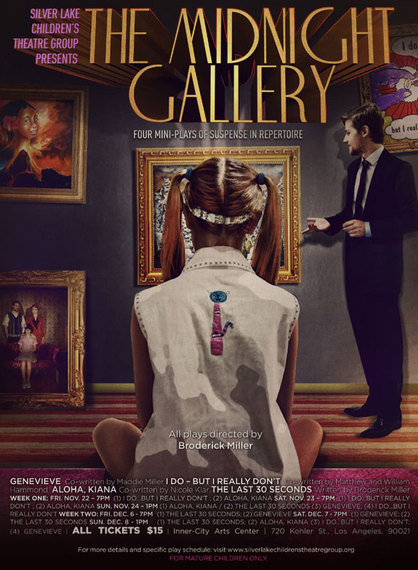 Recently, I had the pleasure of stumbling onto a Silver Lake Children's Theatre Group performance at Inner-City Art's Rosenthal Theater in Los Angeles. The Midnight Gallery, Four Mini Plays of Suspense in Repertoire is directed by Broderick Miller, an Emmy Award-winning screenwriter, who has a very reasonable approach to the role he plays in the theatre group: let the kids decide what to write about and (for the most part) how to interpret the material.
Four plays tied together with a Rod Serling, Twilight Zone character bookending as a vehicle to tie in social commentary, this is children's theatre created by children and teens. Under the tutelage of their director, young actors create the content they wish to explore and ultimately stretch and grow their talent as well as learn something about the human condition. Each year, Miller works with the actors to help them find their voice. From the start, he asks what they want to write about and they caucus regularly to understand the issues and determine the best content and approach to take.
The particular play I saw, Aloha, Kiana, co-written by 11-year old Nicki Klar, discussed marriage, the possibility of parents separating, how we connect to our romantic partners, and most importantly how to be honest with ourselves and others, all through the eyes of teens. It was poignant and funny. I was drawn in. Every minute. Aloha, Kiana reminded me of principals that can take our lives into highest echelons of happiness or weaknesses that can bury us in human misery.
If the reason behind reading a children's book is to simplify the prose and chatter and remind us of lessons learned, with the Silver Lake Children's Theatre Group, watching young actors play adults reminded this adult that not only do adults crave honesty but kids do too. It is essential to our collective human success story.
The best way to sum up the effort was done so by Broderick Miller himself
"As we like to say around here: 'The Silver Lake Children's Theatre Group - we ain't doing Rapunzel.'"
The Midnight Gallery, Four Mini Plays of Suspense in Repertoire is showing this weekend at Rosenthal Theater
@ Inner-City Arts Center
720 Kohler
Los Angeles, CA 90021
REAL LIFE. REAL NEWS. REAL VOICES.
Help us tell more of the stories that matter from voices that too often remain unheard.