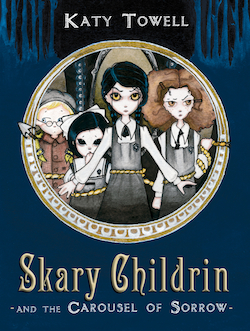 Skary Childrin and the Carousel of Sorrow is a horror novel for young adults that chronicles the misadventures of a group of oddball kids living in the spooky town of Widowsbury. The book is written and illustrated by Katy Towell, a professional graphic designer and the creator of the Childrin R Skary website, who fantasizes about "one day being the scary old lady in the house about which all the neighborhood children tell ghost stories." Towell's literary debut, Skary Childrin and the Carousel of Sorrow was recently among the top 100 of Amazon's bestsellers for "children's spine-chilling horror." The Bulletin of the Center for Children's Books praises it as "a splendidly odd little tale," and Kirkus Reviews calls the book "a rousingly melodramatic literary debut." In addition to being an artist and writer, Katy Towell is an antique collector, amateur tea connoisseur, and recreational violin player. She offers us a glimpse into her macabre universe and tells us just why Childrin R Skary.
Where did you get the idea to write Skary Childrin?
I wanted to write a story that included the things I loved most as a child and still love as an adult: things like mysterious carnivals, curses, otherworldly places, and sinister characters with a kind of dark madness. But when I was a kid, I also felt like a tremendous oddball who just didn't seem to fit in anywhere. I know there are lots of kids out there just like I was, so I wanted to make them the star of the story, too, and have it be believable for them.
Why did you decide to write the story for a younger audience?
Before I had the idea to even write this book, parents over the years had told me that their children liked my animated shorts - sometimes even asking for them as bedtime stories! I always found this sweet and yet hilarious because my animations are hardly Dora the Explorer. They're pretty dark. Still, I liked the idea of it - a truly scary book for kids. I just never really considered it seriously until I was contacted by the guy who would end up becoming my agent, Paul Rodeen. He basically said, "You should write for children," and I thought, "Well, okay, then!"
How do you feel Skary Childrin fills a void in contemporary children's literature?
I feel like children's literature can sometimes be too safe. I know that when I was a kid, I wanted something both scary and thought-provoking, and I had trouble finding anything current for my age group that did the job. I'm actually starting to see more books that fit that description, these days, which I think is wonderful, and I hope Skary Childrin can be counted among them.
How are young readers different now, compared to 20 years ago?
I think they have higher expectations! They've seen a lot more at their age than kids twenty years ago, so they're a little harder to please.
Do you think Skary Childrin appeals to adults, too?
I definitely wrote it with adults in mind, too, so that's my hope!
Why do you think magic is such a compelling theme in kids' literature?
Kids have such a limited world by the simple virtue of being children, and I think this makes them feel crushingly powerless sometimes. Magic both represents freedoms/knowledge they wish they had and the world outside their front yard.
Which is the first language you'd like to see the book translated into, and why?
Spanish, definitely. I probably get more questions about a Spanish translation than any other. And it looks like it's actually going to happen!
What does the future hold for Skary Childrin?
Only time will tell, but I like to think it holds a lot of kids - including grownup kids - being just a little nervous about turning out the lights after they read this... and loving it.
PHOTO GALLERY
Childrin R Skary
Calling all HuffPost superfans!
Sign up for membership to become a founding member and help shape HuffPost's next chapter