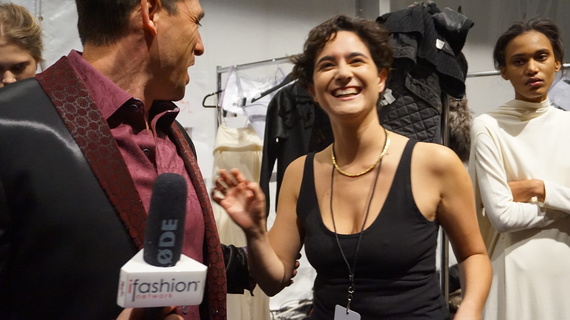 Anna Wintour described the strongest collections of the season as those with a direct point of view -- a show whose "girl" was clearly distinguished through a consistent and powerful aesthetic that could be confused with no other. The collections possessing the ability to reflect a woman's character were the ones to watch. I had the unique opportunity to view a collection representing an entirely new set of influences, that of Latin America.
Enter: Lupe Gajardo. A Latin American ingenue fresh from Northern Chile eager to inject the runways of New York with a bit of cultural context, or as she would describe it, "spirit." While Lupe is not new to the industry, already nine collections deep and highly celebrated in Latin America as the fashion world's "prodigy child," this was her debut on the New York stage -- a defining moment in any designer's career.
As we chat backstage before the show, I am eager to learn how Ms. Gajardo will bring to life the 'Lupe Woman' -- a woman grounded in cultural tradition while aspiring to the avant-garde. She tells me that we'll find it most in the materials -- which were all sourced from Latin American -- as well as in the handwork itself. Each and every piece was constructed by authentic Latin American artisans.
Ana Tijoux's "1977" opens the show (she, too, a Chilean artist), but as the first looks emerged, the literal cultural references already felt a bit formulaic. A parade of raw iterations followed. There were geographic references such as natural feather appliques, cultural designs like ponchos and perhaps the most literal of all -- the burlap "Coffee Sack Dress" draped loosely with over-sized pins, and a bird perched on the shoulder to boot. Latin American culture + fashion = x?
Likewise, we saw smart, luxe layering pieces in turtlenecks, tees and organic Borreguito socks tucked into chic handmade sandals, embossed subtly with her namesake. The clean and earthy color palette was highlighted texturally in hemp hair pieces, leather accessories and dramatic evening silhouettes -- the standout being a full body maxi dress in creamy white which read as a nun's habit-esque gown for the modern day "Rosario."
Lupe's intention is to convey "Latin America's energy, power and soul for the truly authentic, stylish and daring to experiment and feel." While Lupe's singular experience is enjoyable, her emphasis on simplicity left something to be desired -- her message came through beautifully at times, but in other moments, her concepts felt under-developed. Is Latin American culture to be defined deductively by a coffee reference, a nod to Catholicism, or by feather and leaves local to the jungles of our vast countryside? As a Latino, how do you feel it should be represented?
I would consider myself a "Lupe Woman." We share a cultural heritage, and a reverence for our roots. I can see and admire the point of view shining through, but will others? How can we take the elements that make our culture so rich and translate them onto the international (and severely critical) fashion stage? That, I do not have the answer to, but I believe Lupe is on the right track. Dale mujer !
Calling all HuffPost superfans!
Sign up for membership to become a founding member and help shape HuffPost's next chapter