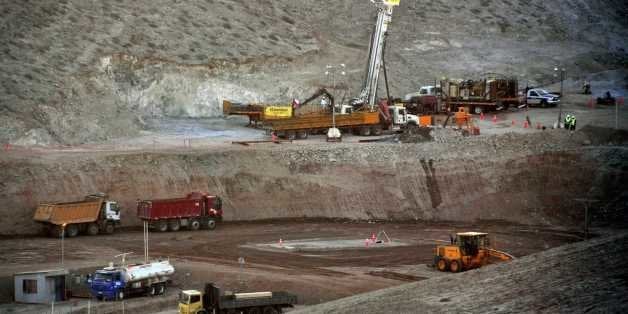 In August 2010 the world stopped breathing when a group of men employed as Chilean miners was trapped inside the San Jose Mine, nearly as deep as the tallest building on earth.
I, too, longed for my daily infusion of news about their battle to survive. Now it has emerged as an unforgettable book -- Sixty-nine Days: The Ordeal of the Chilean Miners by Hector Tobar (Random House) to be published in October. An excerpt appears in the current editiion of The New Yorker. One miner vividly remembers how the collapse of the mine hit as a roar of sound, as if a skyscraper crashed down behind them. Of course, water and food--becoming scarcer and scarcer -- were translated into near sacred items. "The hunger hit them most painfully during the first few days. They could not defecate, and the emptiness in their stomachs felt like a fist pushing downward."
A major contribution of the book is its exploration of the theme of spirituality. One of the trapped miners, in fact, became known within their circle as "the Pastor." He simply, quietly, emerged as one with a special gift. When he prayed, others joined him. His presence and gift opened up a religious element. Not claiming any special gift, he humbly confessed: "We aren't the best men." It is how he opened up his prayer. It contains an immediate universal quality. Who cannot identify with its simplicity, its earnest quality, its marvelous sense of dialogue with God? If ever there was a book for our age, this is it.
The miners, as they confronted death and life, apparently prayed in their own ways. Then one spoke up. "There are thirty-three of us," he said. "This has to mean something. There's something bigger awaiting us outside."
A number of different factors come together in Hector Tobar's remarkable telling of this story. Here is a classic message, indeed one for the ages. The people we meet here aren't recognizable saints. They're ordinary folk, suddenly caught up in extraordinary events. They do their best to survive life's toughest pains. Clearly, in a number of significant ways they surrender. They not only pray but, at the same time,maybe find out for the first time what prayer is. It is the most remarkable adventure! One of the miners even decides to go back into the mine, perhaps"only for a few days." He descended through a tunnel into the deep, hot earth. This time we are with him.
Related
Popular in the Community