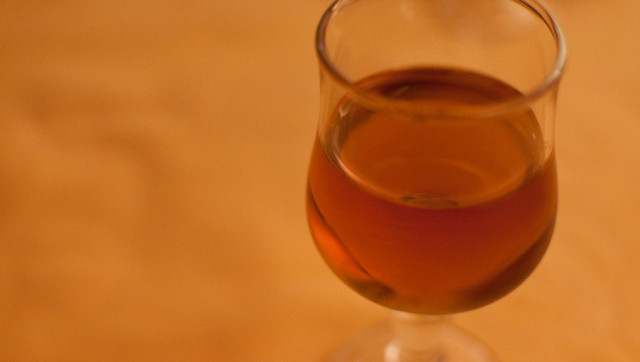 Felipe Müller of Viña Tabali and Francisco Correa, ProChile Director
Chile has been a strong source of value-priced wines since the late 1980s. It is now the world's ninth largest producer of wine -- ahead of both Germany and Portugal -- and the fourth biggest source of wine imports to the U.S. after France, Italy and Australia.
The Chilean wine industry has higher ambitions, however, than just being known for good values. In 2010, they adopted a detailed strategic plan, Plan 2020, aiming to become the leading source of premium quality New World wines by the year 2020.
Winemaking has a long history in Chile, dating back to the mid-1500s with vines brought over by Spanish conquistadors and missionaries. It is also the only country in the world whose vineyards are totally free of the phylloxera louse, which nearly destroyed the vineyards of Europe in the late 1800s.
This is due to Chile's geographic isolation -- bounded by the Andes on the east, the Pacific on the west and the vast desert of the north. As a result, unlike wine grapes virtually everywhere else that have to be grafted onto American hybrid rootstock resistant to phylloxera, most of Chile's are planted on their own roots.
Chile has faced challenges, however, in producing truly top quality wines. For one thing, much of the vineyard area was initially sited in flatlands near major population centers, like Santiago, rather than on hills and in coastal areas more ideally suited for viticulture.
This has changed in the last two decades, with plantings now occurring in very promising cool climate locations such as Limarí Valley, a foggy area near the coast, and Choapa Valley, with rocky foothill soils 2,700 feet above sea level.
Another issue has been incorrectly identified grape varieties -- particularly, a vast amount of vines long misidentified as Merlot and Sauvignon Blanc.
The most widely planted wine grape variety in Chile is Cabernet Sauvignon, where it has done very well, producing ripe and easy to drink wines with black currant fruit, a touch of mint and olive and soft tannins.
Carménère has become Chile's answer to Argentina's Malbec as its distinctive and widely planted Bordeaux heritage varietal. The fact that this traditional Bordeaux grape, now virtually gone from France, was widely present in Chile was only discovered in 1994. Previously, these Carménère plantings based on cuttings brought to Chile from France in the mid-1800s were thought to be Merlot, or a local clone of Merlot.
Carménère grapes, image courtesty Wikimedia Commons
Based on over 30 single varietal bottlings of Carménère I've tried so far, I believe it is better employed in blends with Cabernet and other red varieties than on its own. It simply lacks the complexity and depth of flavor to make a very interesting varietal by itself. I frankly think Syrah and other Rhone varieties are more worthy of focus for new plantings in Chile than Carménère.
The other major grape misidentification was Sauvignon Blanc, most of which turned out to really be Sauvignonasse, also known as Sauvignon vert, a mutated crossing of Sauvignon Blanc and Sémillon. No wonder few Chilean Sauvignon Blancs up through the early 2000s actually tasted like Sauvignon Blanc!
Now that many Sauvignonasse vines have been replanted to Sauvignon Blanc, largely with clones developed in California, this variety is rapidly becoming the most exciting white varietal wine from Chile.
At the Chilean Wine Tour trade tasting in San Francisco this past fall, I got to taste several Sauvignon Blancs from these new plantings, including several from cooler appellations. I was most impressed.
The star producer at this tasting for me was Viña Tabalí. Their winemaker, Felipe Müller, is pictured at the top of this post. He was named Chile's top winemaker in the 2010 Bicentennial Edition of Guía de Vinos de Chile.
The first vines for Viña Tabalí were planted in 1993, but the project wasn't really launched in its current form until 2006, when owner Guillermo Luksci established it separately from his much larger Viña San Pedro operation and hired Müller. They now have over 250 hectares planted in Limarí Valley, including a very isolated vineyard in the foothills called Talinay. Muller urged Luksic to purchase this vineyard after finding it was planted on porous limestone, much like vineyards where he had worked in Sancerre and Burgundy.
The 2011 Sauvignon Blanc from this vineyard is intensely flavorful and minerally, with lively acidity and a surprisingly long finish for this variety. It is a very high quality wine, selling here for less than $20. The Tabali 2011 Pinot Noir Reserva Especial and 2010 Pinot Noir Talinay Salaia Vineyard were also among the best Chilean Pinot Noirs I've sampled.
For my detailed tasting notes on 75 wines tasted at this event, see the complete post on my blog here. Besides Tabalí, the top producers at this event, with wines I rated 91 points or higher, were De Martino, Montes, Ribera del Lago, Santa Rita, Casa Silva, Valdivieso and Ventisquero.
REAL LIFE. REAL NEWS. REAL VOICES.
Help us tell more of the stories that matter from voices that too often remain unheard.