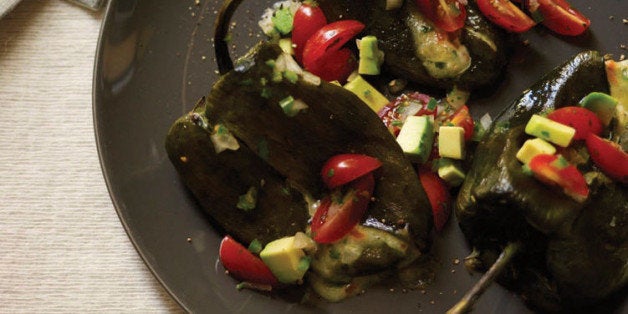 Chiles are one of the backbones of Mexican cuisine, and it's not hard to understand why. They're brimming with complex flavors and are full of heat. Chiles make their way into a lot of sauces and salsas, but in some recipes they also play center stage -- like in this chiles rellenos recipe. The common Mexican poblano recipe is the chile of choice, but it's the filling that makes this recipe really special.
This chile relleno recipe is stuffed with Monterey Jack and Parmigiano-Reggiano cheese, giving it a unique flavor. It's then topped with an avocado-and-tomato salsa that helps keep this dish feeling light, unlike most traditional versions.
Get more Mexican recipes.