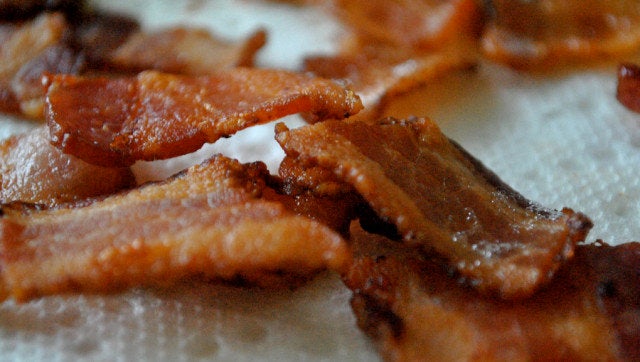 The first cold snap of the season always means one thing: chili. Stewy and spicy, chock full of freshly prepared, local grass-fed beef and smoky chili peppers.
I like all kinds of chili, truth be told -- with beans, without beans, with tomatoes, without tomatoes, with or without chocolate and cinnamon (à la Cincinnati chili, a dish I know well), with beef, pork, turkey and/or chicken, and, of course, no meat at all. But what I really wanted at the end of a chilly Saturday spent raking leaves was a great big mish-mash of flavors -- a nice cut of chuck (diced, not ground) and smoked bacon (also local), simmered with juicy, super savory cremini and porcini mushrooms.
And, spices. "Chili" is not chili without spices. That's what "chili" means, ya know: chili, as in, chili pepper. No chili of mine leaves its pot without a big helping of homemade chili paste and frequent doses of ground spices. Chili paste is super easy: rehydrate a handful of your favorite dried chilies -- I prefer smoky chilis, like guajillos and anchos and New Mexicos, over the super-hot -- and blend them up in the blender with a bit of the soaking water or tomato juice.
For this chili, 2 guajillos, 2 chipotles and 1 big ancho. I also mixed up a generous batch of sweet paprika, smoked paprika, cumin and salt, and used to seasoned the chili throughout its 1 hour cooking time.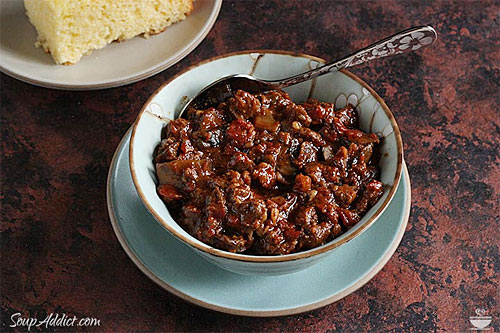 Between the chilis, the herbs and spices, the hint of bacon and the beefy mushrooms (which replaced 1/4th of the meat normally called for), this chili really hit the spot -- flavorful and perfectly seasoned.
Chili with bacon and mushrooms
When you look at the list of steps, don't panic. Many of them are very quick, and you'll be able to move from one to the next with ease. Really great chili takes a bit of prep -- it'll be worth it in the end. If you're just not up to dealing with the chili paste, use a couple of tablespoons your favorite chili powder, or -- better yet -- mix up your own blend with ancho chili powder, chipotle chili powder and ground cumin (in addition to the paprika blend).
Also note that I never use ground beef for chili -- I always, always buy full cuts and slice into 1/4" cubes (kitchen shears make quick work of it). The next time you have a few extra minutes to prep the meat yourself, you should try it -- the difference is amazing.
Ingredients:
4 to 6 dried chili peppers (I used 2 guajillo, 1 ancho, 2 chipotle)
1 dried bay leaf
1/2 ounce dried porcini mushrooms
1/2 cup hot water
1 beef boullon cube or 1 teaspoon Better than Bouillon paste
1/2 cup boiling water
2 teaspoons olive oil
5 slices uncooked, thick-cut smoked bacon, chopped into 1/4" pieces
1 medium onion, diced
1 small red bell pepper or poblano pepper, diced
8 ounces fresh cremini mushrooms, chopped
2 teaspoons olive oil
1 1/2 pounds chuck roast, trimmed and sliced in 1/4" pieces (buy extra to account for the removal of fat and connective tissue, about 2 pounds)
8 to 12 ounces lager beer (can or bottle)
1 1/2 teaspoons paprika
2 teaspoons smoked paprika
1 1/2 teaspoons salt
2 teaspoons cumin
1/4 teaspoon freshly ground black pepper
1 (15 ounce) can diced tomatoes (I use petite cut -- you can also use crushed)
2 teaspoons apple cider vinegar
1. Preheat the oven to 350°F.
2. Prepare the dried chili peppers: slice off the stem ends and shake out the seeds (cut open the peppers with scissors for easier access to the seeds). Break or cut them into 2" pieces and place them into a bowl of hot water, along with the bay leaf. Set aside to soak for at least 20 minutes.
3. Prepare the dried porcinis: break the mushrooms into 1" pieces and add to 1/2 cup of water hot water. Set aside to soak.
4. Prepare the beef stock: In a small bowl, dissolve the beef cubes or paste in 1/2 cup boiling water and stir. Set aside.
5. Prepare the spice mix: Mix the paprikas, cumin, salt and pepper in a small bowl.

6. Cook the bacon, vegetables and mushrooms: Heat 2 teaspoons of olive oil in a 4 to 5 quart dutch oven over medium until shimmering. Add the bacon pieces and cook until the fat begins to render and the meat edges tinge with gold. Stir in the onions and cook until nice and soft, about 8 minutes. Add the diced peppers and cremini mushrooms, and stir to mix everything well. Cover with a lid. Cook until the mushrooms have given off their liquids and are brown and soft. Remove the lid and add the rehydrated porcini mushroom pieces to the pot, reserving the liquid.
7. Strain the reserved porcini liquid into the beef bouillon -- you should have about a cup of very flavorful broth.
8. Brown the chuck: Season the chuck generously with about a tablespoon of the spice mix, reserving the rest for later. Heat 1 teaspoon of olive oil in a large skillet over medium-high until shimmering (this will happen quickly, so be ready). You'll need to work in batches. Add meat to the skillet in a single, loose layer. Don't crowd the pieces, or they're more likely to boil and steam than develop that nice flavor-boosting sear. If the meat gives off a lot of fat as it cooks, carefully drain it to keep the pan fairly dry.
9. When the first batch is browned, add it to the bacon-mushroom mix. If there are browned bits stuck to the browning pan, pour in a bit of the beer to deglaze the pan, scraping up all the bits and juices. Add to the bacon-mushroom mix. Repeat with the remaining batches of meat. Add the cup of beef/mushroom bouillon to the chili pot and stir to mix everything well.
10. Make the spice paste: transfer the now-rehydrated peppers and bay leaf to the jar of a blender. Top with a bit of the chili pepper soaking liquid and tomato juice from the can of diced tomatoes. Blend well. Scrape the paste into the chili pot. Use a bit more of the tomato juice to help rinse any stubborn bits of paste in blender jar. Add the tomatoes.
11. Give everything one last good stir, cover with an oven-proof lid (or wrap tightly with foil) and place in the oven. Allow to cook for a total of 2 to 2 1/2 hours (longer won't hurt). About 1 hour in, stir in the remaining spice mix, plus the apple cider vinegar (replace the cover).
12. Before serving, remove from the oven, uncover and allow to rest for 5 minutes. Ladle out individual servings and top with your favorite garnishes: sour cream, cheddar cheese, cilantro, green onions.
Related