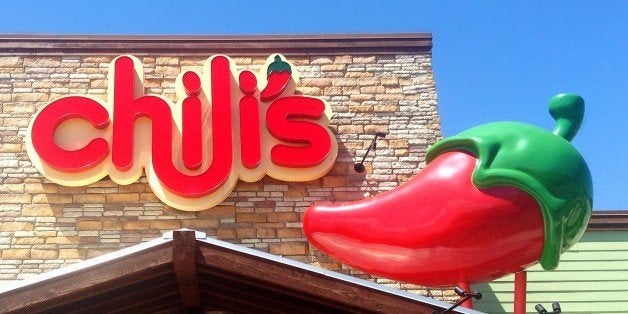 Chili's is reviewing its policy on guns in its restaurants after a pro-gun group upset diners by bringing rifles to one of its Texas locations.
The restaurant chain's statement comes just days after another cadre of Texas activists, also carrying guns, prompted Chipotle to issue a statement telling customers that guns aren't welcome at any of its locations.
Chili's isn't going that far yet, but the idea is on the table. "Given the recent attention to open carry laws, we are evaluating our policy to ensure we provide a safe environment for our guests and team members," a spokeswoman for Brinker International, Chili's parent company, told The Huffington Post.
Brinker didn't immediately respond to a follow-up question asking what exactly Chili's policy currently states.
The company's decision to review its stance on the issue was prompted by a video that surfaced on YouTube of a group of men carrying rifles into a Chili's in San Antonio, Texas. (Watch video below)
Pro-gun activists around the country have been staging gun rallies recently to assert their right to carry arms.
Viewed by HuffPost before it was taken down on Wednesday night, the video shows the men, each carrying at least one heavy firearm, asking to be seated. The server appears to hesitate. A woman, apparently upset by the presence of the heavy weaponry in the restaurant, appears to take photos with an iPhone of each of the men in the group and seems to angrily scold them for bringing guns into a restaurant with children. A host at the restaurant then asks them to leave.
"We'd be glad to accommodate you, we're happy to sit you and feed you," the server says. "You just have to leave your firearms outside."
The video was reposted on the hosting site Firedrive by the gun-control group Moms Demand Action for Gun Sense in America, and sent to HuffPost.
Reached via the YouTube account that hosted the video, a man who identified himself as Lamar told HuffPost by phone Wednesday that he was the person who shot the footage, uploaded it and then later took it down. Lamar said he is part of the San Antonio branch of Open Carry Texas, the same pro-gun group that prompted Chipotle to take a stance against guns in its stores.
Lamar did not return multiple HuffPost requests for confirmation of his name.
"The display of firearms in our restaurants has now created an environment that is potentially intimidating or uncomfortable for many of our customers," Chipotle said in a statement on Monday.
Chipotle's move came two days after photos of an open-carry rally in Dallas went viral, thanks largely to a social media campaign by Moms Demand Action.
Lamar, whose YouTube channel is named Texas Gun Tester, also took credit for another video on the channel showing the same group seated at the outside patio of a Sonic Drive-In.
In the second video, which has also since been removed, a male employee from the Sonic asks the men to remove their guns from the dining area or leave. The men cancel their food order and depart.
After viewing the video, a spokesman for the fast food company told HuffPost that Sonic has traditionally deferred to local gun laws.
"Now, more than ever before, the issue of gun rights is increasingly complex and divisive," said Patrick Lenow, vice president of public relations for Sonic. "We're continuing to analyze how our organization treats the issue."
Lamar said he took the videos down from YouTube on Wednesday night. He did not specify a reason for why he removed the footage, and he deferred further questions to a spokeswoman for Open Carry Texas.
The spokeswoman did not respond to requests from HuffPost for comment.
But a Twitter account for Open Carry Texas replied to queries from HuffPost:
UPDATE: 2:45 p.m. -- Open Carry Texas backed down on Friday afternoon, notifying members on that they are to "immediately cease" taking shotguns and rifles into private businesses unless invited to do so.
Related
Popular in the Community