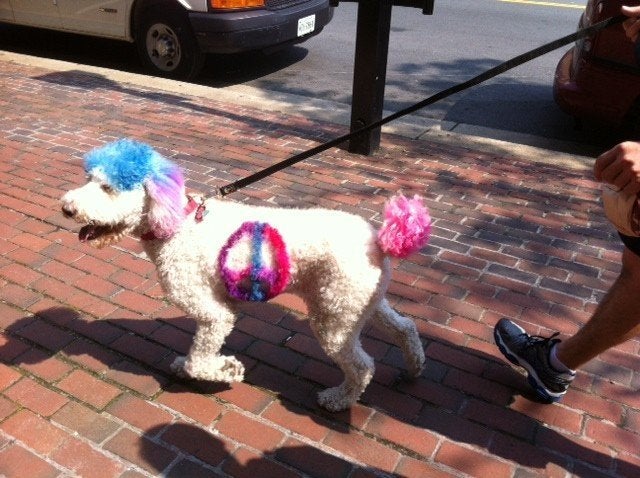 ALEXANDRIA, Va. -- A flamboyant poodle named Chilly Pasternak was recently in the D.C. area, keeping his human parents company as they drummed up support for his bid to become the groom in a $200,000 wedding for dogs.
Chilly has a peace sign shaved into his fur on one side and a paw print on the other. His head is dyed blue, his ears are purple and his tail is bright pink.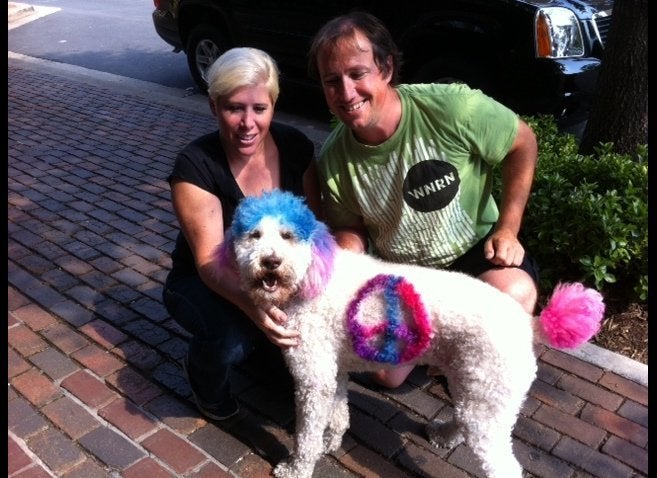 Vote For Chilly
"The nature of what we do is so serious," Lori says. "In the office, we're not like this."
The office, Helping Hands, is devoted to helping pet owners avoid "economic euthanasia" -- putting down their pets because they can't afford medical care. Prices are fixed and the clinic allows clients to do volunteer work if they can't pay. A $5 fee is tacked onto the fixed price of all procedures, to cover surgeries that are performed for free. The low costs are good for animals, but bad for a business that wants to buy paid ads.
"Because we do things affordably, we don't have much of a marketing budget," says Lori.
But their marketing also takes somewhat more creative forms, mainly aimed at getting noticed. Chilly's distinctive haircut helps; he's had it since October, and Jake estimates he gets "10 times" as much attention now as he used to. The Pasternaks also have a car that has been made to look like a dog; its horn makes a barking sound. (There's a cat version, too, that meows, but Lori says no one wants to drive it.)
The newest no-cost marketing plan involves asking Chilly's fans to get him hitched. Jake and Lori hope Chilly's nuptials, should they happen, will help more people find their clinic, which will lead to more paying clients, which will lead to more $5 fees, which will lead to more free surgeries and fewer euthanized pets.
"The more people use us, the more lives we save," Lori says.
As of 4 p.m. Wednesday, Chilly had 82 votes, beating a toy poodle named Gucci, who had 56 votes. But the votes ultimately won't determine the winner -- the person throwing the wedding, Wendy Diamond, has the final say as to who marries Baby Hope Diamond.
And after the wedding? "They don't have to live together. They don't have to sleep together. They just have to work together to promote animal rescue and welfare," Diamond says. "Then they're going to get a $2,000 package of stuff. And they'll get a lot of publicity."
Exactly who will benefit from that publicity is still an open question. Voting is open until July 2. And Diamond says she "doesn't have a favorite" among the potential grooms so far.
"I think Chilly is an amazing dog," she says. "Gucci, the same thing."
Support HuffPost
The Stakes Have Never Been Higher
Related
Popular in the Community