New Yorkers have spoken, and they want to read Americanah, Chimamanda Ngozi Adichie's 2013 novel about a young Nigerian woman, Ifemelu, who comes to the U.S. to study and begin her career, and her first love, Obinze, who stays and builds a life in their homeland.
Adichie's novel beat out Between the World and Me by Ta-Nehisi Coates, The Sellout by Paul Beatty, A Tree Grows in Brooklyn by Betty Smith, and The Brief Wondrous Life of Oscar Wao by Junot Diaz. Like the other books nominated, Americanah explores newly timely concepts of immigration, race, and the imperfect realities of American ideals such as diversity and inclusivity.
Adichie caught up with The Huffington Post in a phone conversation Thursday about the One Book, One New York program, the timely themes of Americanah, and the value of sharing stories as a community.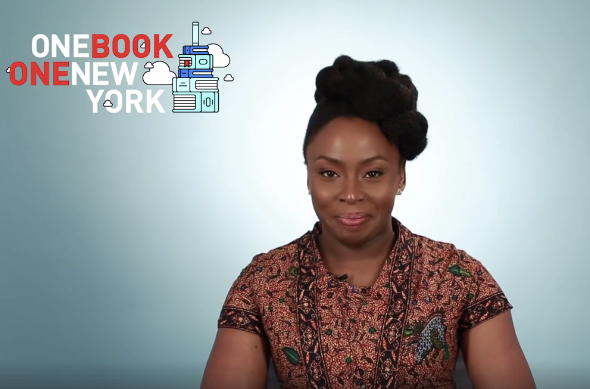 How does it feel to know that New Yorkers picked Americanah? It was up against some other pretty fantastic books.
Yeah! I know. Obviously, to get any kind of recognition is just lovely, but this is really, really lovely, and I think it's because I have so much respect for the other books, and I think they are just really fantastic books. When you're in good company, it's a good thing.
I think there's also a sense in which, when I was writing Americanah ... obviously I hoped it would do well, but I really didn't think it would. And so to have all this recognition happen brings an extra-special feeling of, really, quite simply, of joy. It just makes me happy.
Why do you think the book ended up resonating so much with this audience?
I like to think that it's for the same reasons that I thought it wouldn't do well. Which is that I didn't necessarily follow all of the literary rules.
It deals with race in a way that's very overt. It's a love story that is ridiculously romanticized in a way, while also being kind of practical. I also wanted it to be a book that just felt true and raw. You know when films want to have the element of cinéma vérité? I wanted this book to have that element, but the literary version.
But I also realized that these are not necessarily the things that lead to success in fiction. Which is why, in some ways, this book has taught me to trust readers, because ... I think readers respond to things that feel true. That's kind of what I've decided to use as an explanation, but of course if the book hadn't done well, I wouldn't be saying that. [Laughs] I guess I would be using the same reasons to explain why it hadn't done well.
That's kind of the problem with making decisions about art, you never really know!
Yep. Which is why I think the most important thing is just to be true. Just, and I say this to my students all the time, tell the story you want to tell. Tell it truthfully and then just see what happens.
What lessons or ideas from Americanah do you hope New Yorkers take away from reading?
I really hope that it starts conversations, and I'm also really hoping that ... some of these conversations might not be the most comfortable, but that they are ultimately affirming, and ultimately it leads to, and I know it sounds a bit cheesy, but that idea of unity and diversity.
It's a book that deals a lot with issues of womanhood, race, immigration, being a person with two countries ― and it seems like those are issues that people are talking about even more today than when you wrote the book. Do you think Americanah has something especially significant to say right now, or do you think these are just issues that we always need to talk about?
In some ways I think both ... These are conversations which ― because of the nature of the country, and in some ways because New York in particular is this wonderfully diverse space ― will always be had, and that's not necessarily a bad thing, you know?
But I do feel that in a strange kind of way, Americanah has become especially topical because of the present political realities in this country.
How would you express the value of a whole city or community trying to read the same book together?
It's kind of like the idea of a village gathering under a tree in the moonlight and telling their stories, and everybody has an opinion about the story.
I like to think that one of the many things that literature can do is that it gives us entry into subjects that might be difficult to talk about. Or not even just necessarily difficult, just that might be uncomfortable, or that we might overlook. So I think the city coming together around literature is ... just something about reminding people, reminding ourselves, about our collective humanity. An example from Americanah would be that it no longer becomes abstract concepts of immigration, race, home ― it becomes about characters' lives. I think in talking about these things through story, there's a sense in which we humanize these ideas and ultimately we humanize our own lives and our own concerns.
For more from Adichie on the announcement, check out the video below:
Related
Popular in the Community