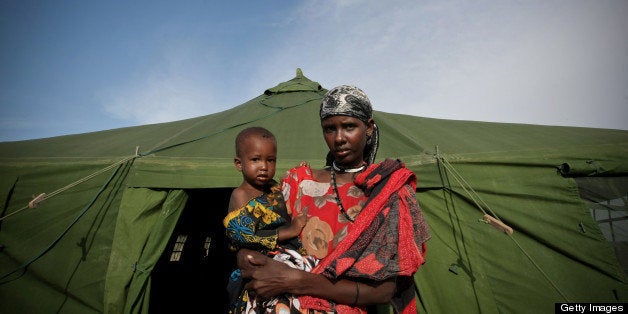 We come together at a moment of incredible opportunity for women. And yet, this moment of opportunity is also a moment of need.
We live in a world where millions of girls and women still struggle for basic rights.
A world where 800 women die every day during pregnancy and childbirth, even though we have the medical know-how and means to save almost all of them.
A world where a 15-year-old girl can be hunted down on a school bus and shot in the head, simply because she believes girls should be educated.
A world where a 23-year-old woman can be gang-raped on a moving bus; violated over and over, beaten with an iron bar, and dumped out, bleeding, by the side of the road, as if she were disposable.
You know these stories. We all know these stories. We watch them unfold -- almost in real time. Who are we today, if we don't do something about it? How can we tell ourselves awareness is enough?
In the information age, there are no innocent bystanders. We all share in everything that happens. But that means we also have the chance, the ability, and the responsibility, to right what is wrong.
We can be defined not just by what we know, but by what we do.
That's the vision behind CHIME FOR CHANGE, a bold new initiative promoting girls' and women's empowerment, with a focus on education, health and justice.
CHIME FOR CHANGE is all about turning awareness into meaningful action. Through CHIME, we're turning social media into a springboard for social justice.
We have partnered with Facebook, allowing a community of conscience to come together online, and enabling people to find friends, old and new, who share our ideals and desire to build a better future.
And we're working with Catapult, the first crowd-funding platform focused on the advancement of girls and women, to link the CHIME community directly to projects where help is needed most.
Catapult currently represents more than 60 organizations pursuing change around the world. On the CHIME FOR CHANGE website, you can see dozens on projects on a range of social issues, from economic security to maternal health, HIV/AIDS, human trafficking, child brides, technology, rights, domestic violence and more. With just a few keystrokes -- it takes just a few seconds -- you can participate too, and start making a positive difference on a cause that matters to you. Wherever you're from, whatever you can afford, you can be a global agent of change.
Join my team, or those of my CHIME FOR CHANGE co-founders: Frida Giannini, Gucci's brilliant creative director, and the one and only Beyoncé Knowles-Carter. Or start a new team of your own, and rally your friends to join!
In the weeks and months ahead, CHIME FOR CHANGE we will shine a spotlight on people who are speaking out and rising up for girls and women. One of those moments will be on June 1, when CHIME FOR CHANGE will present THE SOUND OF CHANGE LIVE -- a global concert event to put girls and women on the world's stage. Whether you join us at London's Twickenham Stadium or view the concert live via broadcast, you'll have the opportunity to hear from performers including Beyoncé, Ellie Goulding, Florence + the Machine, HAIM, Iggy Azalea, Jennifer Lopez, John Legend, Rita Ora, Laura Pausini, Timbaland and more to be announced in the coming weeks. In addition to performances, the event will feature live appearances from world leaders and international celebrities, all united behind the cause of advancing rights for girls and women.
Because, in fighting for women, we fight for humanity. We fight for the future -- for everyone.
So let's show the world who we are today. Let's move from awareness to action!
Join us now and join with us on June 1. And tell your friends to do the same. Your voice matters. Make it heard. Together, we can CHIME FOR CHANGE.
Calling all HuffPost superfans!
Sign up for membership to become a founding member and help shape HuffPost's next chapter