Chimpanzees have languished in laboratories for decades, sometimes subjected to painful experimentation and often warehoused in barren cages. But now the fate of these remarkable and highly intelligent beings has taken a monumental turn for the better. The National Institutes of Health plans to retire about 90 percent of the government-owned chimpanzees from laboratories to sanctuary -- where they can live the rest of their lives in peace -- and to significantly scale back funding for chimpanzee research. That decision, announced in June, was cause for celebration after years of campaigning by The Humane Society of the United States and others to end the use of chimpanzees in harmful research and ensure their retirement to suitable sanctuaries. Despite this momentum, an unintended obstacle has stood in the way of making the relocation of these chimpanzees a reality: a law limiting NIH's ability to use its existing budget to care for chimpanzees in sanctuary.
Rewind to another landmark day for chimpanzees nearly 13 years ago when President Clinton signed the Chimpanzee Health Improvement, Maintenance and Protection (CHIMP) Act into law. The law was meant to address the "surplus" of government-owned chimpanzees, which resulted from a failed attempt to establish them as models for HIV/AIDS research. The CHIMP Act created a national chimpanzee sanctuary system for the retirement of chimpanzees no longer needed for research and established a unique public/private partnership for the lifetime care of chimpanzees in sanctuary.
Unfortunately the law also set a restriction on the funding NIH would be able to devote to the sanctuary system. NIH expected to reach that limit in mid-November, which would have jeopardized not only the retirement of the government-owned chimpanzees in labs today who are slated for transfer to sanctuary, but also funding for the continued care of chimpanzees already living at the national chimpanzee sanctuary, Chimp Haven in Louisiana.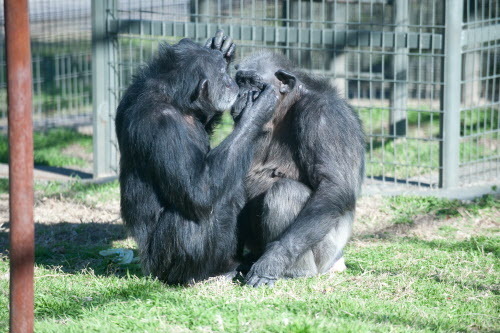 In 2000, when the CHIMP Act passed, lawmakers recognized that chimpanzees deserve a better life after their use in research and, that retirement to sanctuary is less costly than keeping them in labs. This certainly remains true today. One thing that has changed drastically since that time is the scientific landscape. In 2011, the Institute of Medicine concluded that biomedical research using chimpanzees is "largely unnecessary." The Institute also could not identify a current area of biomedical research for which chimpanzee use is critical. A separate scientific panel concluded in early 2013 that Chimp Haven provides the most appropriate environment for the welfare of chimpanzees. The conclusions of these two panels led to NIH's decision to begin moving away from the chimpanzee research business, and to retire the majority of federally owned chimpanzees to sanctuary. But just as these momentous events were unfolding, NIH was faced with the CHIMP Act's barrier to sanctuary care, and the prospect that the agency might be forced to keep chimpanzees perpetually in lower-welfare, higher-cost laboratories.
Thankfully, in an extraordinary show of bipartisan collaboration, Congress has worked out a solution to the problem. On Nov. 14, just under the wire, the Senate gave final approval to a legislative fix passed by the House of Representatives just days earlier. The bill amends the CHIMP Act to allow NIH the flexibility to continue using its existing funds for sanctuary care, and to begin fulfilling the agency's pledge to move laboratory chimpanzees to sanctuaries. President Obama signed this important bill into law on Nov. 27, the day before Thanksgiving, ensuring a truly happy holiday for federally owned chimpanzees who now have a much brighter future ahead.
Our government owns these chimpanzees and is financially responsible for their lifetime care, whether in a laboratory or in a sanctuary. With the passage of this law, NIH is free to shift funding to chimpanzee retirement in sanctuary instead of paying the labs to warehouse chimpanzees in barren conditions. The estimated savings of this shift for the approximately 360 chimpanzees awaiting retirement would be between $2.1 and $3.2 million per year, which can add up quickly over the lifespans of the chimpanzees, as they can live up to 60 years in captivity. We applaud this move by Congress and the president. It makes good sense scientifically, economically and ethically, and it is a win for chimpanzees and taxpayers alike.
Popular in the Community