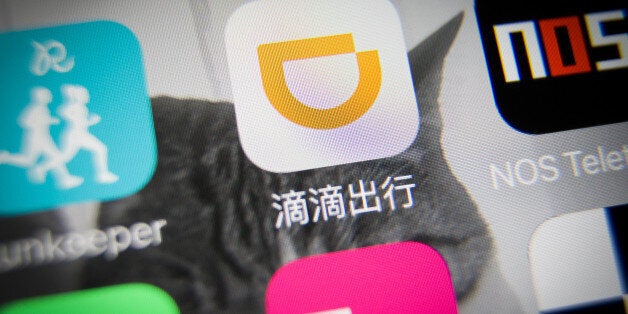 BEIJING -- I spent my first 32 years in China, followed by two years in Boston. I keep hearing people say how rapidly the country has been changing, and I used to say the same to my foreign friends. But I didn't truly realize it until after I returned home earlier this year. I can barely remember the days I spent here. This is all because of smartphones and mobile applications tailored to Chinese needs.
When I found out my toothpaste was used up in the evening, I clicked China's online retailer JD.com's mobile app. Finding the item, I clicked "instant check out." Yes, Americans are familiar with this, especially through Amazon.com. But what is vastly different is that the next morning, before I woke up, a brand new box of Colgate had arrived at my door. By contrast, it took Amazon two weeks to ship a pillow, so I had to use a travel cushion for the first fortnight I lived in the U.S.
At an IKEA shop in my hometown Hangzhou -- which, by the way, is the headquarters of the world's largest online marketplace, Alibaba, my 63-year-old mother had to teach me how to pay my bill with Alipay, a mobile payment app made by Alibaba. "Open the app, let them scan your QR code," she said. "No, no, not this one. The other button!" Last time I checked, she wasn't even using data on her iPhone.
My time in the U.S. was like stepping backward in time.
Although it took some time, I am now in the habit of ordering my favorite fried buns delivered via a mobile app called Ele.me, which is literally translated as "Are You Hungry." Less than 30 minutes after I order, neatly arranged buns arrive hot -- and it's even cheaper than eating in, thanks to massive discounts offered by companies that are crazy about winning customers.
In the past two years, mobile internet has transformed the lives of millions of Chinese. Technological advancement, low labor costs and attention to detail are among factors that have contributed to the phenomenon. Since taking office, Chinese President Xi Jinping has been promoting his ideology of the "Chinese dream," in which he called on young people to "dare to dream." With the help of homegrown technology companies, Chinese people are living a fast, stress-free and affordable Chinese dream from the palms of their hands.
Now, thinking about my time in the U.S., it was like stepping backward in time.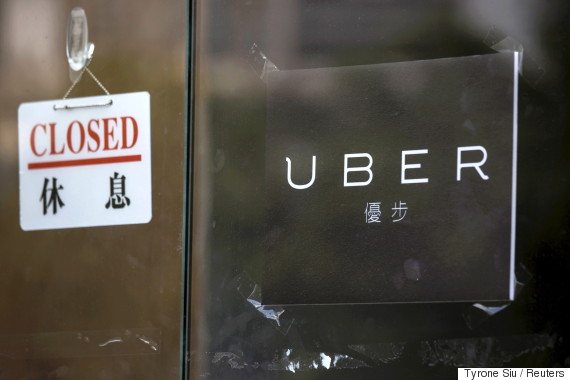 A closed sign is seen at an Uber office in Hong Kong on Aug. 12, 2015. (REUTERS/Tyrone Siu)
When I first arrived in the U.S., I felt instantly shocked to find that many people are still using text messages as a way of communication. Back home, even my 84-year-old grandmother is on WeChat (yes, she has a smartphone, just like many Chinese grandmas). WeChat is a mobile phone instant messenger app provided by Tencent, which recently surpassed Alibaba as China's most valuable technology company.
WeChat combines some of the functionalities of WhatsApp, Twitter, Facebook, Uber, Yelp, Venmo, Google Maps, Tinder, Expedia ... the list goes on. It is unbelievable to realize that Tencent started out less than 20 years ago with one product, OICQ, which was clearly a copycat of the Israeli instant messaging tool ICQ. WeChat now boasts almost 800 million active users as of the end of June, more than twice the U.S. population.
Chinese companies, which have long been playing catch-up with their U.S. counterparts, are now leading the way.
A typical day of a Chinese middle-class person living in Beijing goes is like this: wake up, get dressed, book a car on ride-hailing software Didi Chuxing. Before lunch time comes, order a light, healthy meal on the food delivery service Meituan. While enjoying lunch, do some mobile phone shopping on e-commerce site Taobao. After work, meet friends at a restaurant which offers discounts to users of Dianping, a food review and discount app. When you get home, your room has already been cleaned by a maid booked online, and your masseur -- arranged by an app 58.com -- is on the way. No cash or credit card is needed. Everything is settled on mobile phone payment apps.
Perhaps no other event demonstrates better the competitiveness of Chinese mobile internet service companies than the recent acquisition of Uber China by its Chinese competitor, Didi.
Earlier this month, Didi announced that it is taking over Uber's China unit and forming a new company; the two decided to end a fierce war after competing head-on for years. Many observers see the move as Uber waving a white flag in China.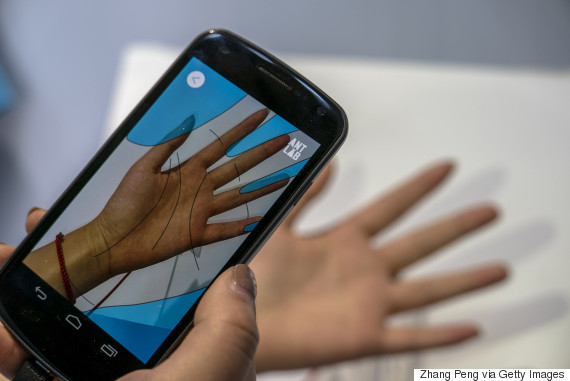 A staff is showing the new palmprint recognition technology developed by Alibabas Ant Financial. (Zhang Peng/LightRocket via Getty)
Why are Chinese companies, which have long been playing catch-up with their U.S. counterparts, now leading the way?
Over the years, the engine of China's economic growth has slowly but surely shifted from export and investment to domestic consumption. Millions of burgeoning middle-class Chinese are calling for an upgraded lifestyle. Having delicious food is not good enough -- they want healthy meals. And who would go to department stores if online shopping offers lower prices, guaranteed refunds and quicker delivery?
Local companies are better at taking care of the needs of Chinese customers. Sometimes, they even create demand. On Nov. 11, 2015, Chinese buyers spent more than 91.2 billion yuan ($14.2 billion) on Alibaba's online shopping carnival, "Single's Day" (the date, 11/11, symbolizes singles). This didn't exist until recently. Online retailers essentially created a Black Friday for Chinese buyers.
In short, the market is too big to ignore. Spoiled by Chinese tech companies, Chinese consumers are becoming increasingly particular and difficult to please, which in turn forces companies to fiercely compete to constantly improve quality and price of services.
PHOTO GALLERY
China's Tech Sector Takes Sleep Seriously
REAL LIFE. REAL NEWS. REAL VOICES.
Help us tell more of the stories that matter from voices that too often remain unheard.