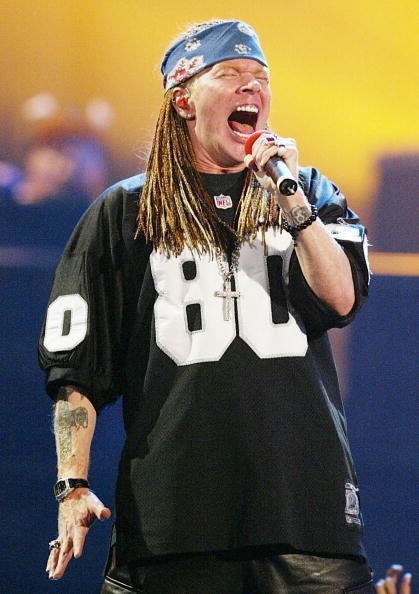 Guess what's never coming to China? Something that the world has patiently waited to see for years now. Something we all hoped we'd see some day but never really expected ever to see. If you said "Chinese Democracy", you're right. And unfortunately, we're not talking about Chinese people voting, although we'd like to see that too. We're talking about Guns N' Roses' first original studio album in 17 years, Chinese Democracy, released worldwide Monday, everywhere but China.
According to a Wall Street Journal report Sunday, Chinese authorities have outlawed sales of the new GN'R release, citing the title of the album, "Chinese Democracy," as the principal reason. The title, thought up by Guns N' Roses frontman Axl Rose because he "liked the sound of it," violates rules established by China's Ministry of Culture that prohibit the word "democracy" to be used in the title of any music, book or film within mainland China. One can only assume that if the word "Chinese" precedes "Democracy" in a title, Chinese censors would become even more frightened.
The Global Times, a newspaper run by China's Communist Party, published an article Monday with the headline "American band releases album venomously attacking China," that labels the album part of a Western plot to "grasp and control the world using democracy as a pawn" and that the album "turns its spear point on China." Other than the story in the state newspaper, no Ministry of Culture spokesman has commented on the album.

On the album's title track, Axl Rose, a frequent visitor to China, accuses the Chinese government of scapegoating the Falun Gong, the religious sect perpetually at odds with Beijing. "Blame it on the Falun Gong/They've seen the end and you can't hold on now," Axl sings in "Chinese Democracy," a song said to have been written about religious persecution in China. Axl later sings in the song as if speaking directly to the Chinese authorities, "You think you got it all locked up inside/And if you beat them all up they'll die/Then you'll walk them home for the cells/Then now you'll dig for your road back to hell." To use the Chinese government's favorite buzzword, Axl's words are certainly "sensitive."
Before performing the title track for the first time in 2001 at a Las Vegas New Year's show, Axl Rose, the only original member of Guns N' Roses to contribute to Chinese Democracy, told the crowd that he was inspired to write the song after seeing the Martin Scorsese film Kundun about the Dalai Lama. He went on to say this about the track:
It's not necessarily pro or con about China. Its just that right now China symbolizes one of the strongest, yet most oppressive countries and governments in the world. And we are fortunate to live in a free country. And so in thinking about that it just kind of upset me and so we wrote this little song.
Stores in China that carry new albums will not be allowed to offer Chinese Democracy and fans expect that they will be forbidden to purchase the album on iTunes. China's biggest internet portal, Baidu.com has blocked all internet searches for "Chinese Democracy" and access to the website ChineseDemocracy.com has been blocked within mainland China, according to an AFP report Monday. However, Axl's new album was not completely unobtainable for Chinese GN'R fans. Sunday, Internet users there were able to listen to the album's 14 tracks on MySpace, which was granted permission to release the songs on the Internet one day before Monday's wide release. Furthermore, a search for "Chinese Democracy" on both Google and YouTube within Mainland China returned search results for the new album, according to a source in Shanghai.
The release of Chinese Democracy, an album in the works for nearly 15 years, has taken on somewhat of a mythical status. Axl began writing music for the disc back in 1993, when original members Slash and Duff McKagan were still in the band. Within four years, there was no new album and Slash, Duff and drummer Matt Sorum had all left the band. While Axl rounded up a new lineup and continued to write music for the album, the following decade in the ongoing Chinese Democracy project was punctuated by chronic concert cancellations, more personnel changes and numerous broken promises by Axl as to when the album would come out. People have been waiting for this disc for so long, the term "Chinese Democracy" has become music industry jargon for a highly anticipated album that never gets released.
So when Guns N' Roses announced last month that Chinese Democracy was finished and their label Geffen confirmed the album would be released November 24, GN'R fans finally could believe they would get to hear what '80s rock god Axl Rose had been doing for the last 15 years -- and China is no different. As far as western music goes in China, Guns N' Roses is one of the most well-known, respected and mimicked bands in China. In fact, when Chinese network CCTV ranked the best rock bands of all time last year, GN'R took the #8 spot. Moreover, as the Wall Street Journal points out, the band's legendary 1987 album Appetite for Destructionbecame a massive hit in mainland China during the pro-democracy student movements in China in the late 80s.
Lucky for GN'R fans in China, and there are numerous Chinese websites dedicated to the band, most music listeners in China don't obtain albums in record stores or through legal internet sites anyway. Pirated versions of the album have been available online in China for months and will likely be available on the street in pirated CD and DVD stores. The Wall Street Journal reported that the album can be easily found online in China by searching for "Chinese Democraxy" or "Chi Dem" as the Chinese prefer not to use the album's real name for fear of being monitored by the government. And naturally, when the Chinese government issues a ban on a film or album, especially one with the name "Chinese Democracy," it only serves to create further buzz around the item and usually results in an increase in purchases of pirated copies.
It is unlikely that when Axl selected the title for the album, he realized the depth of the parallels between Chinese democracy and Chinese Democracy. Like actual Chinese democracy, the new album had come to symbolize a fantasy, an ongoing project with no end, a dream that is never fully realized. That all changes today. With the release of the album, the name takes on an entirely new significance. Chinese Democracy is no longer a phantom, but rather, something that now is very real, something celebrated in the rest of the world but still conspicuously absent in China.
Perhaps, with the release of Chinese Democracy, Axl Rose is showing the world that if you wait long enough for something, one day it will arrive.
Popular in the Community