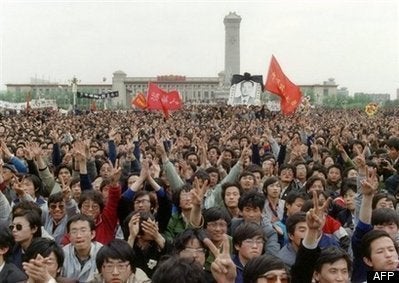 China is celebrating the 20th anniversary of the Tiananmen crackdown with another crackdown -- a massive block on Twitter and all those social media sites that pose a threat to China's government this week. The Chinese media site Danwei reported early Tuesday morning that Twitter, the popular microblogging site, has been disabled in mainland China. Thursday, June 4th marks the 20th anniversary of the pro-democracy protests in Tiananmen Square and the brutal response by the Chinese government that left hundreds dead.
As the morning moved on, China-based bloggers realized that YouTube, Flickr and Bing, Microsoft's new search engine, had also been blocked. Reuters reported this morning that China even blocked Hotmail and Windows Live, both sites owned by Microsoft. As the Shanghaiist put it, "Microsoft can't catch a break here, can they?
While it is common for the Chinese government to block websites deemed controversial before major events, like Thursday's Tiananmen anniversary, the massive block today is the first widespread censorship of social media -- a tacit acknowledgment of two things: Twitter's new power in mainland China, and how valuable Twitter would be as platform to publish original news out of mainland China on the Tiananmen anniversary. Now, or at least until the protests and noise surrounding the anniversary subside, Twitterers in China will not be able to tweet.
Other than Twitter, the list of sites currently blocked in mainland China includes YouTube, Blogspot, Tumblr, Livejournal, Flickr, Microsoft's Live.com and this one, the Huffington Post.
Popular in the Community