HANGZHOU, China (AP) -- China rolled out its fastest train yet on Tuesday and announced that the Three Gorges Dam, the world's biggest hydroelectric project, is now generating electricity at maximum capacity -- engineering triumphs that signal the nation's growing ambitions as its economy booms. (Scroll down for video.)
The successes demonstrate how, after decades of acquiring technology from the west, Beijing has begun to push the limits of its new capabilities, setting the bar higher on mega-projects as it seeks to promote the image of a powerful, modern China. But many of these initiatives have come at great human and environmental cost, and some have questioned whether the country fosters a sufficiently innovative spirit to compete on the next level.
Still in the works: more nuclear power plants, a gargantuan project to pump river water from the fertile south to the arid north, and a $32.5 billion, 820-mile (1,300-kilometer) Beijing-to-Shanghai high-speed railway that is scheduled to open in 2012.
"We are now much faster," Railway Ministry spokesman Wang Yongping said at Tuesday's inauguration of the super-fast line from Shanghai's western suburb of Hongqiao to the resort city of Hangzhou. "Now other countries are hoping to cooperate with us."
The train will cruise at a top speed of 220 mph (350 kph), making the 125-mile (200-kilometer) trip in 45 minutes.
China already has the world's longest high-speed rail network and aims to more than double its length to 10,000 miles (16,000 kilometers) by 2020.
Chinese companies are also vying for projects overseas, including in the U.S., which leads the world in freight railway technology but has almost no high-speed rail expertise. That's a mark of how well and quickly the technology has been adopted by Chinese companies, who have traditionally only been able to compete on price in bidding for railway and other basic infrastructure projects in the developing world.
The Three Gorges Dam has been more controversial, though the government has relentlessly touted the $23 billion project as the best way to end centuries of floods along the mighty Yangtze and provide energy to fuel the country's economic boom.
UPDATE: The high-speed bullet train in China can actually reach speeds of up to 260 mph per Independent.ie.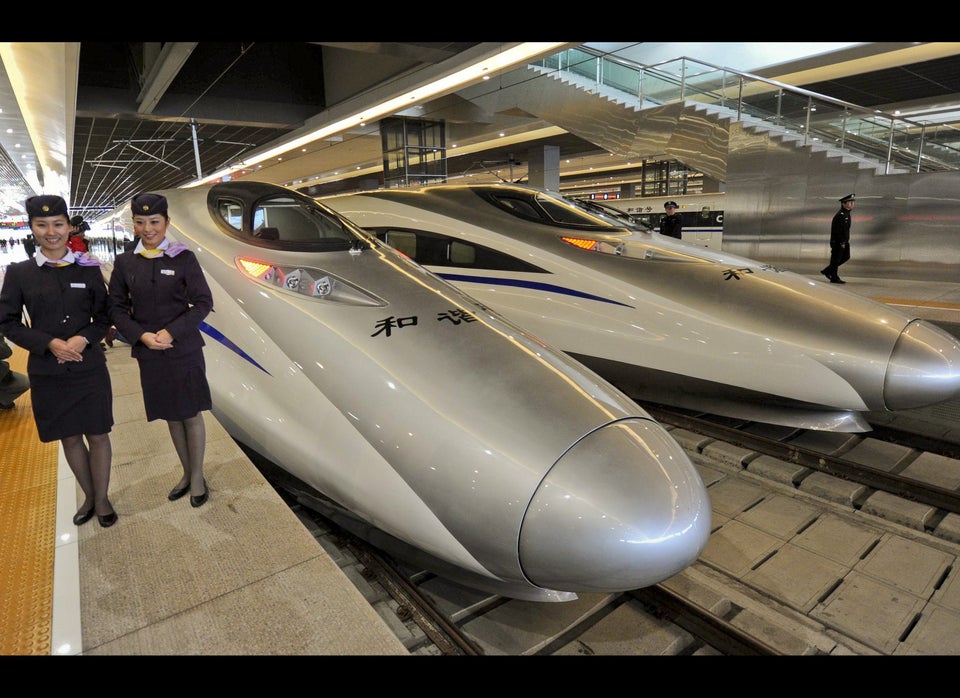 China's High Speed Train
Related
Popular in the Community