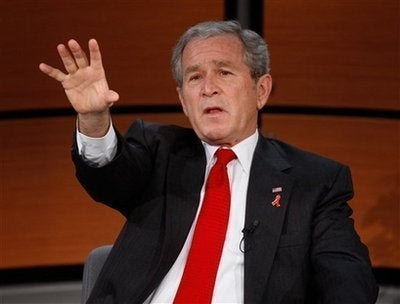 In a landmark deal that could provide much-needed cash to America's anemic economy, China agreed today to acquire the naming rights to the U.S. for a reported $1.4 trillion.
The deal, which is expected to be signed by President George W. Bush and Chinese president Hu Jintao sometime before Inauguration Day on January 20, was hailed today by Mr. Bush as a "win-win" for both countries.
"We get 1.4 trillion dollars, and all we have to do is change our name to 'Panda Garden,'" Mr. Bush told reporters at the White House.
The president said he decided to make the extraordinary deal after being shocked to learn that the U.S. was in a recession, when it was reported yesterday in Duh magazine.
According to President Hu, the Chinese had originally inquired about purchasing the rights to two American sports facilities named after troubled companies, Ford Field in Detroit and Citi Field in New York, but then decided it might be more cost-efficient to buy the rights "to the whole shebang."
In addition to the $1.4 trillion, the Chinese government said that it would provide $10 million to commission a new national anthem that would somehow incorporate the words "Panda Garden" in the lyrics, and to redesign the nation's flag, which will henceforth be known as "the stars, stripes, and adorable bear."
Andy Borowitz is a comedian and writer whose work appears in The New Yorker and The New York Times, and at his award-winning humor site, BorowitzReport.com.
Popular in the Community