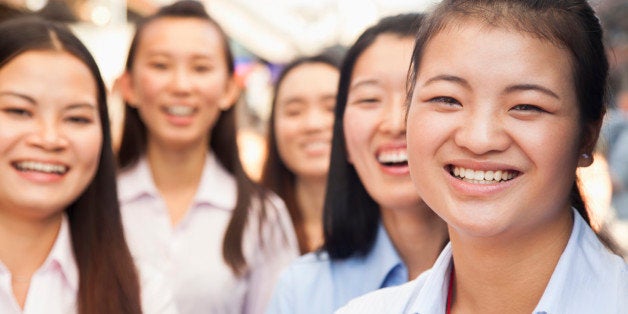 My grandmother was 100 years old when she passed away two years ago and, given the ups and downs of Chinese history, one doesn't need a great deal of imagination to realize she must have gone through a lot in her lifetime. She originally lived a simple life in a small village in Manchuria, in the far northeast of the country. Typically for her generation, her feet were bound and, although she kept a drawn record of her life, she was illiterate and couldn't read or write a word. Yet despite this, she had a vision for her two daughters -- one of whom was my mother -- to go to university.
Although our lives are very different, my grandmother was and remains my role model, and I carry in me a quote from her, as true for my generation as it was for hers: "As women, we depend on ourselves." This wasn't something she picked up from a book. She got it from her own experience and through witnessing the lives of the generation of women before hers. That inner strength and strong will from her has been a constant source of inspiration and vitality for me, at any time.
In the World Economic Forum Global Gender Gap Report 2014http://reports.weforum.org/global-gender-gap-report-2014/, China was ranked 87th overall out of the 142 countries surveyed. Though ahead, interestingly, of such countries as Italy, Greece, Chile and Japan, there is clearly still some way to go. Here in China, we know that very clearly.
Though Chinese women have improved their position in some indices, such as political empowerment as a result of contemporary politics, they are still losing out in categories such as health, educational attainment and wage equality.
While arguing for more efforts from government to do more on gender equity, I believe it is the example of role models among the current generation of Chinese women that is key to raising awareness, motivating society, closing the gender gap and ensuring that women play their full part in the development of China's future.
That's why I'm delighted to see that the World Economic Forum over the years has been inviting leading Chinese women from all walks of life to its Annual Meeting of the New Champions. This year, I am delighted to see that Dong Mingzhu, President of Gree Electric Appliances, will be speaking at the meeting in Tianjin, not necessarily just on women's issues, but also on how technological and business innovation is driving the Chinese economy. Being the head of a company with annual sales revenues over $16 billion speaks volumes about the potential of Chinese women. There are many other inspiring Chinese women business leaders in this country. I hope they will all have their chance to showcase their examples to China and the rest of the world.
Stereotypes are hard to change. As a television personality, it not rare that when I host programmes with other women in the studio, colleagues ask in a friendly way which women's topics we will discuss. I find it an interesting phenomenon but also thought provoking. Why? Well, if there had been three men in the studio, no one would have assumed the programme was about men. People just take it for granted that men can talk about any topic. But when it comes to women, things are different.
Breaking stereotypes starts with women ourselves, encouraging one another, and jumping out of the old frameworks.
I think role models work miracles in terms of encouraging people and making social change possible, in China and elsewhere. One individual's story can change a person and even a whole generation. Unfortunately, there is a hesitation among potential women's role models in China to step up and tell their own stories. This hesitation is inherited and has been with our culture for a long time. Even though Chinese women have shown themselves to be strong throughout thousands of years of history, they have always tended to remain in the background.
There are, however, increasingly inspirational exceptions. I was honored earlier this year to host an evening gala in Beijing for Chinese First Lady Peng Liyuan, wife of President Xi Jinping, and Michelle Obama, the US First Lady. Their meeting has been highly regarded as efforts of First Lady diplomacy and has won attention worldwide. Both of these inspirational women are working for the interests of their countries and the world, and they are both much more than simply leaders' wives.
Professor Peng Liyuan is one of the best known artists in China, an extremely beloved singer, who has won the love of her audience for decades and already was earning academic recognition when her husband was still only a local official. I think it is extremely inspirational for women that our First Lady is not only a successful professional in her own right, but that she also managed to make the transition to playing an important role in public service, as the First Lady and as the World Health Organization's goodwill ambassador for Tuberculosis and HIV/AIDS.
And, we have the example of Cheng Hong, the wife of the Chinese Premier, Li Keqiang. She is a professor of literature and when she and her husband visit other countries, he gives copies of his wife's books as gifts to foreign leaders. It is a very sweet gesture which speaks about the pride he has in his wife and touches the hearts of many women here. It is also recognition of the desire for gender equity here in China.
Today, gender equity is very much an idea that a lot of people in China would love to embrace, but it takes a long time, much longer than a few decades, to establish the idea deeply in people's hearts and minds that men and women are equal. To an extent, I suppose, China is still wrestling with the long feudal tradition of how women were portrayed and framed.
Counterintuitively, increasing Western influence doesn't always help. We embrace films and TV series such as Sex and The City, which is very enjoyable. Unfortunately, some of its Chinese imitations lack wit, intelligence, and above all, the message of strength that is essential to be inspirational - except how to marry a wonderful man, which is important, but certainly not all what life is about for women in China.
There is also the phenomenon in China of "the left-over women", a term coined by women's magazines, which I feel really ought to be sources of encouragement and strength for women. It is used to describe women as young as 28 who have not yet married, and are labelled as "left over". How sad is that? You can see the belittling of women, the social concept that a woman's main preoccupation should be marrying the right man, right there in that one phrase, which tells us about a society lacking wider awareness of gender equity.
I am, however, confident that, with the advocacy of successful and independent women, China will be able to build on the work that has already been done and close its gender gap. It has to. Any society that fails to harness the energy and creativity of its women is at a huge disadvantage in the modern world. Full stop!
Related
Popular in the Community