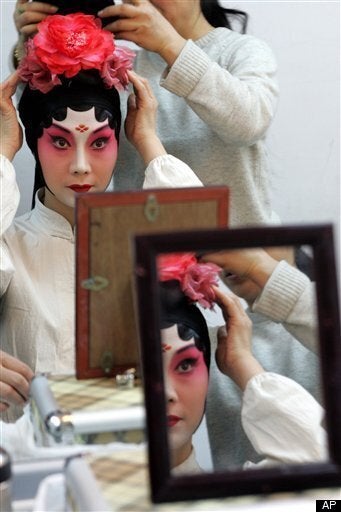 Mao Tse-tung tried to stamp the custom out as a relic of feudalism, but the return of capitalism to China has also meant a major comeback for the concubine. And for the long-suffering Chinese public, the compulsion of rich businessmen and jumped-up party officials to prove their wealth and power by the number and gorgeousness of their mistresses is a major factor in the growth of corruption. The angry gossip online is that behind every corrupt official there is a scheming mistress.
"China's future will be undermined in those corrupt officials' hands," wrote one outraged citizen. Another described the corrupt cadres who keep concubines as "absolutely superfluous, vampires, corrupt scum. They deserve to be killed".
Last month, a former chairman of the oil giant Sinopec, Chen Tonghai, was convicted of pocketing 196 million yuan (GBP17m) in bribes. But what angered Chinese the most was the way he had helped his mistress, Li Wei, to build up her property firm using his business connections. He was given a suspended death sentence.
Concubines are no longer kept hidden away behind closed doors. In modern China's far more open society, concubines can be seen in the shopping malls and cafes of the cities, especially in the south, where there are thousands of what are known as "er nai" or "second breast". By some estimates, more than 90 per cent of the country's most senior officials punished on serious graft charges in the past five years have kept mistresses.
There are lessons from history on the dangers that concubines represent. Concubine Yang was China's most famous mistress, one of the Four Beauties, and Emperor Xuanzong was so besotted with her that he lost his reason. He was forced to execute her to prove that he still had the will to rule. The emperor ultimately lost his grip on power and the glorious Tang dynasty (618-907) went into a decline.
Concubinage has a long history in China and was common right up to the early 20th century. Emperors and warlords kept many concubines as well as wives, and the wives sometimes even presented their husbands with fresh concubines, a practice known as "drinking vinegar".
Young women become concubines today for reasons of money and lifestyle, but also as a way out of poverty. "My son is already two years old, and my son's father is the same age as my father," wrote one anonymous 20-year-old concubine. "I call him 'old man'. He treats me well. Since I gave birth to a son, he bought a 180 square metre house under my name and two shops under my son's name. My days are very comfortable. I never ask him about his business and family, nor press him to divorce. A woman's life is hard and her youth goes quickly, so I cherish the present."
While many successful businessmen also have young lovers, it is the philandering government officials who really infuriate the average Chinese, and when they are found out they often pay a high price. At the very least they can expect the sack, like ex-Shanghai party chief Chen Liangyu, dismissed in 2006 for corruption, and ex-Beijing vice-mayor, Liu Zhihua, fired for taking bribes and helping his mistress "seek profit" while he was in charge of the construction of Olympic venues.
Pang Jiayu, a senior cadre in Shaanxi province, gained the nickname "Zipper Mayor" because of his weakness for the pretty young wives of his subordinates when he was mayor of Baoji. Duan Yihe, former party chief of Jinan, capital of Shandong in the northeast, was given a suspended death sentence in 2007 for killing his mistress with a car bomb after he became tired of her constant demands for money.
Some powerful officials in China have tried to bring the feudal institution up to date. Yang Feng, a senior cadre in Anhui province, was found during his corruption trial to have kept eight mistresses whom he managed using corporate management skills learnt during his MBA programme. He appointed one of them top mistress, to supervise the others, but the arrangement collapsed when a younger member of the team applied for the leadership position and his "manager" turned him in.
The current record-holder for the largest number of mistresses is Xu Qiyao, ex-head of construction in Jiangsu province, who amassed 140. Taking a leaf out of the book of bed-hopping British Tory Alan Clark, they included a mother and daughter.
Nor are the sort of exotic obsessions redolent of the remote Chinese past unheard of: an official in the state textile industry in Hainan kept four steel closets which were found to contain 95 diaries in which he recorded all of his sexual relationships, as well as hair samples from 236 different women.
Popular in the Community