China's economy is undoubtedly in a state of turmoil.
First quarter GDP slowed considerably since 2009. The banking system is highly over-leveraged. Corporations are deep in debt. Credit growth, industrial production, retail sales and recent signs of stabilization have fallen short of expectations.
However, as a result of continued poor economic growth, Chinese investors have been pushing into higher yielding opportunities abroad, especially in real estate. In fact, according to a new report from the Asia Society and Rosen Consulting Group, Chinese investors have become the largest foreign buyers of U.S. property after pouring billions into the market in search of safer offshore assets.
After a substantial surge in residential and commercial real estate from Chinese investors in 2015, the five-year investment total has ballooned to $110 billion. "The sheer size of that total has helped the real estate market recover from the crash that began in 2006 and precipitated the 2008 economic crisis," notes the report. And, despite a recent clampdown on capital outflows, that $110 billion figure is expected to double this decade.
Between 2010 and 2015, Chinese investors bought more than $17 billion of U.S. commercial real estate, with half of that spent in 2015 alone. Another $93 billion was spent on U.S. homes across some of the most expensive markets, including Los Angeles, Seattle, San Francisco, and especially New York where Anbang Insurance bought the Waldorf Astoria of $1.95 billion.
Chinese business groups, such as Greenland and Fosun have been activity buying residential and commercial hotspots there, too, including the General Motors building, the Atlantic Yards projects, 717 Fifth Avenue, and 1 Chase Manhattan Plaza.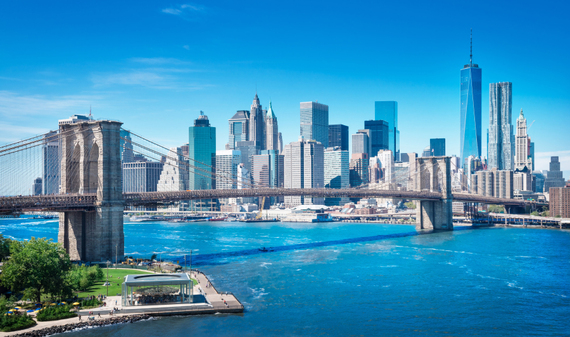 Better yet, the buying spree isn't expected to slow. Long-term economic drivers are expected to remain quite strong, as wealthy investors seek high-yielding opportunities in a low-interest rate environment, and as a $1.6 trillion Chinese insurance industry seeks to invest in even more real estate projects - as noted by Asia Society.
There may be fears that commercial real estate is slowing. But I still don't subscribe to it.
Morgan Stanley may still believe U.S. commercial real estate prices may remain flat this year, as compared to earlier forecasts for 5% growth. The Urban Land Institute (ULI) may believe nationwide commercial real estate growth could fall over the next three years. But I'm not buying into the fear.
Despite claims of a potential June 2016 Federal Reserve rate hike, I don't foresee any hikes this year, given true economic concerns both in the U.S and aboard.
And, given a worldwide low-interest rate environment, global capital inflows into U.S. commercial property will continue to increase. Global economic issues - such as an imploding Chinese real estate market - will drive capital to the safe haven assets in the U.S. simply because our property market is one of the most stable, most transparent in the world.
But who among Chinese investors are the strongest buyers?
According to Forbes, "First, the largest group of acquirers is probably made up of financial investors who look for objects that offer a good return within their portfolio of assets. Second, some are Chinese real estate developers such as Greenland and Wanda that aim to construct commercial or residential buildings with the aim to eventually sell or lease them. Third, business groups such as Fosun or HNA are diversifying abroad with an eye on both investment returns and potential synergies with their other assets."
There may be fears of slowing growth in U.S. commercial real estate, but I don't see much near-term proof.
Calling all HuffPost superfans!
Sign up for membership to become a founding member and help shape HuffPost's next chapter