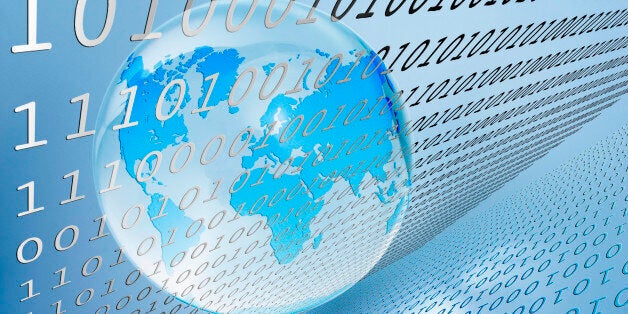 China-U.S. relations in the field of the Internet is now an important component of the new model of major power relationship. To a great extent, the Internet will decide the future of both countries. As it is now, the relationship is generally positive and making progress in a steady manner in spite of hurdles. The relationship displays two features:
First, deep fusion and high stakes. China and the U.S. have never been so closely interconnected as they have become in cyberspace. China is the biggest overseas market for U.S. Internet companies. Almost all leading U.S. Internet companies have made great profits in China. For instance, half of the profit of Qualcomm is realized in China; half of the new users of Apple products come from China. Nearly a thousand U.S. investment funds have designated China as their priority, reaching to every corner of the Chinese Internet market, accounting for more than half of their total overseas investment in this field. The success or failure of some U.S. companies is closely related to the Chinese market.
The U.S. is the main overseas IPO destination for Chinese Internet companies, almost 50 of which are listed in the U.S. with a total market value of nearly U.S. $500 billion. U.S. shareholders have benefited from the development of the Internet market in China. Not long ago, the IPO of Alibaba in the U.S., the largest IPO ever in the world, raised over U.S. $25 billion. Experts believe that the investments made by U.S. shareholders in Alibaba demonstrates they have great confidence in the Chinese Internet, the Chinese market and the future of China.
Second, disagreements and frictions still exist. It is because of the deeper integration, more extensive exchanges and closer contacts between the Internet industries of China and U.S. that our differences are easily put under magnifying glasses and spotlights -- not to mention we also have the impact of cultural differences. Disagreements on certain issues thus understandably rise. For example, with regard to the cyberspace governance, the U.S. advocates "multi-stakeholders" while China believes in "multilateral." ["Multi-stakeholder" refers to all Internet participants on an equal footing making the rules and is considered more "people-centered" while "multilateral" refers to the state making the rules based on the idea of the sovereignty of the nation-state representing its citizens.]
These two alternatives are not intrinsically contradictory. Without "multilateral," there would be no "multi-stakeholders." Exaggerating our disagreements due to difference in concepts is neither helpful to the China-U.S. Internet relations nor beneficial to global governance and the development of the Internet.
Our deep integration is because of confidence, but our disagreements are due to lack of trust. Confidence without trust is the unavoidable issue of the current China-U.S. Internet relations.
Looking back at the 20 years' history of exchanges and development between the Internet industries of China and U.S., despite the disagreements that still exist, we can make the following judgments: our consensus is greater than our disagreements and our cooperation is more important than disputes.
President Xi Jinping has pointed out that those who share the same idea and follow the same path can be partners, and those who seek common ground while reserving differences can also be partners. We can have disagreements but we must not stop communication. We can have arguments but we must not discard trust. We should not be confused or blinded by chaotic situations. Instead, we should look carefully at the issues with a historic perspective. We should see that cooperation between China and the U.S. benefits our two countries as well as other countries, while confrontation can only hurt both sides and even the world at large.
It is the essence of the development of the Internet that the Internet should bring peace and security to humans, should deny access to criminals and terrorists, should help younger generations to grow in health and should also serve the interests of developing countries since they need the Internet more than others. We should realize that the Internet has turned the world into a global village. Big convergence, great development and deep fusion are the trends of this era, and co-sharing and co-governance are the choices of the history.
In this spirit, I therefore put forward five propositions:
1. First, mutual appreciation instead of mutual negating.
The Internet was invented in the U.S. and then spread across the world, which is a great U.S. contribution to human development. China is the world's largest Internet market with over four million websites, 600 million Internet users and four of the world's top 10 Internet companies. Trade via e-commerce is expected to reach 200 million U.S. dollars in China this year and will keep growing at 30 percent a year.
Chinese Internet companies Baidu, Alibaba and Jindong all reported more than 50 percent increase in their 2014 third quarter revenue, which is really rare growth in the Internet industry. These achievements are a demonstration of the openness and good governance of China's Internet industry.
They are also testimony to the success of China's reform and opening up, of the development path chosen by the Chinese people, and the leadership of the Chinese communist party. We should not only cheer for our common ground, but also learn from each other's merits and experiences, rather than negating each other.
2. Second, mutual respect instead of confrontation and accusation.
All countries, big or small, should be equal. We should respect each other's cyber sovereignty, Internet governance, major concerns and cultural differences. We should strengthen communication, increase understanding and broaden consensus. The success of the Internet in China over the past 20 years shows that successful foreign companies in China respect China' s market environment and abide by China's law and regulations. U.S. companies operating in China show that those who respect the Chinese law can seize the opportunity of China' s Internet innovation and create immense value, while those who chose opposition will be isolated by themselves and finally abandoned by the Chinese market.
3. Third, mutual governance instead of self-interest.
President Xi has called for a multilateral, democratic and transparent international Internet governance system that upholds peace, security, openness and cooperation of cyberspace. That is the common consensus of international cyberspace governance.
"No country can achieve absolute security without the overall security of international cyberspace."
The gauge of a great country is not its power, but its responsibility. Peace between major countries may not result in a peaceful cyberspace, but distrust will definitely bring chaos. A responsible major country should never restrain others for its own development, or infringe on other countries' security to protect its own security. No country can achieve absolute security without the overall security of international cyberspace. As long as we take a long-term view and prepare for a new era of shared governance, we can translate the diversity of development into the driving force of world Internet development.
4. Fourth, mutual trust instead of mutual suspicion.
As the nation with the most Internet users in the world, China knows all too well the value of a peaceful cyberspace. As the main victim of hacking, China understands too well the importance of security. Our government has always opposed all forms of Internet attack.
On the issue of cybersecurity, China and the U.S. should increase communication, deepen mutual trust, fight cybercrime, terrorism, hacking and invasions of privacy together, and jointly protect intellectual property rights, making the Internet as the treasure trove of Alibaba rather than a Pandora' s box. With wisdom and courage, cybersecurity will not become a source of conflict in Sino-U.S. relations, but a new bright spot of cooperation.
5. Fifth, win-win instead of zero-sum.
The development of China's Internet over the past 20 years resulted in mutual benefit, a win-win situation and integration with the United States. Between China and the U.S. Internet industry, there are differences in terms of market volume, operational mechanisms, technology and training. These differences should not be obstacles. It is precisely through these differences that we can complement each other and create all kinds of possibilities for cooperation and mutual benefits.
When the largest developed country and largest developing country cooperate; when modern Western civilization interacts with long-standing Chinese culture; when the most advanced information technology is applied in the largest Internet market -- the scope for cooperation between China and the U.S. will definitely be wider than the Pacific Ocean.
Related
Popular in the Community