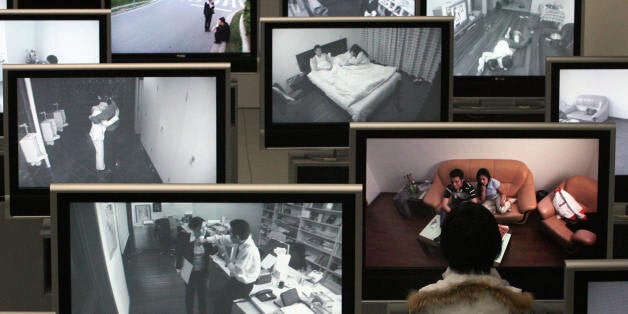 China has drafted its first national law against domestic violence in a momentous step forward for women's rights.
The draft legislation, which was released on Tuesday, creates a formal definition of domestic violence for the first time and streamlines the process of obtaining restraining orders.
"I feel like all those hours in the police station were worth it," she said, choking up. "All those scary moments, at least it meant something."
Lee was propelled into the media spotlight after she accused her husband, Li Yang, the founder of the 'Crazy English' franchise, of domestic violence, and pictures of her injuries went viral. In 2013, she made legal history in China when she was granted a divorce on the grounds of domestic violence.
She said she has been deeply involved in crafting the bill, and has attended legislative meetings over the past few years.
After she went public with her abuse, Lee said she was inundated with messages from over 1,000 women who wanted to share their stories of domestic violence with her. She said she brought their testimonies to legislative meetings, in hopes that their experiences with domestic violence would guide the creation of the bill.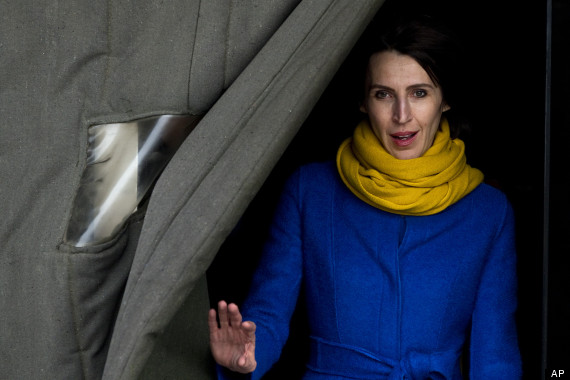 Kim Lee leaves a court building after a session for her divorce trial in Beijing, China, March 22, 2012. (AP Photo/Alexander F. Yuan)
"I was like, 'Read this! Read what it is like when women go to the police! It's heartbreaking,'" she said. "Their voices contributed to this draft."
The proposed legislation aims to make it easier for women to obtain a restraining order, a process that is currently time-consuming and arduous. Lee said it took her 50 to 60 hours in the police department and multiple trips to the courts to get a restraining order, even as she was receiving death threats from her estranged husband.
"What I experienced -- which millions of women experience -- is police saying 'It's nothing, it's a family thing, go home," she said.
According to Lee, the bill would require abused women to be notified within 48 hours of filing the restraining order if it was approved or denied. "It's crucial," she said. "I waited months."
A recent report by the All-China Women's Federation, a women's rights group affiliated with the Communist Party, found that 40 percent of Chinese women who are married or involved in a relationship have experienced physical or sexual violence. Of those surveyed who experienced domestic violence, only 7 percent went to the police, the report found.
"Women's rights groups have been lobbying for this law for many, many years," said Leta Hong Fincher, author of Leftover Women: The Resurgence of Gender Inequality in China. "What was lacking was some sort of nationwide, very targeted law that fleshes out what domestic violence is, how do you prevent it, how do you punish the perpetrator, how to you protect victims of abuse, and that's what this draft law does. It's much more detailed that anything that they've had, and it's a national law."
However, Hong Fincher cautioned that there are problems in the draft bill that should not be overlooked. Right now, the language only applies to married partners, she said, excluding the LGBT community and dating partners. And once a woman is granted a restraining order, she only has 30 days to take legal action against her partner, otherwise the order is dropped.
"The research that I did for my book, interviewing women who had been abused by their intimate partners, it's really an agonizing decision to decide to divorce the partner or take legal action," she said. "Requiring victims of abuse to take action within 30 days is just completely unrealistic."
Still, Hong Fincher said she is optimistic the bill will help spread domestic violence awareness in China, a country which has long treated the issue as one that should remain behind closed doors.
"There is a very common saying: 'You shouldn't expose your family ugliness.' That norm is very strong in China," she said. "A lot of people don't even know what domestic violence means. Even just from a symbolic point of view, it's very important that the country's highest court has written and proposed this legislation."
Feng Yuan, a longtime women's rights advocate and head of Equality, a nongovernmental organization for women's rights and gender equality based in Beijing, called the draft bill "a significant step."
But she also emphasized that the bill needed work if it was going to be meaningful.
"If an anti-domestic violence law has several key defects, it cannot meet the expectation of citizens, especially women, and will cause many problems after it's issued," she said.
She urged people who care about women's rights to contribute opinions and recommendations to improve the bill. "We need to make sure the future law really works to combat domestic violence," she said.
The bill is now open for public comment.
This post has been updated to include comments from Feng Yuan.
Popular in the Community