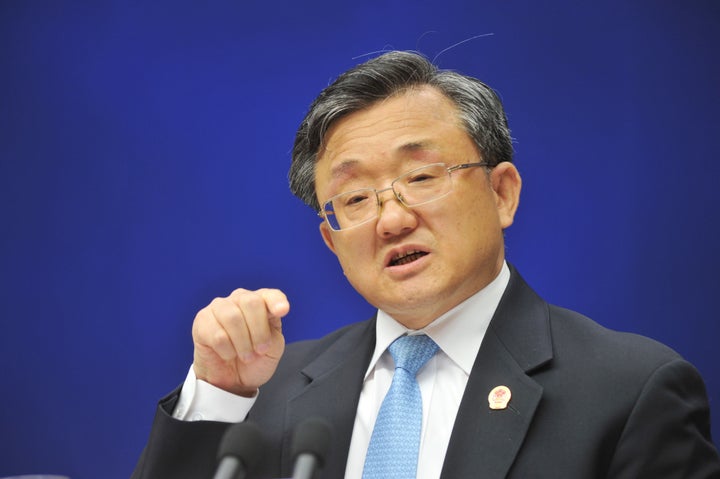 To President-elect Donald Trump's assertion that climate change is a hoax "/twitter.com/realDonaldTrump/status/265895292191248385?ref_src=twsrc%5Etfw"}}">created by and for the Chinese," China offers this: Wrong!
As Bloomberg reports, China's Vice Foreign Minister Liu Zhenmin said Wednesday that it was Republican U.S. Presidents Ronald Reagan and George H.W. Bush ― not the Chinese ― who started the conversation about global warming. 
"If you look at the history of climate change negotiations, actually it was initiated by the [Intergovernmental Panel on Climate Change] with the support of the Republicans during the Reagan and senior Bush administration during the late 1980s," Zhenmin reportedly told reporters gathered at United Nations talks in Morocco.
During a presidential debate in September, Trump snapped at Democratic opponent Hillary Clinton after she criticized him for calling climate change a hoax, saying "I did not say that."
Like the claim itself, Trump's response to Clinton was nonsense. 
Trump has also said he would cut all federal spending for climate change research, cleaner technologies and aid for communities already threatened by climate impacts. He has turned to climate change denier Myron Ebell and fossil fuel lobbyist Mike McKenna to help with transition work at the Environmental Protection Agency and Department of Energy.
Zhenmin said he hopes Trump's administration will continue to support U.S. efforts to curb carbon emissions, Bloomberg reported. China, he said, will continue to fight climate change "whatever the circumstances."
"Of course we're still expecting developed countries, including the United States, will continue to take the lead on mitigating climate change," Zhenmin said.
"While I can't stand here and speculate about what policies our president-elect will pursue, I will tell you this: In the time that I have spent in public life, one of the things I've learned is that some issues look a little bit different when you're actually in office compared to when you're on the campaign trail," Kerry said, according to Reuters.
"At some point, even the strongest skeptic has to acknowledge that something disturbing is happening."
Here are a few of the things Trump has said about climate change in recent years: 
Calling all HuffPost superfans!
Sign up for membership to become a founding member and help shape HuffPost's next chapter
BEFORE YOU GO
PHOTO GALLERY
Donald Trump's Environment Guy Doesn't Believe In Climate Change