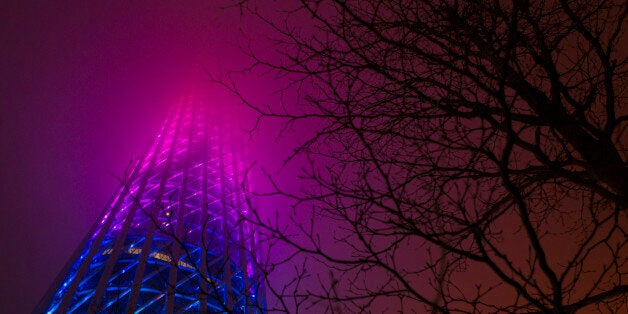 When reading the news and analysts' research over the past few months, one cannot escape the feeling that China is caught between two crises.
The first one is economic. The popular view in the global media holds that the Chinese economy is facing significant hardships, further exacerbated by the stock market turmoil since the second half of 2015 and that it may experience a "hard landing" which could be the epicenter of a looming global recession.
The second, more long-term one is environmental. In the wake of China's rapid industrialization and urban growth, observers have tended to focus on China's status as the world's largest greenhouse gas emitter, air pollution in its main cities and the impact all this has on public health.
Concerns on these two issues should not be dismissed quickly. They should, however, not lead observers to underestimate the strengths on which the Chinese economy can rely.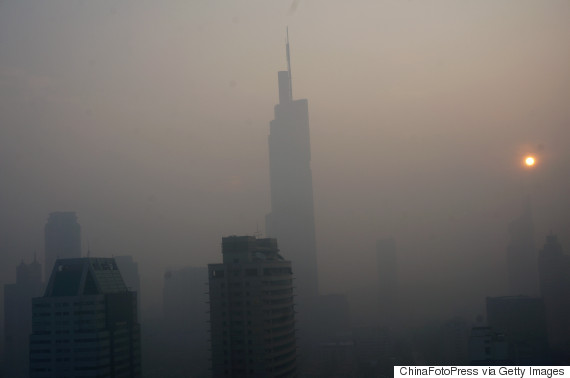 Buildings are engulfed in heavy smog on March 15 in Nanjing, China. (ChinaFotoPress/ChinaFotoPress via Getty Images)
Admittedly, China's GDP growth is slowing down, after more than three decades of double-digit average annual expansion. China is, in this regard, no exception to the pattern of growth deceleration observed in many developing countries, which to a large extent can be explained by similar external and cyclical factors.
China also has to face some specific structural challenges, as its economic model is undergoing a transition towards consumption and services. And yet, the country's authorities have several tools to rely on, such as a flexibility for further expansionary fiscal measures and ample foreign exchange reserves. Besides, as underlined by Justin Yifu Lin in a recent op-ed, what differentiates China from more developed economies in the current downturn is the existence of a wide range of attractive investment opportunities.
As a result, despite China's overall slowdown, some sectors are registering solid growth, as well as a rise of their share in the country's GDP. The environmental services industry is one of them.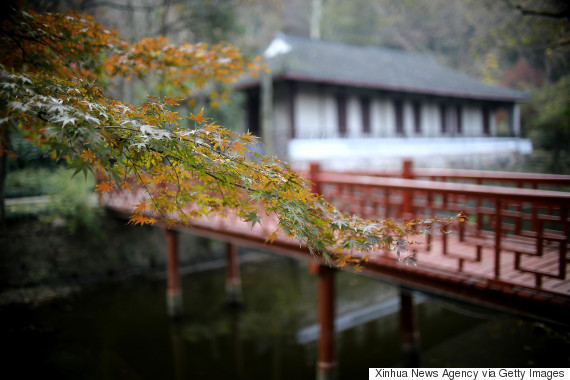 Maple trees in Nantong, east China's Jiangsu Province. (Xinhua/Zhu Haochen via Getty Images)
The Chinese authorities grasp the environmental challenges associated with the country's economic development and demonstrated their willingness to address them, especially by means of regulation and planning tools. New environmental protection laws, effective since the beginning of 2015, have raised the penalty for violation by adding criminal incarceration to financial fines. Environmental protection, along with urbanization, is one of the government's main political, economic and industrial policy priorities. According to Goldman Sachs, total investments in the environmental industry have reached 5.1 trillion renminbi over the span of the 12th five-year plan (2011-2015) and could grow by 60 percent during the 13th plan (2016-2020).
The Chinese authorities have also strived to foster transparency regarding environmental pollution, which has become a major social concern. They have enabled civil society to monitor environment-related data by asking some 15,000 of the largest factories to disclose their air emissions and water discharges in real time.
In addition to public authorities' and citizens' initiatives, private-sector commitment will be indispensable to address China's environmental challenges. Private companies and financial institutions have every reason to get involved in environment-related industries.
Among them, environmental services such as solid waste and wastewater treatment have been identified by Goldman Sachs as particularly attractive. And for good reason: regardless of a hard or soft landing for the Chinese economy, the environmental services industry has begun to take off and is expected to expand at two or three times the rate of overall GDP growth. The China environmental industry's output grew at 18 percent over the 12th five-year plan and is expected to grow even faster in the next one. Some of its segments, such as industrial toxic and hazardous waste treatment, are expected to register an even faster expansion, according to the National Development Reform Commission.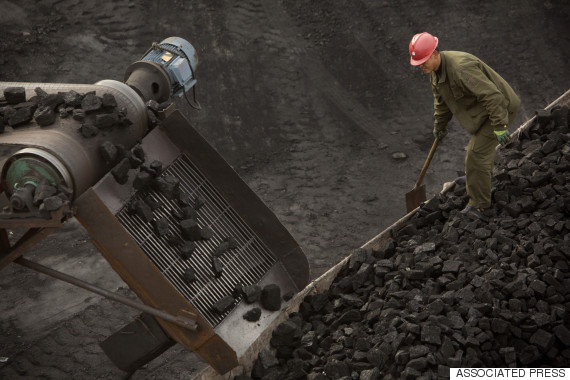 A worker at a coal mine near Ordos, China, on Nov. 4, 2015. (AP Photo/Mark Schiefelbein)
Public and private initiatives in the field of environmental services may therefore contribute to solving China's two "crises": the environmental one, by encouraging a smart management of the country's resources; and the economic one, by fostering innovation, technological advances and job creation.
In this context, China's modern history could very well be that of an environmental revolution. Private-sector actors, either domestic or international, have a key role to play in it. They should therefore strive to seize the opportunities, with high economic and social returns, that it will convey.
REAL LIFE. REAL NEWS. REAL VOICES.
Help us tell more of the stories that matter from voices that too often remain unheard.