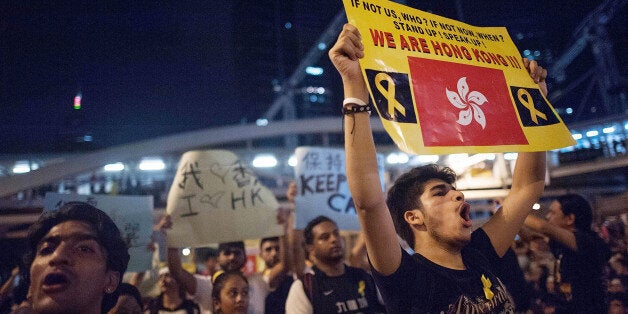 By Lesley Wroughton and Arshad Mohammed
WASHINGTON, Oct 1 (Reuters) - Chinese Foreign Minister Wang Yi responded on Wednesday to comments by the United States and others on pro-democracy protests in Hong Kong, saying foreign countries should not meddle in China's domestic affairs.
Wang, the most senior Chinese official to speak publicly about the protests, said Beijing had "very formally and clearly stated its position: Hong Kong affairs are China's internal affairs. All countries should respect China's sovereignty."
He was speaking at the U.S. State Department before talks with Secretary of State John Kerry, who repeated U.S. calls for Chinese authorities to show restraint toward the mass protests challenging the communist government.
Wang said no country, including the United States, would tolerate "illegal acts that violate public order." He added: "We believe that the Hong Kong special administrative region's government has the capability to properly handle the current situation in accordance with the law."
Kerry said: "We have high hopes that Hong Kong authorities will exercise restraint and respect protesters' right to express their views."
The protesters, mostly students, are demanding full democracy and have called on Chief Executive Leung Chun-ying to step down from the top office of the former British colony that reverted to Chinese rule in 1997. A month ago, Beijing ruled that it would vet candidates wishing to run for Hong Kong's leadership in 2017. Protesters are demanding that Beijing refrain from vetting candidates.
On Tuesday, U.S. officials said there should be greater autonomy for the people of Hong Kong in selecting candidates for chief executive.
Kerry did not explicitly make that point on Wednesday in his public remarks, but said: "We believe an open society with the highest possible degree of autonomy, governed by the rule of law, is essential for Hong Kong's stability and prosperity."
Earlier, Wang met with Defense Secretary Chuck Hagel and will also visit the White House. The State Department said he and Kerry would continue their talks later at a second, previously unscheduled meeting.
The Washington talks were arranged to prepare for President Barack Obama's visit to China in November for an Asia-Pacific summit but were overshadowed by the Hong Kong events.
Other issues affecting the two major powers were also on the agenda in the talks between Wang and Kerry, as Obama presses his 'pivot' to refocus U.S. attention increasingly on Asia.
The United States has been carefully calibrating its response to the demonstrations, voicing support for non-violent protests while signaling it has little interest in seeing them escalate and risk a harsher crackdown by Chinese authorities.
Any U.S. response to the Hong Kong protests is a tricky balancing act, given Beijing's transformation into a global economic powerhouse and how interdependent the U.S. and Chinese economies have become since the Tiananmen crackdown in 1989.
Kerry said the United States welcomed China's rise and reiterated Washington's view that with greater clout Beijing should also be a responsible player in world affairs.
He referred to Chinese efforts to help tackle the spread of Ebola in West Africa. "We are appreciative for China's willingness to put both equipment and personnel on the line in order to help deal with this," Kerry said. "We view that in very positive terms with respect to China's important role in global leadership." (Editing by David Story and David Gregorio)
Calling all HuffPost superfans!
Sign up for membership to become a founding member and help shape HuffPost's next chapter
BEFORE YOU GO
PHOTO GALLERY
Hong Kong Protests