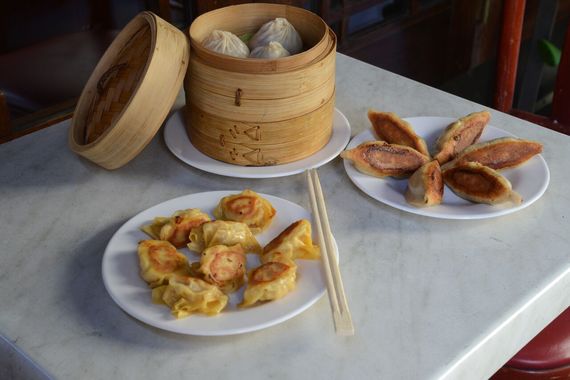 The one thing defenders of President Richard Nixon all give him credit for was "opening up China" in 1972, but I'll toss in another: That opening resulted in the export of chefs from Hunan and Sichuan provinces to NYC kitchens near the U.N. building, bringing with them styles of Chinese cuisine previously unknown in this country. Before long, dishes like General Tsao's chicken, cold sesame noodles, and honeyed ham were appearing in restaurants with names like Hunam, Uncle Tai's Hunan Yuan, Uncle Peng's and Szechwan East, almost overnight eclipsing the old stand-by Chinese (or Chinese-American) dishes like chop suey, egg foo yung, chow mein, and moo shu pork. Before long every strip shopping center in America had a restaurant with a name like Hunan Balcony, Dragon Flower or Sichuan Garden.
More recently, at least in NYC's Chinatown, there has been something of a shift to Cantonese and Shanghai-style cooking, but, overall, Chinese restaurants lost the cachet they had in the 1970s and 1980s. So, for a delectable history lesson in all these styles, I recommend a trip to China Fun on Second Avenue at 64th Street, where, since 1991, Dorothea and Felix Wu, together with Chef Wing Fone Chan, have been stir-frying, roasting and steaming hundreds of dishes that reflect Chinese food New York style. Indeed, like so many other Chinese restaurants these days, they've even added sushi and Japanese dishes--scores of them--to the menu.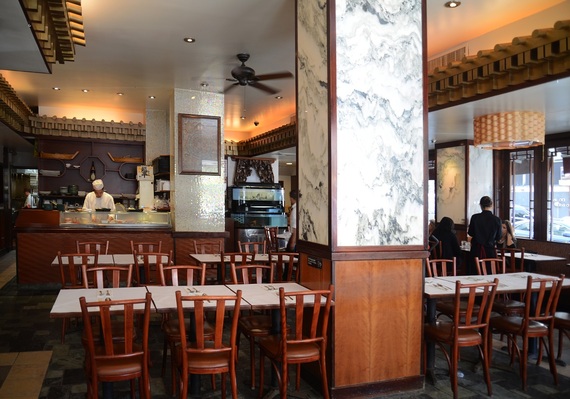 Of course, the law of diminishing returns sets in when a kitchen is asked to maintain consistency with a menu so large, ranging from dim sum and sweet & sour chicken to nine soups, steamed "Spa Cuisine" items, Cantonese barbecue, Peking duck and 18 "Chef's Specials" every day and night. With the "Lunch Special" you get a choice of 30 different dishes with soup or an egg roll, and rice, and nothing cost more than $10.
It is easy enough to chuckle about this throwback "whatever-you-want-we'll make" approach, except that my party of four found China Fun a nostalgic trip to a time when "going for Chinese" was still considered exciting and dishes with names like "Shaking Beef" and "Happy Family" were as much a part of the exotic adventure as was the prospect of finding a paper umbrella in your way-too-sweet mai tai (which you will at China Fun).
It was really an opportunity for my friends and me to see just how well old-fashioned Chinese dishes held up, and we were delighted to find how many--at least at China Fun--really do.
The dining room is wide, pillared, and the tables have white cloths and paper on them. A lone bass swam in a gurgling tank to the rear, with lobsters in another. Service was very cordial and, just as I expected, delivery of the food was fast and furious, with many dishes arrayed around our large circular table and others on an adjacent table.
We ordered an array of dim sum: for the four of us two orders ($7.75 each) of mixed dumplings--vegetable, pork, chicken, and beef--eight in each order, both fried and steamed. The dough was a little thick but the flavors inside were distinct and very good.
We tried two noodle dishes, broad chow mei fun ($11.25) in a light brown, properly sticky sauce, and Singapore noodles ($12.50) lightly (a bit too lightly) flavored with curry.
One of the best of the main dishes was a staple of Hunan kitchens, shredded pork with garlic ($15.95), which had plenty of both (all portions at China Fun are very generous). We just had to order that guilty pleasure Gen. Tsao's chicken ($15.95)--whose origins have been much debated over the years--and lapped it up in all its glistening, crispy, sweet and salty glory, the morsels meaty, the chile heat just intense enough. Lobster with ginger (market price) was excellent, with sweet meat inside cracked shells, assertively spiced and clearly made for eating with your fingers.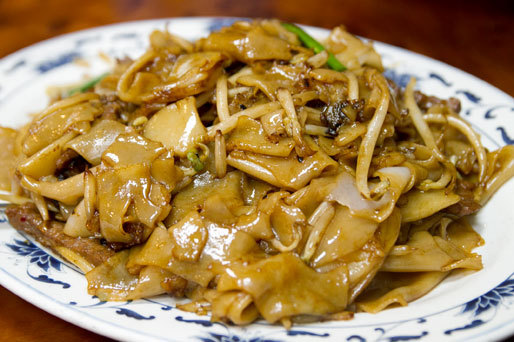 The only minor disappointment was a sea bass mounded with a julienne of scallions, perhaps because its delicacy paled by comparison to other dishes already consumed. The dish's ample sauce was good and the flesh nicely cooked, but it needed more spark. I did wonder, afterwards, why that lone bass was still bobbing in its tank after we'd ordered and devoured our fish on a plate.
Well, we didn't order dessert, but you know we were not going to refuse that most Chinese-American of silly items--the fortune cookie, whose sentiments seem to have kept up with the times.
In a sense, so has China Fun, where the evolution of Chinese cuisine in NYC is so broadly displayed to such good effect. True, I didn't order chow mein or chop suey and shall leave those to history. But for a happy evening and consistently good food of so many kinds, China Fun is a well-named place to be treasured.
Open daily for lunch and dinner
CHINA FUN
1221 2nd Avenue (at 64th St.)
212-752-0810