 * Commission keen for links to other carbon schemes
* EU, China have clashed over airline emissions
* China has local, pilot emissions schemes
By Barbara Lewis
BRUSSELS, Sept 20 (Reuters) - China, the world's biggest
carbon dioxide emitter, has struck a deal to work with the
European Union to cut greenhouse gases through projects
including the development of Chinese emissions trading schemes,
the European Commission said on Thursday.
The European Union and China have frequently clashed over
climate policy and Beijing has flouted EU law requiring all
airlines using European airports to pay for their emissions
through the EU's Emissions Trading Scheme (ETS).
At the same time, the two sides have maintained an uneasy
dialogue, including an EU-China summit in Brussels this week.
EU Development Commissioner Andris Piebalgs and Chen Deming,
the Chinese commerce minister, signed a financing deal
promoting the transition "towards a low-carbon economy and a
reduction of greenhouse gas emissions in China", the Commission
said in a statement.
The Commission wants partnerships with other emissions
schemes as part of efforts to boost its own ETS, on which the
price of carbon has sunk far below the levels required to spur
green investments.
Last month, it agreed to link its ETS with Australia's
scheme by 2018.
EU Climate Commissioner Connie Hedegaard said the Chinese
financing deal was "an important step for an ever closer
cooperation towards a robust international carbon market".
"Needless to say that it makes a significant difference when
now also China wants to use carbon markets to reduce emissions
cost-effectively and boost low-carbon technologies," she said.
Piebalgs said the European Union had "solid experience" in
fighting climate change, and it would share that with China.
Analysts said the announcement was a small step towards a
global carbon market and could help to head off arguments that
Europe's efforts to tackle climate change are futile unless the
biggest emitters make progress.
Sam Van den Plas, policy officer at environmental
campaigning group WWF, said Europe had to ensure other
developers of carbon markets avoided its mistakes, such as
allocating too many permits to pollute.
"It's part of an ongoing process. Europe has first-mover
advantage. It's very useful that this is shared with other
regions and in the longer term to link other schemes," he said.


FINANCIAL, TECHNICAL HELP
The European Union will contribute 25 million euros ($33
million) and technical assistance over a four-year period to
three carbon-reduction projects.
Apart from helping with the design and implementation of
emissions trading schemes in China, the other projects are to
assist Chinese cities to be resource-efficient and to cut water
and heavy-metal pollution and implement sustainable waste
treatment policies.
China's embryo trading schemes are years away from reaching
the stage to include aviation emissions.
The EU's decision to include aviation in its Emissions
Trading Scheme has drawn international criticism and threats of
a trade war.
The United States is debating blocking legislation that
would shelter its airlines from respecting the EU law, although
it has so far grudgingly complied, while China and India missed
a deadline earlier this year to submit data.

All sides are looking to the U.N.'s International Civil
Aviation Organization (ICAO) to come up with an alternative
global scheme to curb airline emissions, which the EU says would
enable it to drop its requirements.
The international Kyoto system for cutting greenhouse gas
emissions does not include aviation and progress has been slow
in trying to extend the lifetime and scope of the Kyoto
Protocol.
At climate change talks in Durban last year, the European
Union led efforts to get a tentative deal, bringing in all
emitters, including China, which had previously been excluded as
an emerging nation.

Related
Before You Go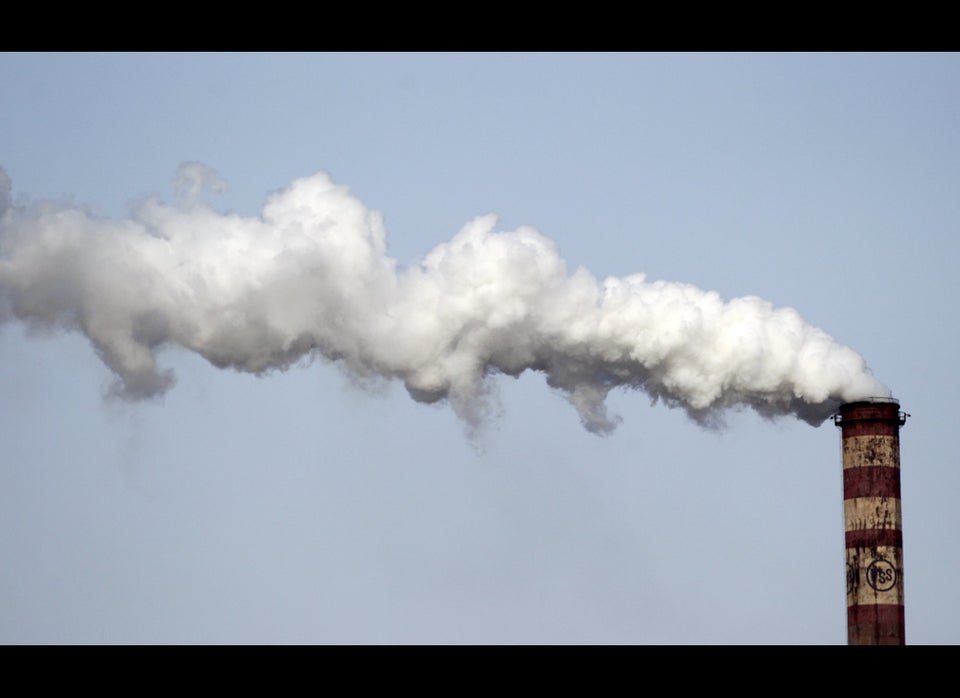 Top 10 Most Polluting Countries (2010)
Popular in the Community