By Hong Soon-do, Beijing correspondent, AsiaToday - China is transforming into the world's biggest Internet nation. The number of web users in China--already the world's largest online population--has risen over 700 million by the end of June this year, and the number would reach to 1 billion as soon as 2022 or 2023.
According to 'The 38th Statistical Report on Internet Development in China' issued by government agency China Internet Network Information Centre (CNNIC) on Wednesday, 710 million people had accessed the web at least once over the past six months, which was 3.1 percent more than in December, reported the Beijing Youth Daily and other Chinese media outlets on Thursday. If this is the case, we could say that China has the largest web community worldwide in absolute terms, beating the United States.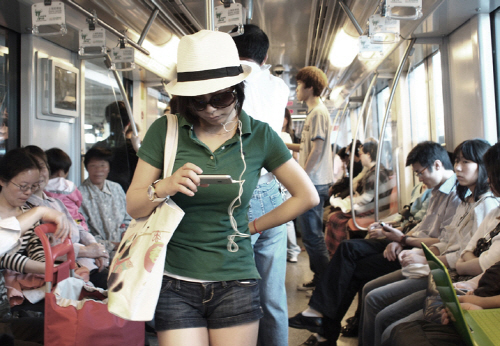 [Chinese web users accessing the web via smartphones in the subway in Beijing./ Source: search engine Baidu]
What's more important is the fact that more Chinese netizens tend to access the Internet through mobile devices. China has 656 million mobile network users, which accounts to 92.5% of the total web users. Besides, nearly half of them use webcast services.
Moreover, related industries are booming. Last year, the total Internet business revenue of China's top 100 Internet companies reached 756.1 billion yuan. As a result, some of them have become world-class companies that never existed in China before. They are search engine Baidu, e-commerce giant Alibaba, and Internet portal site Tencent (collectively called the BAT), and are dominating related industries around the world.
China has been seeking ways to lead its economic development to a new direction through so-called "new normal" strategy. Obviously, the ICT industry is at its core. This ICT industry is based on the Internet. Considering the country's current Internet infrastructure, China's 'new normal' strategy is on track.
Calling all HuffPost superfans!
Sign up for membership to become a founding member and help shape HuffPost's next chapter