By Hong Soon-do, Beijing correspondent, AsiaToday - China has begun implementing an official policy for a 4.5-day work week as part of an effort to boost domestic consumption and leisure spending. As a result, South Korea is expected to benefit from it as Chinese tourists (also known as "youker") would visit Korea all year unlike in the past when they visited on certain national holidays or long weekends.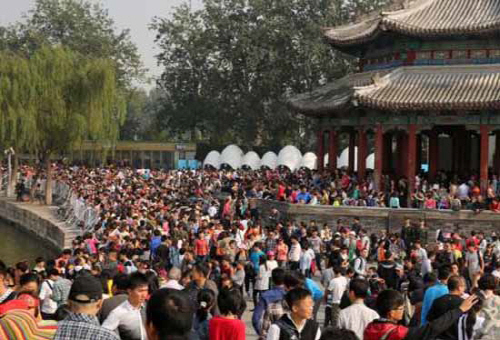 [China's 4.5 day work week is expected to boost domestic tourism./ Source: search engine Baidu]
Such assertion is not an exaggeration considering the positive response from provincial governments after the State Council released an official document last August encouraging government units to grant employees two and a half days off per week, in an effort to boost domestic spending and tourism. According to the June 14th report of Modern Express, one of Chinese leading newspapers, nearly 10 provincial governments have expressed their willingness to implement the two-and-a-half-day weekend scheme. Most of all, Zhejiang and Guangdong, the two provinces with big economies, are showing an enthusiastic attitude.
Moreover, three to four provincial governments including Jiangsu are also expected to come out in sympathy soon. This means that nearly half of 31 provincial governments are showing positive response to the two-and-a-half-day weekend scheme. It seems that implementation of 2.5-day weekend is likely to spread throughout the country by the end of the year or early next year.
Of course, the central and provincial governments will not set the 4.5-day work week policy into law. It will be up to each company to implement the policy according to their own circumstances. Companies that choose not to follow the recommendation will not be penalized.
However, once social consensus on the policy is formed, companies and government departments have no choice but to follow the trend. If the idea becomes realized, there is indeed potential for growth in tourism and domestic spending. Besides, this would fuel an explosion of youkers' short-term overseas trips. This means that youkers could visit South Korea all the year round. Xu Ming, president of Chinese travel agency Asdaer, said, "There is no place like South Korea for a short-term trip abroad. Once the policy for a 4.5 day working week is settled next year, more Chinese are expected to visit Korea." Perhaps, it's not an exaggeration to say that a new strategy to attract youkers is required for Korean travel industry.